NASCAR: Five 2016 Chase Drivers Who Will Miss The Chase In 2017
Christopher Olmstead/FanSided via Beyond the Flag

Fansided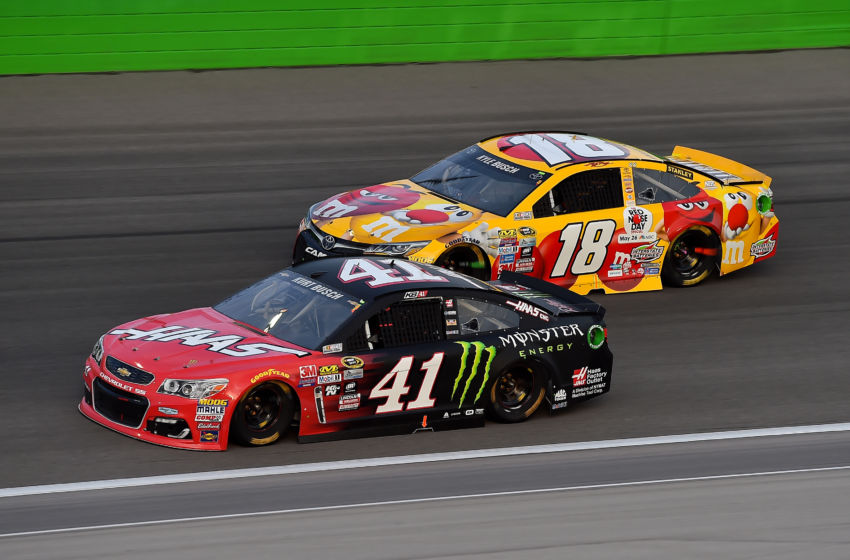 The 2017 Monster Energy NASCAR Cup Series season is less than six weeks away. Once the season gets underway all of the focus will be placed on drivers winning races, qualifying for the Chase and contending for a championship.
Much like in 2016, the 2017 NASCAR Cup Series season will see 16 drivers make the Chase and attempt to win a championship. In any given season it's always possible for all 16 Chase drivers from the previous season to once again qualify for NASCAR's version of the playoffs.
In 2017, that will not be the case.
Tony Stewart and Carl Edwards both qualified for the Chase in 2016 but neither will be making the Chase in 2017. Stewart announced prior to 2016 that last season would be his last and Edwards announced in January that he will not be running in 2017.
With that in mind, this article will look at the other 14 Chase drivers from 2016 and it will name the five that are least likely to return to the Chase in 2017.

Chris Buescher
2016 was a magical and in all honesty, lucky year for Chris Buescher and his team. Throughout 2016 Buescher was in the shadows of fellow rookie drivers Chase Elliott and Ryan Blaney. However all of that came to an end when Mother Nature assisted Buescher with picking up and win and punching his ticket to the 2016 Chase.
In 2017 Buescher will come out looking to win and make the Chase once again. Unfortunately, I do not believe in lightning striking in the same place twice. As a result, Buescher and his team will not be returning to the Chase this season. At the end of the day this team simply doesn't have what it takes to win a race outright. That might sound like a diss but the truth is that 20+ teams come to the track each weekend without a quality chance of winning.
The other thing working against Buescher is he won't have the consistency to point his way into the playoffs.
Jamie McMurray
Do you know how old Jamie McMurray is? No, really, do you know how old he is? McMurray will turn 41 in 2017.
I ask this question because a lot of NASCAR fans still talk about McMurray as though he is that young driver with all of the tools and he is just struggling to put it together. McMurray might have a lot of tools but at the age of 40 it's not about putting it together. McMurray is what he is and that is a driver that has about a 50/50 chance of making the Chase.
Consistency will be the name of the game for McMurray in 2017 as I do not foresee him winning a race this season. The last couple of seasons McMurray has found the consistency but in 2017 I believe that consistency will take a step back and the result will be him missing out on the Chase.
Austin Dillon
In 2016 Austin Dillon was able to put together the best season of his NASCAR Cup Series career and the result was a trip to the Chase for the first time. In 2017 one would have to think that Dillon will be looking to win for the first time in the Cup Series and once again punch his ticket to the Chase.
Could Dillon win in 2017? Sure he could win, I won't bet on it, but sure he could.
My theory is that Dillon and Ryan Newman will flip for the 2017 season. Newman who has been the model of consistency for RCR since joining them in 2014, had a down year in 2016. I expect to see Newman bounce back in 2017 and find the same consistency that took him to a second-place finish in the standings in 2014.
Newman's bounce-back will also spell a decline for Dillon who struggled to find consistency in 2014 and 2015 while Newman was making the Chase.
Kurt Busch
As the list goes on, the name are only going to be bigger and that brings us to Kurt Busch and the No. 41 team of Stewart-Haas Racing.
Busch will have a solid season for SHR in terms of comparing his success to that of his teammates. In fact, I think Busch will be the second-best driver on SHR behind only Kevin Harvick. The bad news there is that I believe Danica Patrick and Clint Bowyer are going to struggle, so being better than them might not be saying much.
Busch missing the Chase means he will not be winning in 2017. The shift from Chevy to Ford is going to be a bigger deal than a lot of people think. There is going to be an adjustment period for the entire team and while Harvick will figure it out quickly, the other three SHR drivers will not pick up on it quite as fast.
Martin Truex Jr.
The final name on this list will of course be the one that many will say has no chance of happening. Martin Truex Jr. missing the Chase might be considered a long-shot but there is a clear path for it to happen.
It's a story that we have seen in NASCAR in the past and it has to do with a successful team adding another car to their stable. In 2017 Truex will have a new teammate in Erik Jones and that addition might not be the best for him and his team. The addition of Jones means the JGR stable now essentially has six cars in it.
There is going to come a point where not all six cars are going to have the same success that all five cars (sans Jones who wasn't in the picture) had in 2016. There is also going to come a point where the No. 78 team naturally takes a step back and that time is going to be 2017. Truex and his team will struggle to win in 2017 and that paired with some bad luck and the addition of Jones on the team will result in Truex missing the Chase.
More from Beyond the Flag
This article originally appeared on