NASCAR Defends Actions Sunday While Vowing To Look Into Other Issues From Weekend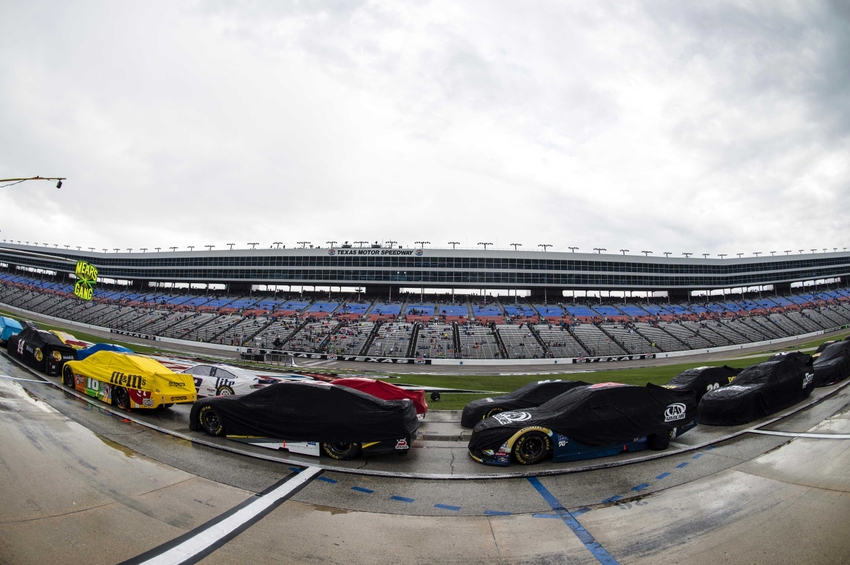 NASCAR had themselves an eventful weekend in Texas and the aftermath of the weekend has them defending their actions and vowing to look into incidents that took place on and off of the track.
Following this weekend's NASCAR Sprint Cup and XFINITY Series action, NASCAR has vowed to look into a pair of incidents that took place on Saturday and Sunday. The Saturday issue had to do with Matt DiBenedetto who was involved in an on-track accident that resulted in him entering NASCAR's concussion protocol and consequently not being cleared to race on Sunday. The other incident took place on Sunday in the Cup Series and had to do with the exploding (or not exploding) tire on pit road in the No. 27 pit box.
Appearing on Sirius XM Radio on Monday, NASCAR Executive Vice President Steve O'Donnell spoke about DiBenedetto and NASCAR's concussion protocol. O'Donnell talked about how the decision is not in NASCAR's hands as they rely on outside experts to make the call.
We rely on outside experts to make that call. In this case, Matt was diagnosed with a concussion. So, the road back for him would be to see a board-certified neurologist. I believe he's planning on doing that today. If he's cleared, he'd be back in the car as early as this weekend at Phoenix, which is what we're all hoping for — to see him out there racing.

Every situation is unique. Everybody has different symptoms so you just can't say, 'Hey, if you do this, this and this…' you'll be diagnosed with a concussion. It's up to the physicians that are at the race track. If they need to be seen for further evaluation they are sent for addition neurological tests as well. Then we have our consulting physicians out of Charlotte who will confirm a diagnosis through consultation as well.
O'Donnell also touched on the tire issue in the No. 27 pit which resulted in a loud sound leading some to believe the tire exploded or popped while it was being examined after a pit stop. Following the race Goodyear stated the tire did not explode as it was already flat.
We will work with Goodyear. We've got a lot of that we'll take back to the R&D Center and continue to look at what, if any, findings can come of that.

We will obviously talk to everyone that was involved. Now we really have to take a deeper dive and look further at the tire and see how that gets prevented moving forward…We have our safety experts that will look at this and also look at the competitive aspect to see if there was anything different with this tire.

We don't ever want to see this happen again. If we can put something quickly in place we will do that immediately.
Lastly NASCAR was on the defensive this week as they stood strong with their decision to end the race in Texas 41 laps prior to its scheduled running distance. O'Donnell spoke about what went into the decision and why NASCAR deemed it to be the right call to make with Chase implications on the line.
I think Joey Logano probably said it best – we make every effort to get the race in under its advertised distance. I think you saw especially the circumstances yesterday with over six hours to try to dry a racetrack, at some point you've got to keep the fans certainly in mind, but also the competitors, the amount of time that they've had preparing for a race, and when does it get too late.

So we've always looked at if you get past halfway, that's considered a complete race, and we do make every effort to get the full race in and we did that yesterday. We were a little short; that's unfortunate but the policy that's been in place, we feel like is one that should stand. Never something that we want to have to enact, but, unfortunately, yesterday and really last night you saw that have to come into play.
This weekend NASCAR is hoping rain will not be an issue. Being in Phoenix should eliminate the chance of rain but then again it was only one year ago in Phoenix that NASCAR cut a Chase race short. On that day it was Carl Edwards on the short end of the stick.
Do you agree with NASCAR calling the Texas race? Be sure to comment below and let us know what you think.
More from Beyond the Flag
This article originally appeared on