NASCAR: Addressing The Possibility Of A Texas Motor Speedway Repave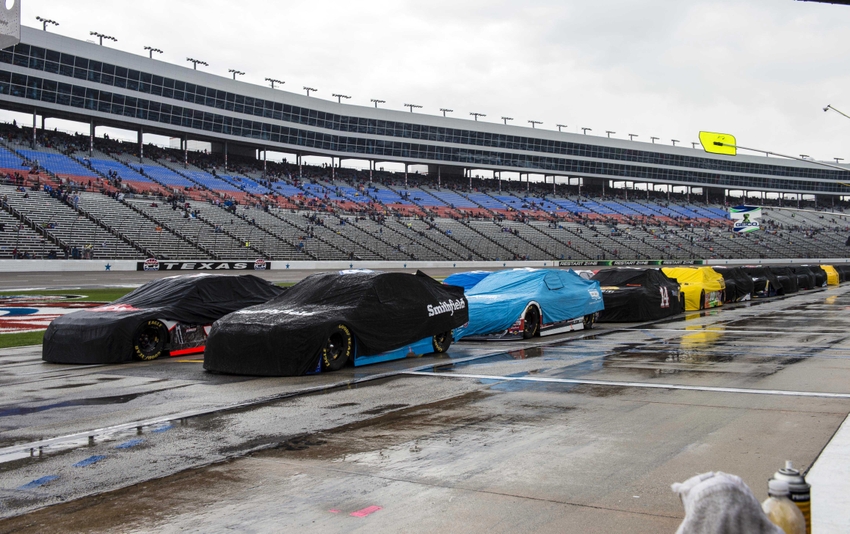 NASCAR faced a long rain delay on Sunday after the track drying process took nearly six hours. Could Texas Motor Speedway be heading for a repave?
Repave. It's the one word that both NASCAR drivers and NASCAR fans hate to hear, but one that has to be discussed at times.
The scene this past Sunday was Texas Motor Speedway getting ready to start the AAA Texas 500 as rain fell at the track. But it wasn't the first time we had seen rain at Texas this year. Back in April, showers moved through for the Duck Commander 500 that caused a near two-hour delay while the Firestone 600 was delayed and eventually postponed for IndyCar's lone visit to TMS this season.
Now back to this past weekend. Rain moved through the area for about 30 minutes before the process of track drying began. As Air Titans and jet dryers attacked the track, it became obvious that the drying efforts were taking longer than normal.
Turns 1 and 2 "ain't doing nothing" as far as drying and high side all way around still wet. No estimate.

— Bob Pockrass (@bobpockrass) November 6, 2016
From the stands, you could tell the the high line was a major issue but that Turns 1 and 2 needed the most work throughout the afternoon. After nearly six-hours of waiting cars got on the track before the race was started under caution.
With roughly 40 laps to go, the rain came back and Carl Edwards was eventually named winner after a late pit stop that got him out ahead of Martin Truex Jr.
Even after a day when the majority of the race was run, there were glaring problems at the track–ones that definitely need to be addressed in the near future.
Repaving a track is certainly not an easy task and one that usually comes with lots of opposition. Think about tracks that have been repaved in the last few years. There's Kentucky, Watkins Glen, Kansas and Michigan, to name a few, but Texas could be the next track in line to receive a repave.
Throughout the process of the track drying on Sunday afternoon, multiple media members and experts around the sport began predicting that a repave was coming soon for the 1.5-mile track.
Headline prediction for 2017: "Texas Motor Speedway to repave track surface…"

— Jeff Gluck (@jeff_gluck) November 6, 2016
The events at Texas certainly made the case for the track to make some changes. The amount of time it took to dry the track seemed a bit excessive and it was clear that the asphalt was nearing the end of its run.
TMS president Eddie Gossage spoke about the possibility of a repave roughly a week before the race (via Star-Telegram):
"It's something that you want to put off as long as you can," Gossage said. "If we can avoid it, we're going to avoid it. But we all work for the fans. They're first and our ability to run a race is paramount. So if it rains yesterday and is causing problems today? We can't have that."
He went on to add this:
"But we are near the end of the lifespan of this asphalt. We're just wanting to stretch it as far as we can, not from an expense standpoint but a competition standpoint. We want to put on good races."
The biggest issue for the president of a track is pleasing both the fans and the drivers.
The fans would prefer a repave simply because they don't want to sit through another long delay due to track drying, but the drivers prefer older tracks because of how much better the racing is. In the article mentioned above, Jimmie Johnson stated that smoother tracks produce "more single-file racing" which is something fans have complained about for a while now.
However, the discussion about a repave wasn't limited to Gossage and Cup Series drivers.
In an interview with SiriusXM NASCAR Radio, NASCAR Executive Vice President Steve O'Donnell explained that "you want to wait as long as possible" when it comes to repaving a track, but also talked about NASCAR's ability to age the track faster.
But as we've seen with the most recent repaved track–Kentucky Speedway–it takes a while for a track to truly get to a form that drivers like. After the race at Kentucky in the summer, Dale Earnhardt Jr. described restarts as being "on pins and needles" while other drivers mentioned flaws in the racing surface.
In fact, roughly three months after the race, the speedway announced that "deficiencies" in the track had led to the need for another layer of asphalt. That's another reason why some are hesitant to start the process of a repave. There's so many things that can go wrong and sometimes it takes longer than normal to get the track where it suits the drivers.
So now let's switch gears and go back to Texas. Some might say that you need to switch the dates for the races there, but with intense heat during the summer, you have no choice but to race in April and November.
Some might also say that Texas doesn't need two races in a season, but let's face it, 1.5-mile tracks are signature venues for the sport. Not to mention the fact that most drivers love coming to Texas and always give it praise.
That's why making changes is such a difficult thing to do at a track doesn't draw the same hype as road courses or other tracks like Bristol, Darlington or Talladega.
To sum things up, a repave is probably going to need to happen soon for the track. These past two years have proved that. It's certainly okay to wait it out and to put it off as long as possible, but there comes a point in time where a repave has to happen and, unfortunately, that time is rapidly approaching for Texas Motor Speedway.
More from Beyond the Flag
This article originally appeared on