Martinsville Speedway Announces Lighting Project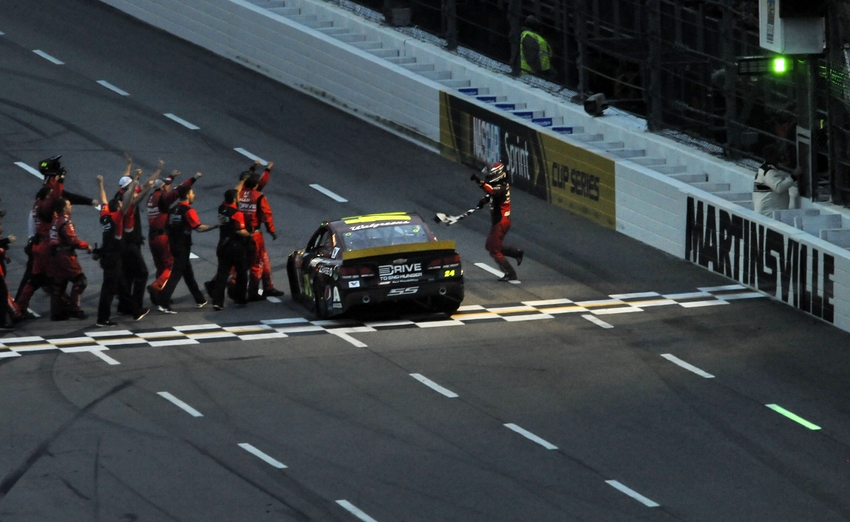 Martinsville Speedway remained one of the few tracks on the NASCAR Sprint Cup Series schedule without permanently installed track lighting. That all changed on Wednesday afternoon.
The historic Martinsville Speedway is set to install lights. Martinsville track President Clay Campbell, Dale Earnhardt Jr., and Bill Mansfield from Graybar (company installing the lights) announced plans on Tuesday. The lighting project will cost five million dollars and the expected completion date is the end of 2016.
Track lighting will be implemented for "insurance" purposes after last year's Goody's Headache Relief Shot 500. 18 cautions and threat of rain almost stopped the event short due to darkness. While the race was completed in it's entirety, Jeff Gordon's victory lane celebration took place under spotlights.
"We'll be the first major motorsports facility anywhere with LED lights" – Clay Campbell
Martinsville is the first track to install LED lighting which is energy efficient and can be turned on instantly. LED lights will make the race look better both on TV and in person.  Earnhardt Jr. added, "I think it's great for the racetrack and it certainly opens up a ton of possibilities for the future of the track itself."
Fans have been asking about a night race at Martinsville Speedway for many years. However, NASCAR's start times in 2017 are already locked in. Campbell said talk of anything beyond 2017 would only be speculation.
While a night race at Martinsville would be great, there's something traditional about short track racing on a Sunday afternoon. Martinsville Speedway is the poster child for tradition. On the other hand a night race at Martinsville could bring a whole new sense of excitement to the track.
The Sprint Cup Series will visit Martinsville Speedway again on October 30th. This race will kick off the Round of Eight in the 2016 Chase for the Sprint Cup.
More from Beyond the Flag
This article originally appeared on