Kyle Busch claims Cup pole at Martinsville Speedway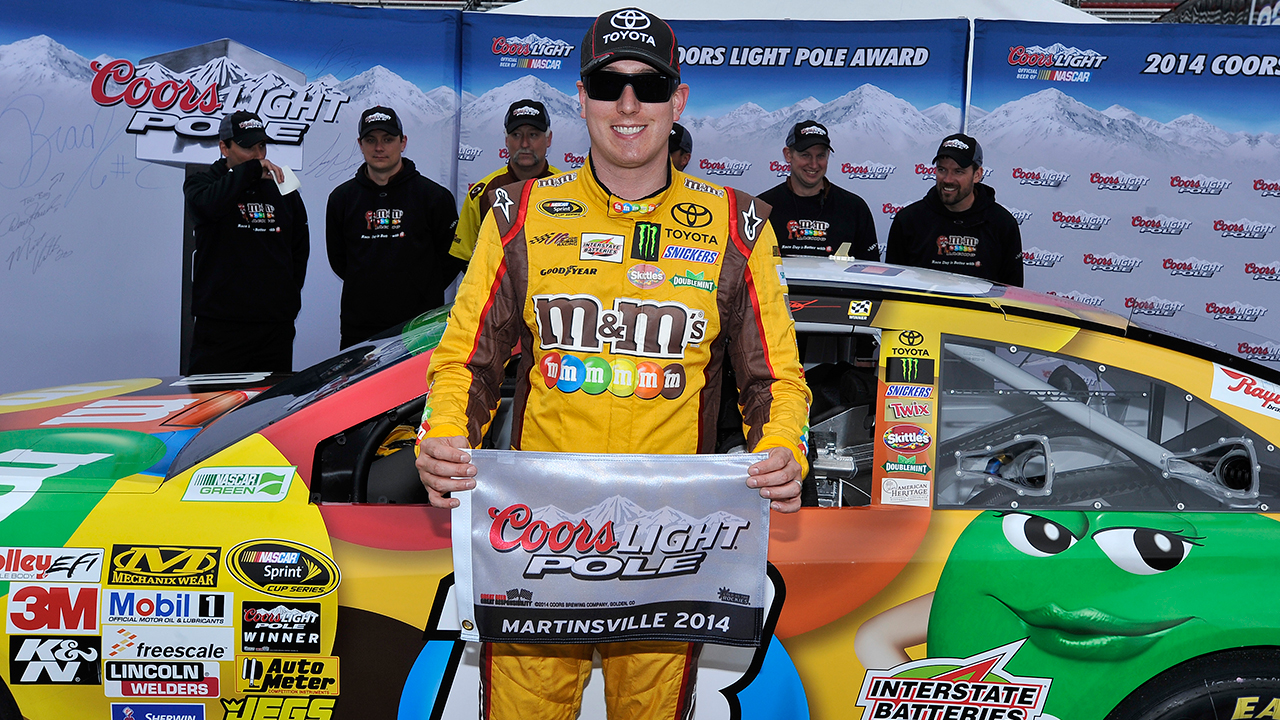 Joe Gibbs Racing swept the front row for Sunday's STP 500 NASCAR Sprint Cup Series race at Martinsville Speedway, with last week's race winner Kyle Busch taking the pole ahead of teammate Denny Hamlin.
Busch, fresh off his victory in the Auto Club 400 on Sunday, won his 14th career pole and first at the 0.526-mile Virginia short track with a lap of 99.674 miles per hour. Hamlin was close behind at 99.548 mph, his fast circuit just 0.024 seconds slower than Busch's pole lap.
"It certainly is a great day for us and the whole team — (crew chief) Dave Rogers and everybody," Busch said. "They did a great job. We unloaded with a fast car and we tried to dial it in as best we could with race trim and then right there at the last second we did a qualifying run and that was about all we got."
Busch said the team is coming together nicely.
"The guys on the whole JGR organization have worked real hard and have given us better cars," Busch said. "We've talked time and time again of what we've needed since the offseason — and with Denny and Matt Kenseth and myself in the meetings, I feel like they're getting closer and closer each and every week."
The pole was the 75th for JGR and third this season and made Busch the sixth different pole winner in as many races this season.
Hamlin, who has four race victories here to none for Busch, came close but couldn't wrest the top spot from his teammate.
"It was a solid qualifying effort for us," Hamlin said. "I kind of knew while I was running the lap that it wasn't a pole-type lap. Surprisingly, it ended up as close as we did."
Joey Logano qualified third at 99.428 mph. Behind him were Hendrick Motorsports teammates Jimmie Johnson and Jeff Gordon, who have combined to win 16 times here.
"Man, it's really, really close on speeds," Johnson said. "I was surprised to see the tires kind of hang on as well as they did. They didn't seem to repeat that well in practice."
Danica Patrick qualified 10th, her best effort of the year and the best she's ever qualified at a non-restrictor-plate track.
"This is definitely a step in the right direction," Patrick said. "Qualifying is something I need to work on and I know it. … We were able to get a top 10 out of it, so I'm very pleased with it."
Because Martinsville is a short track, there were two qualifying rounds, a 30-minute session for all 44 cars entered and then a 10-minute session for the fastest 12. The pole-winner was the fastest driver in the second session.
Joey Logano's Penske Ford led the way in opening stanza, but the three Joe Gibbs Racing Toyotas were all fast, with Hamlin second behind on the speed charts, Kyle Busch third and Kenseth fifth, respectively.
Logano actually broke the track record in the first round with a lap of 100.201 mph. "I'm a little mad about our second run there," Logano said. "I felt like we really had a shot at the pole, but, overall, I feel like for Sunday our car is decent."
Brad Keselowski, Logano's teammate, saw his string of four consecutive front-row starts come to an end. He'll start Sunday's race 14th, 12 positions ahead of Dale Earnhardt Jr.
With 44 cars entered, David Reutimann was the lone DNQ.