Joey Logano Is The Real MVP Of 2016 After Homestead Race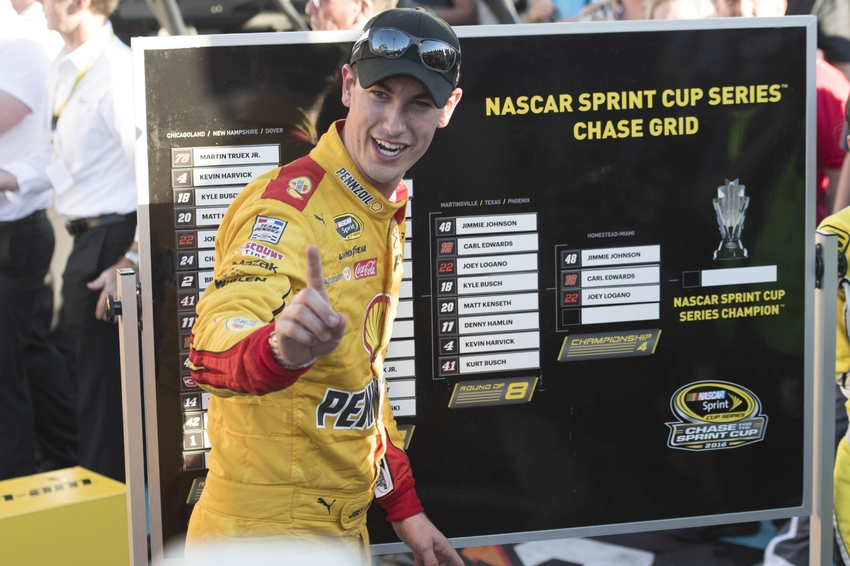 Give credit when it's due NASCAR fans. You repeatedly say that you want NASCAR to go back to the way that it was. That you want to see intense battles to the finish, gutsy moves that require a driver to risk everything for a single position and so much more, but you fail to realize that its right in front of you at this very moment.
His name is Joey Logano and while most fans will probably write him off as the spoiled brat rich kid whose father paid his way to a full time Cup ride, he gave fans the one of the best finishes to a season in recent memory. In fact, one would be hard pressed to even try to argue that Joey Logano didn't give the fans a special treat when he competed for the championship at Homestead.
Not only did Logano have the Championship four on their toes by short pitting throughout the race, a move that came close to winning Logano the title, he also pulled off one of the most gutsy moves of the season by climbing from eight to third on one of the final restart's of the night. While the move didn't get him the win, it did show how far he would go to win the sports most prestigious honor.
If that wasn't enough to make fans want to run out and buy his merchandise, then what about the fact that he was gracious in defeat? Yes, although Logano didn't look very thrilled after coming up short for the second time in his Cup career on Championship weekend, he didn't outright complain about something being unfair or someone racing him in a dirty way. He accepted the outcome and moved on.
Isn't that the problem that most fans had with him in the first place? The fact that he would complain sometimes when he felt he was raced in a dirty manner? That interview after the race should prove the point that Logano has matured on its own, but for a lot of diehard fans of other drivers, Joey Logano will remain the plague upon the sport of NASCAR.
It's just really unjustified the hatred fans have for Logano at this point. It's so bad that they can't even respect him for the show he gave the fans at Homestead Miami and the viewing audience at homes. All they see is the same old Joey Logano. A Logano that hasn't learned a lesson and will always be the scum found at the bottom of the barrel in the sport.
Unfortunately for race fans,, that's their problem now. Joey Logano has more than proved his worth this season and in countless other seasons before that. Say what you want about your favorite driver. Call them more skilled, more courageous on the track and even a more humble driver. You're only lying to yourself and Championship weekend at Homestead Miami without a doubt proved that.
Even his involvement in the final incident of the race, which Carl Edwards admitted was his fault for blocking Logano on the restart, was a result of good hard racing that's fans most likely enjoyed watching as it unfolded. While it did take out many of the top performers in the race and ultimately give Johnson the break he needed to win, it's impossible to say that it didn't show how much the title means to him.
That one moment, which might go down as the turning point in his Sprint Cup career, should have really showed fans something. It should show fans everywhere that they are the reason he is doing what he does. He isn't just a racecar driver turning laps in a Penske Ford, he's a showman from beginning to end. One could even say on the level that Dale Earnhardt was during his prime.
In fact, it was only a few decades ago that fans drivers and the media criticized the way that Dale Earnhardt drove. Doesn't that sound like someone we all know? A certain someone who has made it a point to race hard and defend his actions after the race? That's Joey Logano in a nutshell and he needs to be praised it. If not, then why did fans like Earnhardt all along?
More from Beyond the Flag
This article originally appeared on