Year in review: Successful season derailed at Dover for Jimmie Johnson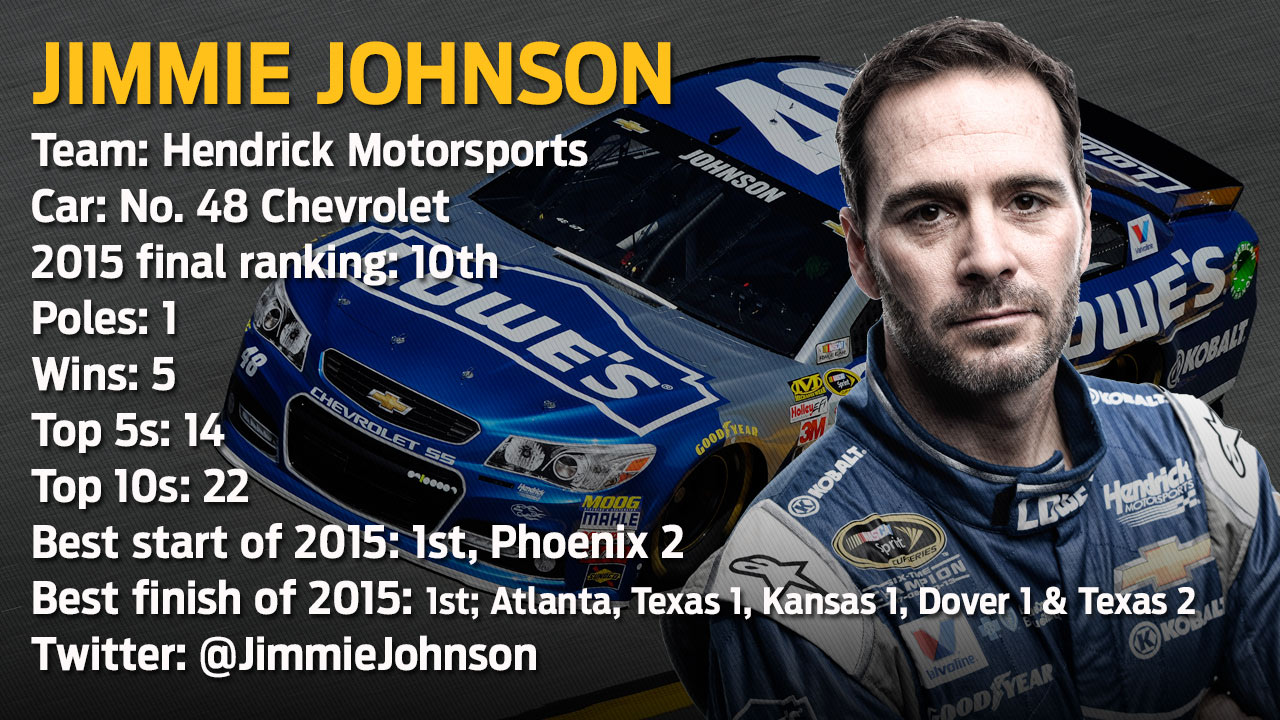 For six-time champion Jimmie Johnson, the 2015 NASCAR Sprint Cup season came down to a $10 part.
Despite months of meticulous preparation, hard work and planning in the garage and at the race shop, plus four wins in the regular season, Johnson's hopes at a record-tying seventh title were erased at Dover International Speedway, when a rear axle seal failed, leading to a 41st-place finish.
Still, Johnson's year should be viewed as a success. The driver of the No. 48 Hendrick Motorsports Chevrolet scored a total of five victories, 14 top fives and 22 top 10s, ending the year 10th in the overall series standings.
Coming off a fifth-place finish in the season-opening Daytona 500, Johnson scored his first win of the 2015 season in the second race of the year at Atlanta Motor Speedway. However, one week later at Las Vegas Motor Speedway Johnson would record one of his worst finishes of the season, 41st, after cutting a tire and hitting the outside wall.
After an up-and-down couple of weeks after Las Vegas, Johnson and his team led by crew chief Chad Knaus hit their stride at Texas Motor Speedway in April. After a disappointing 35th-place finish at Martinsville Speedway, Johnson went to Victory Lane at Texas, was second at Bristol, third at Richmond, second at Talladega and earned his third win of the season at Kansas Speedway.
Johnson had an uncharacteristic day at Charlotte Motor Speedway, spinning out twice and finishing 40th, but the driver of the No. 48 rebounded in a big way the following week at Dover International Speedway. Getting by Kevin Harvick late in the race, Johnson earned his 10th career victory at the Monster Mile.
As the season hit the summer stretch, Johnson and the No. 48 team struggled to find the consistency needed to remain at the forefront of the championship conversation, but the veteran team was always lurking in the shadows. Top-five finishes at Pocono, Daytona and Bristol were counter-balanced by disappointing finishes at Michigan, New Hampshire, Michigan and Darlington.
Yet when the Chase for the Sprint Cup kicked off, Johnson entered as the top seed with four victories during the first 26 events. That Chase-opening race at Chicagoland Speedway would not be without controversy, however.
A run-in with defending champion and close friend Kevin Harvick sent the No. 4 Chevrolet into the outside wall with a cut tire. After the race, Johnson tried to mend fences with Harvick in the driver motorhome lot, but the Stewart-Haas Racing driver came out fighting mad, hitting Johnson in the chest with a quick jab. The two were separated and Johnson walked away.
Still in the thick of the Chase hunt, Johnson's title hopes came to an end at Dover when the failure of the rear axle seal forced him to the garage just past the 100-lap mark of the race. After a 41st-place finish, Johnson's title hopes came to an end.
"Definitely disappointed," Johnson said after the race. "It's tough having a very inexpensive axle seal be the culprit and take your championship hopes away. It's racing, I've had mechanicals take me out of championships growing up that led to some success for myself and I'm sure helped me with a championship or two. It's just part of racing. It just shows how critical everything is on a race team. And how important every component is and you can't take anything for granted. Heartbreaking for sure, but I don't know what else we can do about it."
Out of the championship hunt, Johnson's year was far from over. Despite a disappointing 39th-place finish in the Bank of America 500 at Charlotte, Johnson was able to earn three top fives and four top 10s in the final six races of the year.
During that stretch, Johnson earned his fifth win of the season at Texas Motor Speedway. After Brad Keselowski dominated the event, Johnson was able to wrestle the lead away in the closing laps to score the victory and keep the Team Penske driver from advancing to the Championship 4.
Finishing the season with a ninth-place finish at Homestead, Johnson's year ended on a high note. Still, crew chief Chad Knaus knew if they had been more on top of their game, they could have been in the thick of the championship fight.
"We have to not have mechanical issues, axle seal problems, things like that. Like I said, we'd be right in the middle of this," Knaus said after their win at Texas. "Look, we did it to ourselves. Let's be honest. We did it to ourselves. I don't want to say we slacked, but we stunk up the summer 100 percent. It was horrible, pathetic. Then we come into the Chase, we're running pretty good. We ran well at Chicago, we ran well at New Hampshire. New Hampshire we had a problem, came back and finished well. Chicago we had a solid run. I'm sure we had something wrong there, too. Stacking up the problems we had throughout the course of the season, you get written off.
"Man, this is a tough sport. 39 events, 39 weeks we race with 43 of the best teams in racing," he said. "It's tough. It only takes one or two little things to make you feel like you're out of it."
That victory at Texas gave Johnson 75 career Sprint Cup Series wins, one behind NASCAR Hall of Fame member Dale Earnhardt. While he was unable to tie the Intimidator's mark this season, the importance of that accomplishment was not lost on the six-time champion.
"It would be huge (to tie Earnhardt). Hard to even put it into words," Johnson said at Texas. "I came into this sport hoping to win a race. To have 75 of them is mind-€'blowing. If I'm able to tie Senior, it's something I would be just extremely proud of."