Hellman's 500 qualifying at Talladega: Martin Truex Jr. grabs pole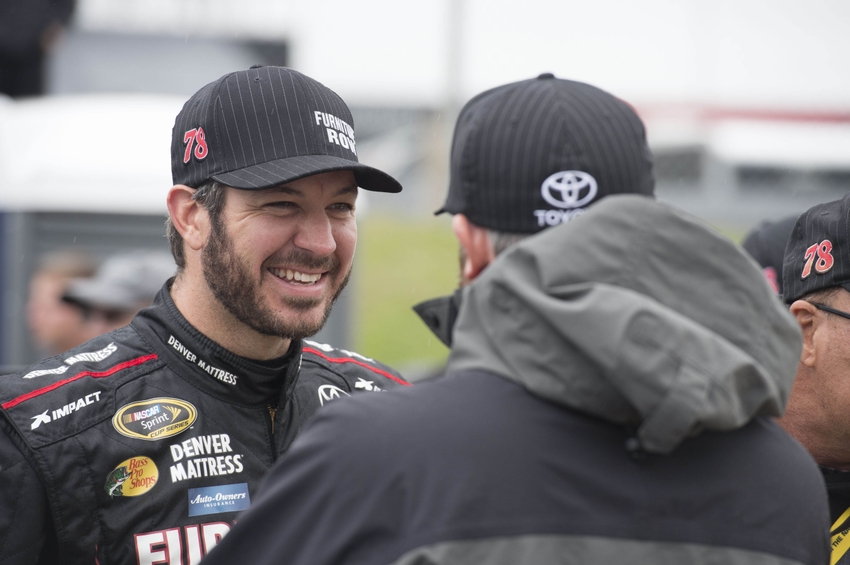 Reed Sorenson shocks the field with fastest time in round one only to be the slowest in the second run for the pole.
With a speed of 193.423 mph (49.508 seconds), Martin Truex Jr. captured the 11th pole of his career and will lead the field to the green flag for the Hellman's 500 at Talladega Superspeedway Sunday afternoon.
In single car qualifying, Truex had the second fastest trip in the first round and bested his time by .142 seconds in the second. Brad Keselowski, who will need a win to advance to the Round of 8, clocked in as second quickest.
Still wearing his Camping World Truck Series fire suit, Reed Sorenson in the No. 55 Toyota for Premium Motorsports came out of nowhere to post a 194.145 mph (49.324 seconds) lap as just the fifth car out  in the opening round and it would actually hold up by 1.275 mph (.326 seconds).
His luck did not hold out in round two as he was the slowest, however, starting 12th is light years ahead of his best, a 36th in the spring race at Richmond. He was one of five cars who had to qualify on time.
One thing race fans know very well is that where you start at Talladega Superspeedway goes a long way to where you might finish. In 94 races at the Alabama track, the winner has come from the front row 33 times. Taking the green flag with a top-10 spot gives drivers a 71-percent chance of landing in the winner's circle.
Taking the pole may be prestigious, however, starting from outside the front row (No.2) has proved to be where you want to be and over the history of Cup races at the 2.66 mile track, 20 drivers have won. To possibly prove the point, earlier in the day, Grant Enfinger won the Camping World Truck Series Fred's 250 from that spot. Does that bode well for Keselowski?
PIT NOTES:
Jeffrey Earnhardt, the grandson of the late Dale Earnhardt, was bumped out of his No. 32 because Bobby Labonte takes over on superspeedways, so a late deal was put together to get him in the No. 83 Toyota for BK Racing. With Dale Earnhardt Jr. out for the season, Jeffrey keeps an Earnhardt streak alive at Talladega where a member of the family has started in 74 consecutive races. In addition, his crew chief will be Doug Richert who guided Senior to his first Cup championship in 1980. Finally, Junior will be at the track in the booth for the Hellman's 500.
The No. 11 (Denny Hamlin), No. 18 (Kyle Busch) and No. 20 (Matt Kenseth), all Joe Gibbs Racing cars, were taken out of line for qualifying and forced to go through tech again after a visual inspection of the deck lid did not satisfy officials. Each made it through and was able to make their runs.
While he was not the slowest car in qualifying, he was 36th overall, David Gilliland in the No. 35 Ford for Front Row Motorsports was one of five drivers who had to get in on time and failed to do so.
HELLMAN'S 500 AT TALLADEGA STARTING LINEUP:
1 – Ryan Truex Jr.
2 – Brad Keselowski
3 – Matt Kenseth
4 – Chase Elliott
5 – Greg Biffle
6 – Ricky Stenhouse
7 – Kurt Busch
8 – Denny Hamlin
9 – Austin Dillon
10 – Paul Menard
11 – Trevor Bayne
12 – Reed Sorenson
13 – Carl Edwards
14 – Kyle Busch
15 – Ryan Blaney
16 – Joey Logano
17 – Jimmie Johnson
18 – Ryan Reed
19 – Alex Bowman
20 – Ryan Newman
21 – Tony Stewart
22 – Kevin Harvick
23 – Jamie McMurray
24 – Kyle Larson
25 – Brian Scott
26 – Aric Almirola
27 – Kasey Kahne
28 – Casey Mears
29 – Regan Smith
30 – Danica Patrick
31 – Landon Cassill
32 – AJ Allmendinger
33 – Chris Buescher
34 – Michael McDowell
35 – Matt DiBenedetto
36 – Clint Boyer
37 – Michael Annett
38 – Bobby Labonte
39 – Jeffrey Earnhardt
40 –  David Ragan
41 – David Gilliland (Did not qualify)
This article originally appeared on