Ford EcoBoost 400 at Homestead Miami Speedway: Kevin Harvick wins pole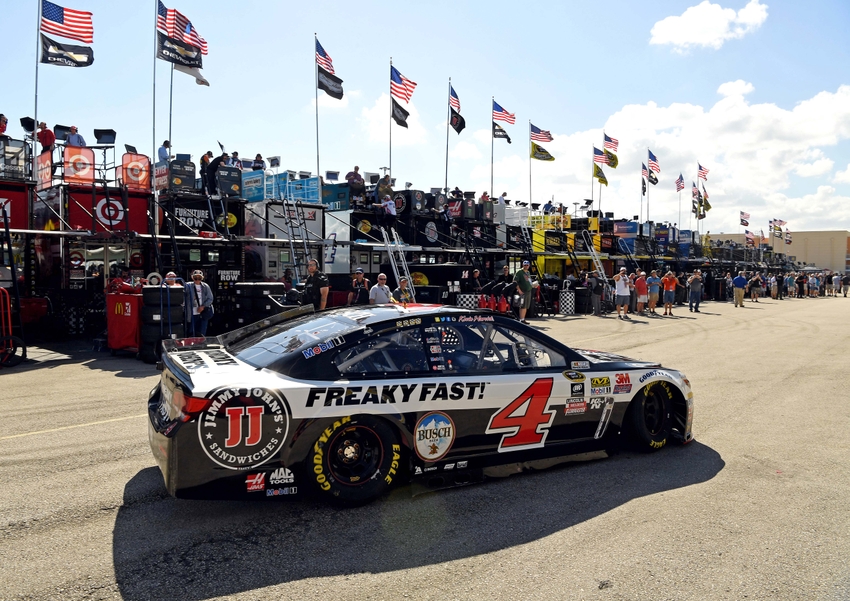 The field for the final Sprint Cup race of the season is set as a champion will be crowned after the Ford EcoBoost 400 on Sunday.
With a speed of 177.637 (30.399 seconds), Kevin Harvick took the pole for the Ford EcoBoost 400 and will lead the field to the green in the final NASCAR race of the season. The driver of the No. 4 Chevy SS for Stewart-Haas Racing was eliminated from the championship round last week. Brad Keselowski, who did not make it out of the Round of 12, will be on the front row next to Harvick.
"That's awesome," said Harvick.  "I didn't know if we had a chance at the pole with as fast as the No. 24 (Chase Elliott) had been. But I knew if we could just run the same speed every round, that is half the battle because you never know how much it is going to slow down for everybody else, and it doesn't take much to make a mistake."
All Championship Four drivers made it out of the first round, unfortunately, Joey Logano and Jimmie Johnson could not find enough speed to move on to the pole round. They will start on the same row in 13th and 14th, respectively.
"I don't know," Logano said. "We just missed it a little bit. I am not really sure. I don't have the answer for you right now. We have to think about it a little bit. We want to be faster than that obviously. It is okay, though. We are not that far back. We have a long race and it is easy to pass so we will work our way up."
For those who are part of the Championship Four, there are no points on the line when the green flag drops on the Ford EcoBoost 400. It is all about finishing ahead of the other three drivers who are eligible to win the Sprint Cup championship. There are no more tomorrows.
Tony Stewart will be starting his final Sprint Cup race on Sunday and he is positioned to make a run at a win making it into the pole round and will start 11th.
PIT NOTES:
Jimmie Johnson barely made it into the second round. He was one of the first cars out and put down a lap that saw him drop like a brick to as low as 29th before he got back out for a second run and just as he started, Landon Cassill spun out bringing out a red flag with just 57-seconds remaining and he had to abort. When the track was finally cleared the No. 48 just sneaked into the top-24 with a 22nd.
Denny Hamlin celebrated his 36th birthday by qualifying on the second row in fourth.
Homestead-Miami Speedway today announced a grandstand sellout for the Ford EcoBoost 400 NASCAR Sprint Cup Series Championship race on Sunday.
"Ford Championship Weekend continues to grow in stature each year, and having sold out the Ford EcoBoost 400 three years in-a-row is a testament to that," said Homestead-Miami Speedway President Matthew Becherer.
HERE IS THE FORD ECOBOOST 400 STARTING LINEUP:
1 – Kevin Harvick
2 – Brad Keselowski
3 – Ryan Newman
4 – Denny Hamlin
5 – Chase Elliott
6 – Martin Truex Jr.
7 – Matt Kenseth
8 – Ryan Blaney
9 – Kyle Busch
10 – Carl Edwards
11 – Tony Stewart
12 – AJ Allmendinger
13 – Joey Logano
14 – Jimmie Johnson
15 – Jamie McMurray
16 – Kurt Busch
17 – Austin Dillon
18 – Ricky Stenhouse Jr.
19 – Alex Bowman
20 – Trevor Bayne
21 – Greg Biffle
22 – Brian Scott
23 – Casey Mears
24 – Kyle Larson
25 – Aric Almirola
26 – Michael McDowell
27 – Chris Buescher
28 – Paul Menard
29 – Kasey Kahne
30 – Danica Patrick
31 – Matt DiBenedetto
32 – Landon Cassill
33 – Clint Boyer
34 – Ty Dillon
35 – Regan Smith
36 – David Regan
37 – Reed Sorenson
38 – Jeffrey Earnhardt
39 – Dylan Lupton
40 –  Michael Annett
41 – Gray Gaulding (Did not qualify)
Who is your pick to win the race on Sunday?
This article originally appeared on