Five Drivers NASCAR Fans Love To Hate The Most
Brian Thornsburg/FanSided via Beyond the Flag

Fansided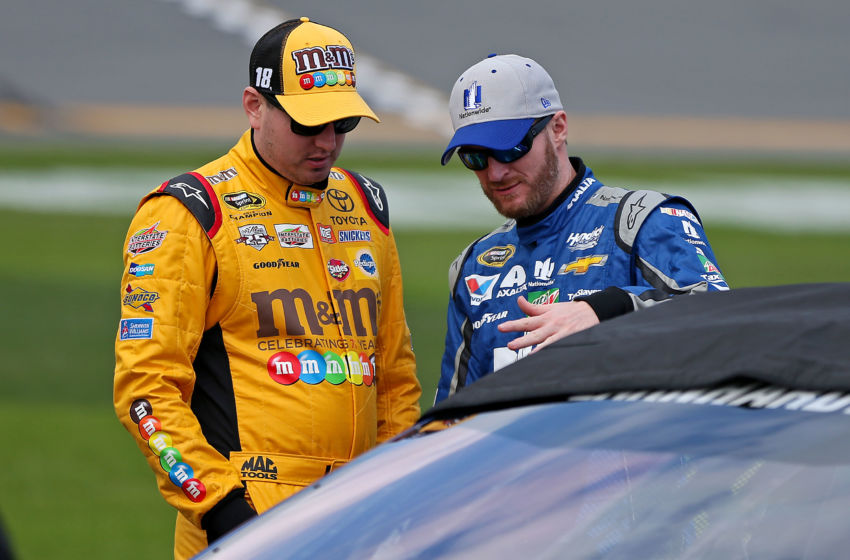 Fans of the Monster Energy NASCAR Cup Series are a fickle bunch. Sometimes it seems as though some NASCAR fans enjoy hating the drivers they dislike more than they enjoy rooting for the driver that the love the most.
Whether the [the fans] cheer you or boo you; at least they know who you are.
Those were the words of wisdom imparted onto a young Jeff Gordon during the early years of his career. The advice was given to him by series veteran, Dale Earnhardt, and would later propel the California native to put public opinions aside and focus on capturing four NASCAR Cup championships over the course of his legendary career.
In honor of Earnhardt's famous words to Jeff Gordon, Beyond The Flag counts down the five drivers that fans just love to hate on. Some picks on this list may surprise you and some picks may not, but we encourage readers to keep an objective mindset while reading this list and put themselves in another fan bases shoes. If your driver is one that fans love to hate on, you should embrace it because chances are your driver is doing something right.
Kyle Busch
It's all about winning.
No, seriously, for Kyle Busch it is all about winning the big trophy at the end of the day. Not only has the 2015 Cup Series Champion proved that by capturing wins in every top NASCAR series and sweeping entire race weekends, he has also proven this by his aggressive and sometimes even jaw-dropping behavior on the track.
While this personality trait is a great thing, especially since it has led the younger Busch brother to a NASCAR Cup Championship, 38 Sprint Cup wins, 86 Xfinity Series wins and 46 Camping World Truck Series victories, it is also one of biggest reasons why Kyle Busch is so disliked by NASCAR fans around the world. In fact, his personality combined with his winning ways on the track might just make him one of the most hated drivers of all time.
What can I say, success breeds jealousy.
Kyle Busch gave fans another reason to hate him in 2015, when he became NASCAR's first champion under the new playoff format to not compete in every race that season. The title victory forced fans to throw around terms like waiver champion and part-time champion, which angered Samantha Busch to point of defending her husband's title victory during the end of year ceremony in Las Vegas.
With all that in mind, and Kyle Busch sure to be continuing his winning ways in 2017, there should be no doubt in fans minds that he will continue to be despised wherever he goes. His 2016 comments about NASCAR fixing races also didn't do much to help him win the popular vote.
Joey Logano
It's no secret that a majority of the NASCAR fan base has a deep-seeded hatred for Joey Logano.
Fans made that quite clear during the fall race at Martinsville Raceway in 2015, where Joey Logano was intentionally wrecked by Matt Kenseth after leading much of the afternoon's race. The moment was made even more gratifying for fans by the fact that it effectively stopped Logano from locking himself into the final round of the Chase.
While fans hatred of Logano is made obvious every time the man steps out for driver introductions, the reason why fans despise him is a lot harder to pin point. Like many other drivers on this list, it may simply have to do with the fact that Logano has been very successful in his short time in the Sprint Cup Series. Or, it could have to do with the almost child-like way that Logano carries himself off of the track.
One example of this was during his 2012 altercation with Tony Stewart, where Logano only managed to throw a water bottle at the three-time champion and then hid behind his crew members for the rest of the fight. Not only was this heavily mocked by Stewart in a post-race interview with Steve Byrnes, it also showed fans that Logano couldn't back up his aggressive racing on the track.
Whether Logano will ever even out his aggressive tendencies on the track with an equally tough persona off the track remains to be seen. However, with what Logano has shown fans of his personality in the past, it doesn't look like that will be happening anytime soon and as a result, fans will continue to hate him.
Danica Patrick:
It may be very easy to pick out reasons why Kyle Busch and Joey Logano are so loathed by NASCAR fans, it's much harder to pinpoint exactly why fans have such a hatred for Danica Patrick. One would think fans would welcome one of the biggest, and most positive changes to happen to NASCAR in the 21st century, but unfortunately a lot of fans don't see it as such a good thing. In fact, some fans don't believe Patrick, or any other woman for that matter belong in the sport of auto racing.
Another thing that has irked fans about Danica Patrick in NASCAR is her lack of performance on the track. Not only has the Stewart-Haas racing driver only captured six top-ten's in her 4+ years racing in the Cup Series, she has also never had a points finish inside of the top-20. This has caused many fans in NASCAR to become envious of her undeserved hype and praise in the media.
Finally, there's the anger. While most fans would find a drivers short temper a good thing, especially when that driver is fighting to establish themselves in the Cup Series, it is also one of the main reasons why fans are so hateful towards Patrick. It's not exactly known why this is the case, but it could be possible that fans believe that her anger towards other drivers is unjustified due to her lackluster performance on the track.
A prime example of this was a couple of years ago at Darlington Speedway where Danica Patrick went off on Dale Earnhardt Jr. over the radio after the two made contact on the track. Unfortunately for Patrick, Jr. was facing a mechanical failure at the time and had no control of his car during the incident. This of course made Patrick look ridiculous and petty, especially since Patrick's rant was played on NBCSN's broadcast of the race and was directed towards NASCAR's most popular driver. It also doesn't help that Patrick has wrecked herself multiple times while trying to wreck other drivers out of anger.
While the reasons for fans disdain of Patrick may or may not be valid, that hasn't stopped fans from telling the Illinois-native exactly what they think of her and her plight to become a successful Cup Series driver.
Tony Stewart
Tony Stewart might be a three-time Sprint Cup Champion, multiple time Cup race winner and a championship team owner, but he is also one of the most controversial and even despised figures of all-time. The main reason for this is his anger, which has caused the Indianapolis native to get caught up in quite a few high profile incidents over the course of his career in the NASCAR Sprint Cup Series.
The best example of this was in 2013, where Stewart got angry with Joey Logano after a late race block for the lead sent Stewart back in the pack and resulted in Stewart getting into a pit road fist fight with Logano. Stewart's anger only seemed to grow from there, as he went on a post-race interview tirade on Logano for blocking him in the closing laps of the race.
Unfortunately for Stewart, his anger problems don't end there. The former Sprint Cup Champion was also heavily fined for backing into Brad Keselowski's Miller Lite Ford on pit road following a Chase race at Lowes Motor Speedway. While Stewart's fans found that he was justified in his actions, especially since he was just retaliating after Keselowski ran into him first, but it is still a prime example of how hot-headed Stewart can get before, during and after a race.
Some might believe these incidents overshadow the great success that Stewart has had over the course of his 18-year NASCAR career, but it is impossibly hard to argue that his temper and actions on the track haven't made NASCAR more exciting than ever to watch.
Jimmie Johnson.
#Winning
That seems to be one of the only reasons NASCAR fans have to dislike the man that has taken the Cup Series by storm. Not only was Johnson the first driver to win five straight championships and tie Dale Earnhardt and Richard Petty with seven in 2016, he also recently surpassed Dale Earnhardt on NASCAR's all-time win list. If that wasn't irritating enough for NASCAR fans, he has accomplished all these great feats without showing the faintest sign of a personality.
Not that he doesn't have one, but the personality he shows to the media and the fans is that of a cardboard cut out. He's clean, he's humble he hardly ever gets in trouble on or off the track and that may be what fans hate the most about the seven-time champion of our sport. Johnson might be the perfect example of a championship-caliber role model and it just upsets people.
Like it not, and most fans probably won't like it very much, Jimmie Johnson will go down as one of the most dominant and successful NASCAR drivers of all time. In fact, he will most surpass Dale Earnhardt's and Richard Petty's record of seven championships, which will not only place him in a league of his own, but will also guarantee a certain degree of hate from fans for the rest of his career.
This article originally appeared on