Denny Hamlin's 2015 Sprint Cup year in review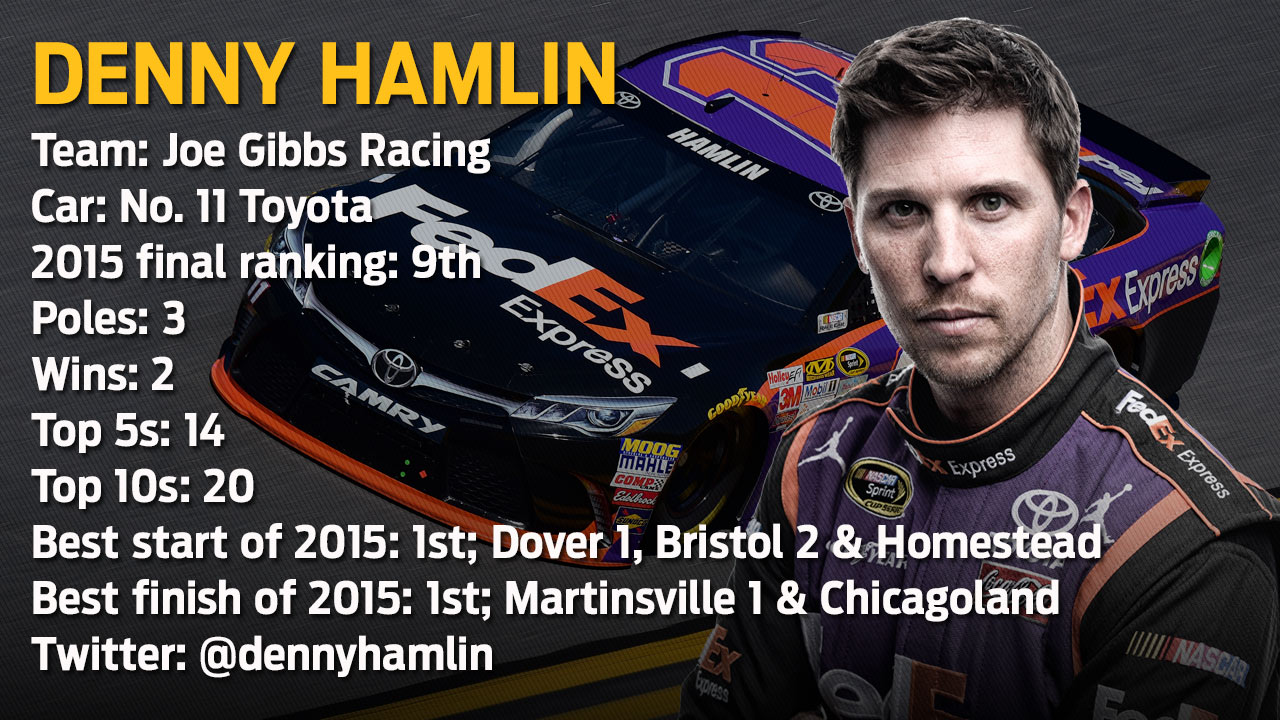 Denny Hamlin had one of those seasons that could be described as the glass is half empty or the glass is half full — lots of good, but a puzzling amount of not so good, too.
Hamlin, who drives the No. 11 FedEx-sponsored Toyota for Joe Gibbs Racing finished a respectable ninth in the NASCAR Sprint Cup points standings.
That sounds pretty good at first blush, but Hamlin finished better than ninth six times in the prior nine seasons, including a runner-up effort in 2010 and third-place points finishes in both his rookie year of 2006 and the 2014 campaign.
So it's safe to say, Hamlin had higher aspirations, especially after making it to the final round of the Chase for the Sprint Cup last year, when NASCAR first initiated knockout rounds in its playoff format.
Still, it was a pretty good year. Hamlin earned two race victories and three poles, and posted 14 top-five and 22 top-10 race finishes, all good numbers.
For a while, Hamlin appeared as if this might be the season when he finally won his first championship. In the final four races of the Sprint Cup regular season, Hamlin finished no worse than sixth, with an average finish of 4.25.
And when the Chase began, Hamlin and the JGR had it going on in a big way. Hamlin won the first race of the Chase at Chicagoland Speedway, which automatically advanced him to the next round. He followed the victory up with a great second-place finish at New Hampshire Motor Speedway.
The Contender Round of the Chase started off well for Hamlin, with a fourth-place finish at Charlotte Motor Speedway and a second place at Kansas Speedway. In the first five races of the Chase, Hamlin had a victory and four top-five finishes, appearing to be ideally positioned to make a championship run.
But then it all came apart — literally. At Talladega Superspeedway, Hamlin had one of the most bizarre problems of the year, when the roof hatch of his Toyota came loose, and the team had to make multiple attempts to repair it.
And when Kevin Harvick triggered a wreck on the green-white-checkered restart at the end of the race, Hamlin was caught up in the crash and finished 37th. After such a promising start to the Chase, Hamlin was eliminated from title contention by a mere 8 points.
The next week, Hamlin finished third at Martinsville Speedway, where he had won in the spring. But a fuel pressure issue at Texas Motor Speedway left him 38th, and after top-10 finishes to end the season at Phoenix International Raceway and Homestead-Miami Speedway, Hamlin wound up ninth in points.
Most drivers would be happy to finish in the top 10 in points, but having comes close before, Hamlin will be aiming high again in 2016, as he attempts to win his first Sprint Cup title.