FOX NASCAR sets Sprint Cup Series driver schedule for 2016 XFINITY Series booth
FOX Sports returns four NASCAR Sprint Cup Series drivers as race analysts for its coverage of the NASCAR XFINITY Series coverage in 2016 and adds Carl Edwards this season for the first time. Rotating in the FOX and FS1 booth are Edwards, Kevin Harvick, Clint Bowyer, Brad Keselowski and Danica Patrick. Harvick, Bowyer, Keselowski and Patrick rotated in the FOX Sports booth in 2015. Harvick, 2014 NASCAR Sprint Cup Series champion, is up first, calling the season opener from Daytona International Speedway on Saturday, Feb. 20 (3:30 p.m. ET) on FS1. Bowyer is on deck, joining the FS1 team of play-by-play announcer Adam Alexander and analyst Michael Waltrip at Atlanta Motor Speedway on Saturday, Feb. 27 (1:30 p.m. ET).
This season, FOX Sports airs the first 14 NASCAR XFINITY Series of the year. FS1 telecasts 10 of the events while FOX broadcasts the races from Phoenix, Talladega, Dover and Pocono. Below is a list of NASCAR XFINITY Series races on FOX and FS1 for which Cup Series drivers are scheduled to serve as guest analysts: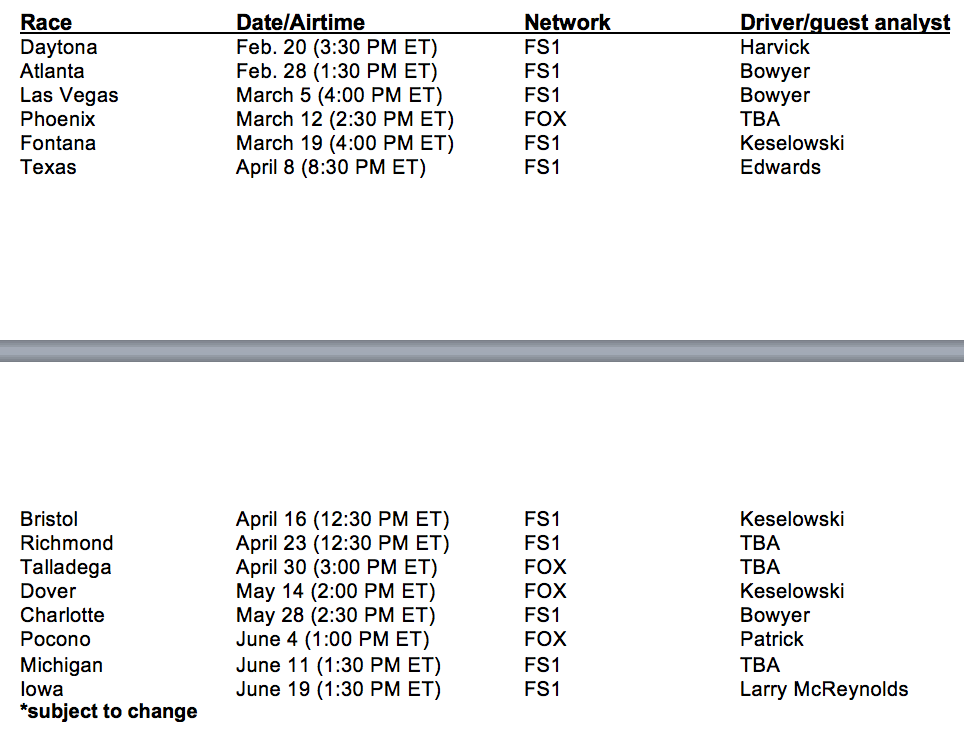 STAR-STUDDED Jeff Gordon's Daytona 500 Kickoff Celebration AIRS TONIGHT AT 9 p.m. ET ON FOX
FOX Sports and four-time NASCAR champion Jeff Gordon host an intimate gathering at the Halifax River Yacht Club in Daytona Beach, Fla., to celebrate the start of Gordon's FOX NASCAR broadcast career, the commencement of FOX NASCAR's 16th season, the Daytona 500 and the release of Sports Illustrated Swimsuit 2016. NASCAR drivers, Hollywood celebrities and Sports Illustrated Swimsuit 2016 models fete "The Great American Race" on Jeff Gordon's Daytona 500 Kickoff Celebration, airing Saturday, Feb. 20 (9 p.m. ET) on FOX broadcast network. The hour-long special, hosted by Gordon and FOX Sports' Molly McGrath with reporting by Jamie Little, features interviews with Sports Illustrated Swimsuit 2016 models Erin Heatherton and Hannah Ferguson, Carolina Panthers cornerback Josh Norman, Academy Award-winning actor Cuba Gooding Jr., a performance by Aloe Blacc, and interviews with drivers Jimmie Johnson, Joey Logano, Clint Bowyer, Austin Dillon and Ricky Stenhouse Jr. among others.
FOX NASCAR SUNDAY KICKS OFF 2016 SEASON WITH PACKED SHOW SUNDAY AT NOON ET
FOX NASCAR Sunday kicks off Sunday's Daytona 500 coverage on FOX (1 p.m. ET) at noon ET with a Jeff Gordon sit-down interview with defending champion Kyle Busch. In addition, Danielle Trotta updates viewers on Sherry Pollex, Martin Truex Jr.'s girlfriend, and her courageous battle with cancer; a Dale Earnhardt Jr. interview; a performance by Florida Georgia Line; Darrell Waltrip takes viewers on a tour of Daytona Rising; and Michael Waltrip's Grid Walk.
SUNDAY'S NASCAR RaceDay EXPANDS TO TWO HOURS PRECEDING FOX COVERAGE
NASCAR RaceDay, FS1's pre-race program, expands from 90 minutes to two hours on Sunday, Feb. 21, beginning at 10 a.m. ET. It includes: a Jeff Gordon sit-down interview with defending champion Kyle Busch; a 2016 rookie class feature in which the four rookies evaluate each other; a "Remember When" piece in which Chase Elliott and Regan Smith reflect on their first memories of Daytona; a "film room" feature in which Joey Logano sits down with Danielle Trotta to re-live his win in last year's Daytona 500; fans' video and photo highlights submission from Thursday's Duel at Daytona; and live interviews with Daytona 500 pole winner Chase Elliott; Jimmie Johnson; Kevin Harvick, Joey Logano, Brian Vickers, Greg Biffle and John Cena.
NASCAR Race Hub OFFERS Daytona 500 WINNER AND JEFF GORDON IN-STUDIO NEXT WEEK
FS1's NASCAR Race Hub, the most-watched NASCAR daily news and highlights program, has a packed docket next week. Up on Monday, Feb. 22 (5 p.m. ET) is an interview with the Daytona 500 champion, and on Tuesday, Feb. 23 (5 p.m. ET), Jeff Gordon and Joey Logano are in-studio.