Daniel Suarez wins first ever Xfinity Series Chase championship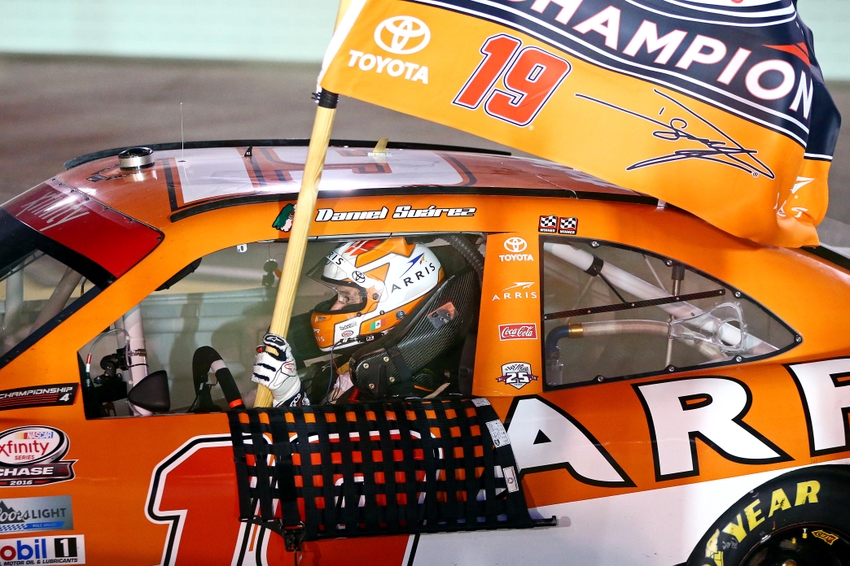 Suarez becomes the first driver born outside the United States to win a major NASCAR championship.
History was made at Homestead-Miami Speedway Saturday in more ways than one when Daniel Suarez claimed the first ever Xfinity Series championship in the new Chase format by winning the Ford EcoBoost 300.
The 24-year-old from Monterrey, Mexico also etched His name into the NASCAR record book as being the first driver born outside the United States to win a title in any of the top three series.
On a restart with just three laps to go, Suarez passed by Elliott Sadler and cruised to the checkered flag. Sadler, who was one of the Championship Four, was back in the field until Ray Black Jr. spun out with just ten laps to go and to make up track position he took just two tires while everyone else took four on the last pit stop. It proved to be a critical point in the race.
Cole Whitt did not pit and stayed out, making him the race leader. When the green flag flew, he spun his tires, bottling up everyone on the outside lane, opening the door for Suarez to pass Elliott. Sadler would ultimately finish third while the other two Chase drivers, Justin Allgaier and Erik Jones, finished 6th and 9th, respectively.
Suarez became Chase eligible when he won at Michigan in June which made him the first Latin driver to win a NASCAR national touring series race and he added to that coming home first at Dover in October which shot him into the Round of 8 during the Xfinity Series' inaugural Chase format.
At one point late in the race all four Chase drivers were in the top-five and with just 54 laps to go they held down the top four spots. Allgaier looked as if he was going to be the only one to challenge Suarez until he hit the outside wall and slowed his pace. Sadler and Jones also tagged the wall at one point down the stretch leaving Suarez as the only one who had a clean car at the end.
This article originally appeared on