Chase for the Sprint Cup Race No. 1: Chicagoland Preview and Prediction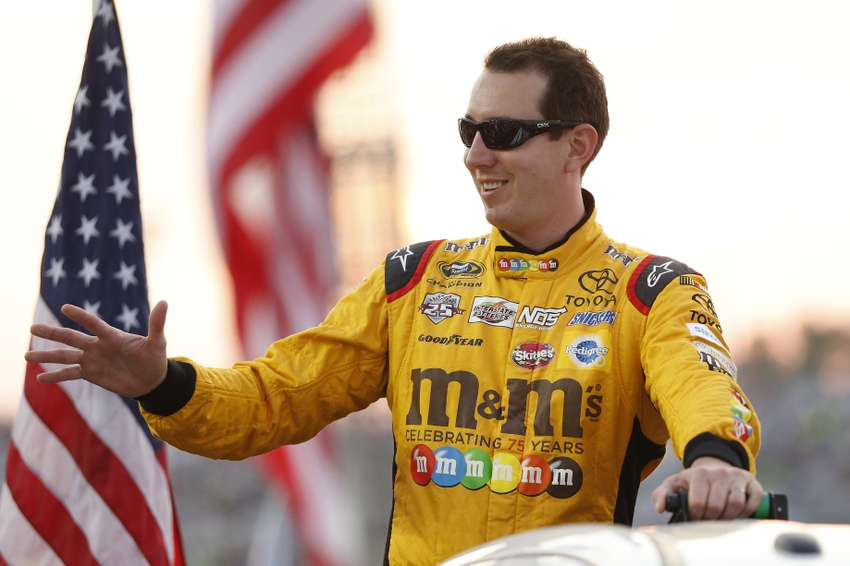 The Sprint Cup field has been whittled down to 16 drivers who will vie for the championship beginning this Sunday in the Teenage Mutant Ninja Turtles 400 at Chicagoland Speedway.
The final stages of the 2016 NASCAR Sprint Cup season are about to start this weekend now that the Round of 16 field has been set following last Saturday's regular season finale at Richmond International Raceway.
The first stage of the Chase is a three race dash that will whittle the field down to a dozen hopefuls and that number will shrink to eight after three more events. The competition really heats up after that because the final three races will slice that number in half heading into a one-race, winner takes all finale at Homestead-Miami Speedway on Nov. 20.
Kyle Busch (No. 18 Toyota) made the Field of 16 and will get the chance to be the first repeat champion since Jimmy Johnson (No. 48 Chevrolet) ran off five straight from 2006-10. Busch enters the playoffs tied with Brad Keselowski (No. 2 Ford) having garnered the most bonus points (12) with four wins, and feels he is more prepared for the Chase this time around.
"Definitely feel more confidence," he said. "Feel like the pressure is off being able to win the championship last year. Now having that instilled in my reputation or legacy in the Sprint Cup gives us a greater sense of what it takes to win that championship and how to be able to achieve that as it goes down the road, and as the pressure changes during the different rounds of the Chase."
Busch drives one of five Toyotas in the field, which leads the NSCS manufacturer point standings by 27 over Chevrolet with 1,072 points. All three of his Joe Gibbs Racing teammates – Denny Hamlin (No. 11), Carl Edwards (No. 19) and Matt Kenseth (No. 20) – are also in, starting in third, fifth and seventh, respectively.
"Every addition we've brought on to our Toyota Racing family, it has made our team stronger," said Hamlin. "Just a few years ago it was Matt (Kenseth), then we brought in Carl (Edwards) and added another car and really a fifth team with Martin Truex (Jr.). I think every addition has been good for our race team. I feel like we've helped them and they've helped us."
The fifth and final Toyota, Martin Truex Jr. (No. 78), got some bad news on Wednesday as NASCAR has assessed him a 10-point penalty for failing post-race laser inspection (LIS) at Richmond. The points were deducted before the reset for the Chase.
Meanwhile, Chevrolet will be well represented having eight of their cars in the Chase led by Kevin Harvick (No. 4) who begins the Chase in fourth place. Six-time champion Jimmie Johnson (No. 48) is in eighth.
"I think every track has its way of being able to get the best of you," Harvick said. "A lot of those are just circumstances that – whether your car is just not cooperating that weekend or you can't get a grasp of what you need for your driving style or whatever the case may be – you just have to adjust to. Every team in the garage has a situation or a weak spot that they feel like they need to maximize. Really the weekends that aren't going well or the weekends that you have to overcome – those are the weekends that really make the championship within reach when you're able to turn those weekends around and can make something out of it. The easy weekends are when you have a good car and go out and you win the race – those are the weekends that are the easiest. The hard weekends are when things are bad and you have to turn that around and get a good finish and move on the next week."
"Chicago is a great place to start off the Chase," said Johnson. "It's a great market and a good track where we've run pretty well. I've wanted to win there so bad for Chad since it's his hometown track. We've been close at Chicago a few times but ended up giving them away. For the next ten weeks, we are in championship focus and we learned a lot last year from this format and we need to be there at the cutoffs and also to be there at the end at Homestead. We need to run well every week. There is a lot of effort going on to make this chase for our seventh championship."
Tony Stewart (No. 14 – 11th place), Kurt Busch (No. 41 – 12th), Chase Elliott (No. 24 – 14th), Austin Dillon (No. 3 – 15th) and Jamie McMurray (No. 1 – 16th) are the rest of the Bowtie Brigade.
Ford has the least of cars represented with Brad Keselowski (No. 2 – 2nd), Joey Logano (No. 22 – 9th) and Chris Buescher (No. 34 – 13th). Ford's only Sprint Cup victory at Chicagoland came in 2014 to kick off the new Chase format. He led the final 16 laps for the win. The Blue Oval manufacturer has 31 all-time Chase victories with two of this year's participants – Joey Logano and Brad Keselowski – combining for eight.
TRACK INFO:
Location – Joliette IL
Statistics – 1.5-mile paved track
Track Record: Joe Logano (28.509 sec., 189.414 mph)
CHASE BREAKDOWN:
Segment 1 – Chicagoland, New Hampshire, Dover
Segment 2 – Charlotte, Kansas, Talladega
Segment 3 – Martinsville, Texas, Phoenix
Segment 4 – Homestand-Miami Speedway
PIT NOTES:
Truex's crew chief Cole Pearn was fined $15,000, and the team has been assessed a loss of 10 championship owner as part of the penalties handed down following Richmond. In addition, the No. 7 car of Regan Smith was given a written warning and a loss of 15 minutes of practice time for failing LIS three times pre-qualifying while four cars – Kyle Busch, the No. 16 of Greg Biffle, Logano, and Truex – were given written warnings for twice failing LIS pre-qualifying.
PREDICTION:
Winning is important, however, if none of the Chase drivers find their way into victory lane, gathering the most points from staying out of trouble, where you finish and leading the most laps are just as important.
The bottom line is that Kyle Busch is the man to beat and when the chips are on the table he manages to have the right cards. Nothing proved that better than his run for the title a year ago. He gets the nod for coming out of this race leading the field to New Hampshire.
LONG SHOT:
When you're one of the Chase finalists, no one is really an underdog although Chris Buescher from the smallish Front Row Motorsports could be looked at as one. Finding enough speed to push past anyone in the Round of 16 will prove tough, but just as his surprise victory at Pocono proved, anyone can have a week to remember, just like David Reutimann did in 2010.
More from FanSided
This article originally appeared on