Carl Edwards: 10 Defining Moments In His NASCAR Career
Brian Thornsburg/FanSided via Beyond the Flag

Fansided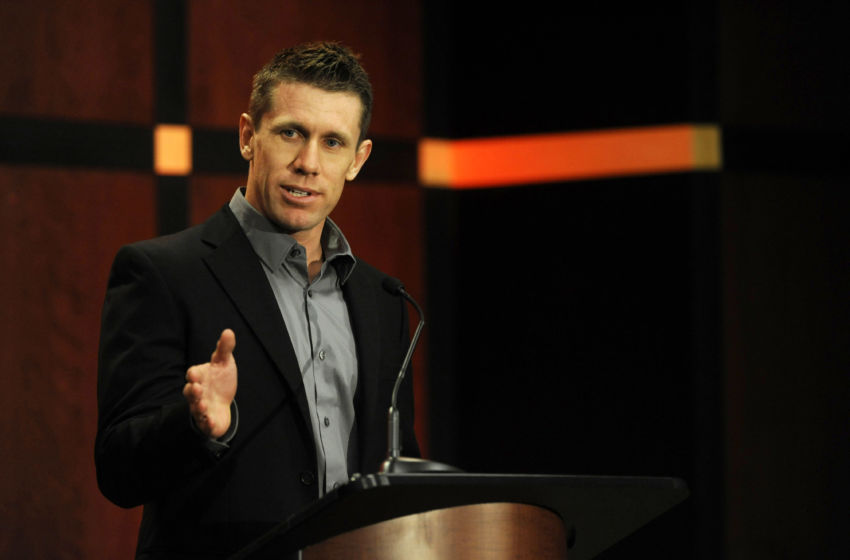 No matter which way you want to spin things, Carl Edwards has had quite the career in NASCAR. From the day he started racing MB Motorsports in 2003 , to his championship ending run in with Logano at in 2016, Edwards has done almost everything imaginable in his racing career and had fun doing it.
Of course it wasn't all roses as Edwards was always and probably will always be known for coming up short when it mattered most, but the memories he gave his fans and the rest of the NASCAR viewing audience is something that will sit with sport for a long time. In fact, he might go down as one of the most marketable and charismatic NASCAR drivers in the history of the sport.
Now that's great and all, but what were the moments that separate Carl Edwards's career from the rest of the field? What were his biggest heartbreaks? His biggest triumphs? What makes Edwards worth of being included in the record books alongside names like Stewart, Gordon, Martin and Earnhardt? Finally, what was his lasting impact on the sport itself?
We hope to answer all those questions and more with our top-ten moments of Carl Edwards's NASCAR career. Some will make you laugh, some will make you cry and some will probably make you smile at just how dominant this young man was throughout the years. As always we invite you to leave your comments below and tell us what your favorite moments were of his career.
Humble beginnings (2002)
Carl Edwards might have been an extraordinary talent in NASCAR, but it wasn't always checkered flags and back flips. In fact, Edwards starting his NASCAR racing career in the Camping World Truck Series driving for MB Motorsports in 2002. While his seven starts in the Series didn't produce any wins his rookie season, he did finish seventh at Kansas that year, which caught the attention of Jack Roush!
He raced full time for Jack Roush in the truck series the very next year, gaining his very first win at Kentucky and nabbing three other wins in the process. Believe it or not, this was only the start of things to come.
King of Daytona (2003)
You know you've made in NASCAR when you notch a win at the biggest track on the entire circuit. That's what happened to Carl Edwards in 2003 when he won the opening race at Daytona International Speedway in The Camping World Truck Series. Unfortunately for Edwards, this would also be his last win ever on a superspeedway, as he never won another plate race in any of NASCAR's top three series.
With that being said, Edwards did go on to win two more races in the Truck Series that year and even finished a career best, fourth in points when all was said and done.
Atlanta (2005)
If there was any single moment in Carl Edward's career that pointed to him being a star for years to come, it had to be in 2004 when he entered The Cup Series full-time with Jack Roush. Yes, everything wasn't always roses for the former substitute teacher, especially since he only finished one race in the top-five in the first three races, but all of that was about to change at Atlanta.
It started with Edwards winning the Xfinity Series race the day before, which didn't come as much as a surprise, but when he followed that up with a last second win over Jimmie Johnson the very next day, the sport knew they had star on their hands. What made the moment even more unbelievable was the fact that a weekend sweep had never before been done at Atlanta Motor Speedway.
This is also the first time that Cup racing fans got to see Edward's signature back flip, which was another huge moment in the history of his career and his future promise as a personality in the sport.
Sophomore Struggles (2006)
If Carl Edwards fans thought 2011 and 2016 were hard years to watch their favorite drivers, they obviously weren't around when Edwards went winless during the 2006 season. That year marked the first time that Edwards seemed to really struggle behind the wheel of a race car and even left some wondering if he was just a flash in the pan
Edwards did have a few good showing throughout the year, including a second place finish at Michigan Speedway, but all those decent finishes paled in comparison to what everyone knew the driver was capable of.
Carl The Champion (2007)
You just know its going to be a good year when you start off with top-ten finishes in the first ten races of the season. While Edwards did suffer some sophomore season woes the year before, even failing to go to victory lane in NASCAR's Cup Series, he put all that behind him when he captured the very first Busch Series championship of his career the very next year
The championship season included four victories, 15 top-five's and 20 top-ten finishes, and was honestly one of the most dominant seasons of his career in any series. In fact, his performance in the 2007 Busch Series could probably only be surpassed by his nine wins the very next year in The Cup Series and his intense Chase battle with Tony Stewart in 2011.
In The Fence (2009)
It was the best of times, it was the worst of times aren't just words in a book. It is also a phrase that can be used in the sports world to describe an athlete's career. Of course Edwards had many good moments throughout his career and they all deserve proper recognition, but it wouldn't be fair to only talk about the good times that Edwards had.
Unfortunately for Edwards, his sophomore slump in The Cup Series wasn't the worst of days, as the former Busch Series champion would be involved in one of the worst wrecks in the history of modern day NASCAR racing. Not only that, it would also be a wreck that would change the way that NASCAR choose to protect its fans during races as well.
It all started on the last lap of The Aarons 499 at Talladega Superspeedway, when Brad Keselowski and Carl Edwards were in a dead heat for the victory. Edwards had the lead heading into the final turn of the race, which looked like a promising sign of his impending i, but Brad ultimately made a move that few expected him to make.
On the final turn on the final lap of the race Brad Keselowski accidentally spun Carl Edwards and subsequently launched him into the catch fence near the start finish line. Edwards's car was then shredded to pieces as it rode along the fence and came down to hit Ryan Newman's car for good measure. Edwards later exited his racecar and ran to the finish line in Ricky Bobby fashion.
Close But No Cigar (2011)
It has to be a miserable feeling when much of your career is defined by being the guy that came so close, but was never able to win the big one. Unfortunately for Carl Edwards, that is exactly what his career will probably be defined by after he retired from NASCAR during the 2017
With that being said, one of the moments he came closest to finally etching his name into the history books was during the 2011 Daytona 500. Of course things didn't start out well for the former Roush Fenway Racing driver as he was struggling to make his way up through the pack in the final laps of the race and might not even have made it into the top-five if it wasn't for a stroke of luck.
Edwards got that luck on that final restart of the race when Kurt Busch pushed the issue and moved to the middle lane of the track, which bunched up several of the top running cars in the race. Edwards then bided his time Shortly after that incident occurred, Carl Edwards starting catching up with the letters with a little help from drafting partner, David Gilliland.
It then all came down to the final two corners of the race where Edwards and Gilliland were able to ricochet passed Stewart and Montoya for the third and fourth position and then quickly set their sights on the leaders. There wasn't enough time however as Edward desperately tried to get past Bayne in the final stretch of the race, but was boxed in and unable to make the move he needed to win.
Almost Champion (2011)
Before there was four round system known as the modern day Chase, fans were treated to a ten race shootout to see who would be the next Sprint Cup Champion. No rounds, no eliminations, just 12 drivers and the desperate hope of becoming the reigning champion at seasons end. Of course this system had its low points over the years, but the highest point in its history involves none other than Carl Edwards.
It all came down to Edwards versus Tony Stewart in the final ten races of The Chase and while Edwards retained the points lead for the final seven races of the season, Stewart never really let him run away with the championship. It ultimately came down to one final pass at Homestead Miami, which tied Stewart with Edwards in points and eventually netted him the championship due to having more wins.
Not only was it the closest championship battle in The Series' history up to that point, it was also the most intense championship battle fans had seen since the implications of The Chase format in 2004. Sure, Edwards might have walked away without the championship, but he and Stewart put on a show for the fans that should always be remembered.
Going to JGR
Carl Edwards remained competitive into the early 2010's, even nabbing two wins a season in his final three years with Roush Fenway Racing, but the writing was still on the way that Edwards would need to pursue other avenues if he wanted a chance at a championship before he retired. Edwards got that chance in 2015, when he signed a multiyear deal with JGR to drive #19 Toyota.
The move paved huge dividends for Edwards, who won two races in his first season with Toyota and also qualified for the new format of The Chase. While Edwards had many accomplishments to hang his hat on after his first season at JGR, an ill-timed rain delay at Phoenix International Raceway cost him a spot in the final four and ruined his chances of captured a championship in his first season at JGR.
The Final Straw (2016)
There's only so much a human being can take before they are forced to reevaluate their life and their career. It is believed that is what happened to Carl Edwards sometime during the 2016 Cup Series season when he three races in the regular, made The Chase, continued to be a dominant fixture in The Chase, but was ultimately taken out of contention for a championship on a restart with ten to go.
It all happened so fast. One minute Edwards was at the front of the field and a mere ten laps from nabbing the championship trophy that alluded him for so long, the next moment he received a bump from fellow Chase contender, Joey Logano, and found his race spinning into traffic Edwards would finish the season in fourth and would later let it be known that he was retiring from the sport.
More from Beyond the Flag
This article originally appeared on