Can-Am 500 at Phoenix International Raceway: Alex Bowman wins pole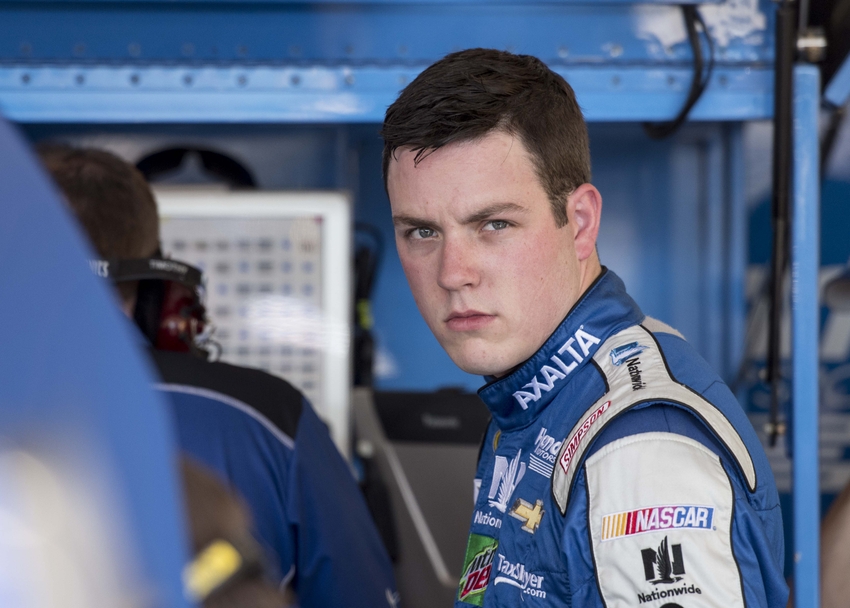 It is the final elimination event of the season with only two of the remaining six eligible drivers advancing to the Championship Four a week from now at Homestead-Miami Speedway.
With a speed of 140.521 mph (25.619 seconds) in the third round of knockout qualifying, Arizona native Alex Bowman scored the first Sprint Cup pole of his career in what will be his 80th overall start and will lead the field to green on Sunday for the Can-Am 500 at Phoenix International Raceway.
The 23-year-old Bowman is subbing for Dale Earnhardt Jr. who was with the entire No. 88 Chevy SS crew as they celebrated a special time for Hendrick Motorsports. Kyle Larson will start on the front row while Chase Elliott, Joey Logano and Denny Hamlin will round out the top-five.
"Man, it's amazing," Bowman said.  "We weren't really that strong in qualifying trim in practice.  I don't really know where that came from, but I just can't thank everybody at Hendrick Motorsports enough.  To do this in Phoenix, so close to home, means so much to me.  We have had such fast race cars we haven't had an ounce of luck, but to get a pole here means a lot."
"Well, I'm not very good at qualifying, so he has been in the car and he has really helped our team get better on the qualifying front, as well as in the racing also," Earnhardt said about Bowman. "I'm not that great of a qualifier, so this is good for the team, good for Greg and the guys, great for Alex.  Alex has really helped our program.  Jeff (Gordon) helped it a lot, but Alex has been a great treat for the guys to work with and obviously he is a great driver."
Where you start at PIR is good indication where you might finish and to make that point, Kevin Harvick has won three of the last four races at this track and his average starting spot is tenth. Over the course of his career, Phoenix is one of his favorites having won 13 times, eight in Sprint Cup, once in Xfinity and four times in the trucks. He has led more laps here with 1,484.
All eight Chase eligible drivers made it through to the second round, however, Jimmie Johnson and Kyle Busch were bumped out. Johnson is already in for the title run, Busch is not and if he is going to make a run at defending his title, he needs to stay out of trouble and have a good race on Sunday.
One driver that impressed by advancing into the pole round was Ryan Blaney in the No. 21 Wood Brothers Ford and will start in the fourth row, eighth. Kyle Busch, who is in a win or else mode, was the first car out in the final round and his time was the worst of the dozen cars and will start 12th.
PIT NOTES:
Martin Truex Jr. hit the outside wall during practice and did enough damage to force his team to bring out his backup car. There were some late issues getting the car through template inspection and in the second pass through the No. 78 Toyota did not pass the LIS. By the time the car tried to pass again, the clock ran out on the first round and Truex never registered a time.
Gray Gaulding, a 28-year old out of Colonial Heights, Virginia, will make just his second career Sprint Cup start on Sunday in the No. 30 Chevy SS.
CAN-AM 500(k) STARTING LINEUP:
1 – Alex Bowman
2 – Kyle Larson
3 – Chase Elliott
4 – Joey Logano
5 – Denny Hamlin
6 – Kevin Harvick
7 – Austin Dillon
8 – Ryan Blaney
9 – Jamie McMurray
10 – Matt Kenseth
11 – Carl Edwards
12 – Kurt Busch
13 – Kasey Kahne
14 – Brad Keselowski
15 – Ryan Newman
16 – Danica Patrick
17 – Jimmie Johnson
18 – AJ Allmendinger
19 – Kyle Busch
20 – Paul Menard
21 – Ricky Stenhouse Jr.
22 – Casey Mears
23 – Trevor Bayne
24 – Greg Biffle
25 – Tony Stewart
26 – Michael McDowell
27 – Aric Almirola
28 – Landon Cassill
29 – Regan Smith
30 – Chris Buescher
31 – David Ragan
32 – Matt DiBenedetto
33 – Brian Scott
34 – Clint Boyer
35 – Jeffrey Earnhardt
36 – Michael Annett
37 – Gray Gaulding
38 – Reed Sorenson
39 – DJ Kennington
40 – Martin Truex Jr. (DNQ)
This article originally appeared on