Bojangles' Southern 500 result: Martin Truex Jr. wins at Darlington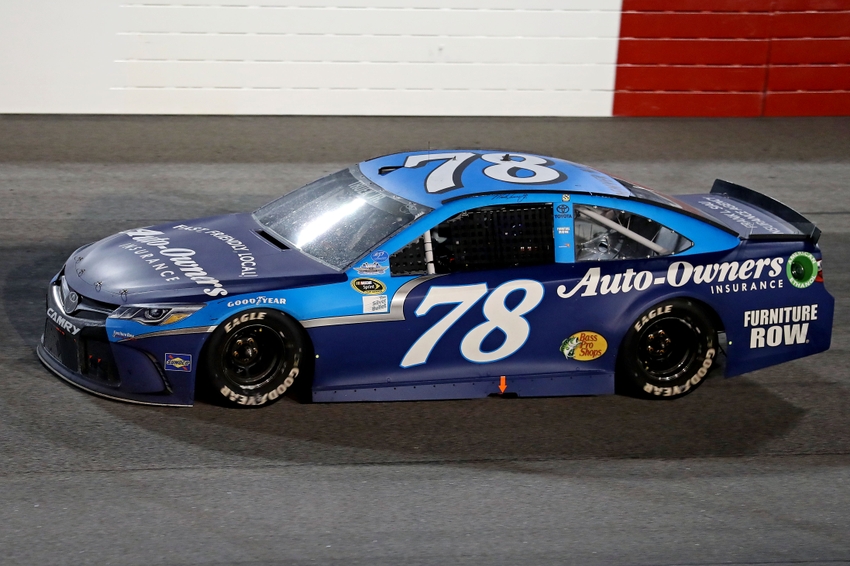 Driver of the No. 78 Toyota holds off Kevin Harvick over the final dozen laps for his second victory of the season.
Martin Truex Jr. may not have had the best race car Sunday night and he didn't lead many laps, but the ones he did were the most important ones as he captured the Bojangles Southern 500 at Darlington Raceway. It was his second win of the season and fifth in his career.
The Mayetta, NJ native only led 28 laps; in fact there were three other drivers who had more including runner-up Kevin Harvick who topped everyone with 214.
"This is just – this is unbelievable," Truex said. "So many people to thank obviously. I've always loved this race track. I've led a lot of laps here in my career. I feel like just something always happened and just so proud to get to victory lane with this group. The pit crew was flawless tonight. They won us the race. They took a lot of heat from last week with what happened. But just a big weekend for us to – we've had a terrible string of back luck. We've had super-fast race cars.
"I knew when the bad luck would stop coming we'd start racking them off and tonight we weren't the best car for once and we actually won, so that was really cool and just couldn't be more excited to win at Darlington, the Southern 500. I've been wanting to win this thing a long time."
Harvick's chance at taking the checkered flag was pretty much wiped out when he lost a total of 17 positions in the pits, one more deviating than the next. Twice he entered as the leader only to come out 8th and 12th. Then late in the race he tagged the wall and while still being able to maintain his up front status, it might have had a big hand in his inability to chase down Truex at the end.
"Our team in the garage did a great job," Harvick said.  They brought the fastest race car to the track once again and we just didn't do a good job on pit road and gave it away. We can't just continuously shoot ourselves in the foot every few pit stops."
If viewers tuned in without knowing it was throwback weekend it would have left them scratching their heads because few cars had recognizable paint jobs, with maybe the exception of the No. 43 Ford with the familiar Richard Petty STP colors.
NASCAR was celebrating the history of the sport from 1975 to 1984 and it included appearances by Hall of Fame members and a return to the booth for Ken Squire, Ned Jarrett and his son Dale for part of the broadcast. If you closed your eyes, your mind slipped back to days gone by.
The trio pulled on their headsets after waiting an unusually long 95 laps before the first yellow flag came out for a spin by Trevor Bayne in his No. 6 Ford. Brian Scott (No. 44 Ford) also spun out for the second caution, but other than that it was a pretty clean race to that point without anyone collecting the famed Darlington Stripe.
The second round of green flag stops came as the halfway point approached and the amount of cars on the lead lap had shrunk to 18 with the daytime start of the race having slipped into night. It wasn't until around 180 did someone finally collect the stripe when Ryan Blaney in the No. 21 Wood Brothers Ford had to pit with a flat tire, however, it did not bring out a caution.
Brian Scott would bring out his second yellow of the night, the race's third overall, at 204 when he got a nudge from Tony Stewart (No. 14 Chevy) that put him into the inside wall and eventually behind it after a hard hit that would end his night. Smoke was a little squirrely coming out of turn two and after clearing Scott came back up and turned the 44, possibly intentionally. Stewart and his crew chief, Michael Bugarewicz, were immediately notified by NASCAR to report to their trailer after the race.
"I was trying to let those guys go that had newer, fresher tires," said Scott in the garage. "I was trying to let Tony (Stewart) go there and I think he got inside of me and got loose there. I was pointing him to the inside to let him go. Apparently he got mad at me. I have a lot of respect for Tony. He has always raced me really clean. I am not sure what he thought was going on there. I am not sure if he thought I was trying to hold him up there, I wasn't. I was trying to let him go. I even pointed him to the inside. Maybe he thought I was giving him the finger or something. I will talk with him. We will figure it out. It is a tough race. The Southern 500 is a tough race. Everybody is slipping and sliding a lot. It is getting to the point where people's tempers are getting short."
Stewart never made it to the end of the race because he would blow an engine at lap 318. It was his third DNF of the season after missing the first eight events of 2016. However, he is locked into the Chase and will make a run as the Sprint Cup Championship.
"Yeah, overheating was the first part of it, and it finally grenaded," said Stewart. "There's a screen in there that keeps all the trash from getting into the radiator and it got separated from its mount, so all the trash was getting underneath it and going up inside the radiator and it just kept blocking it until we finally lost the motor."
When asked what his view of the incident with Scott was, he simply said, "He wrecked."
With 12 to go, Truex would lead the field to green with Harvick in hot pursuit, however the No. 78 would pull away in the last couple of laps to capture one of the crown jewels on the NASCAR circuit.
PIT NOTES:
Truex became the eighth driver in Cup history to win the Coca-Cola 600 in Charlotte and the Bojangles' Southern 500 in the same year. Carl Edwards turned the trick a year ago while Jimmie Johnson (2004), Jeff Burton (1999), Jeff Gordon (1997-1998), David Pearson (1976), Bobby Allison (1971) and LeeRoy Yarbrough (1969) were the others.
When Kevin Harvick led his 193rd lap in this race, he became just the sixth active driver to pass the 10,000 laps led in his career joining Jeff Gordon, Jimmie Johnson, Tony Stewart, Kyle Busch and Matt Kenseth.
Chris Buescher, with one win, is still hanging on to his top-30 position in points with one race left in the regular season. He finished 17th and padded his lead over David Ragan in 31st to 11.
As of now, three drivers would make the Chase on points – Elliott (+24), Dillon (+17) and McMurray (+7) on Newman (-7).
STAT PACK:
Lead Changes – 14
Cautions – 10 (There were 18 last year)
RACE RESULTS:
1 – Martin Truex Jr.
2 – Kevin Harvick
3 – Kyle Larson
4 – Denny Hamlin
5 – Joey Logano
6 – Matt Kenseth
7 – Kasey Kahne
8 – Ryan Newman
9 – Brad Keselowski
10 – Chase Elliott
11 – Kyle Busch
12 – Austin Dillon
13 – Ryan Blaney
14 – Jeff Gordon
15 – Jamie McMurray
16 – Paul Menard
17 – Chris Buescher
18 – Ricky Stenhouse Jr.
19 – Carl Edwards
20 – Regan Smith
21 – David Ragan
22 – Clint Boyer
23 – AJ Allmendinger
24 – Danica Patrick
25 – Casey Mears
26 – Matt DiBenedetto
27 – Michael McDowell
28 – Michael Annett
29 – Josh Wise
30 – Landon Cassill
31 – Reed Sorenson
32 – Aric Almirola
33 – Jimmie Johnson
34 – Kurt Busch
35 – Tony Stewart
36 – Greg Biffle
37 – Cole Whitt
38 – Jeffrey Earnhardt
39 – Brian Scott
40 – Trevor Bayne
This article originally appeared on