Bad Boy Off Road 300 result: Kevin Harvick wins at New Hampshire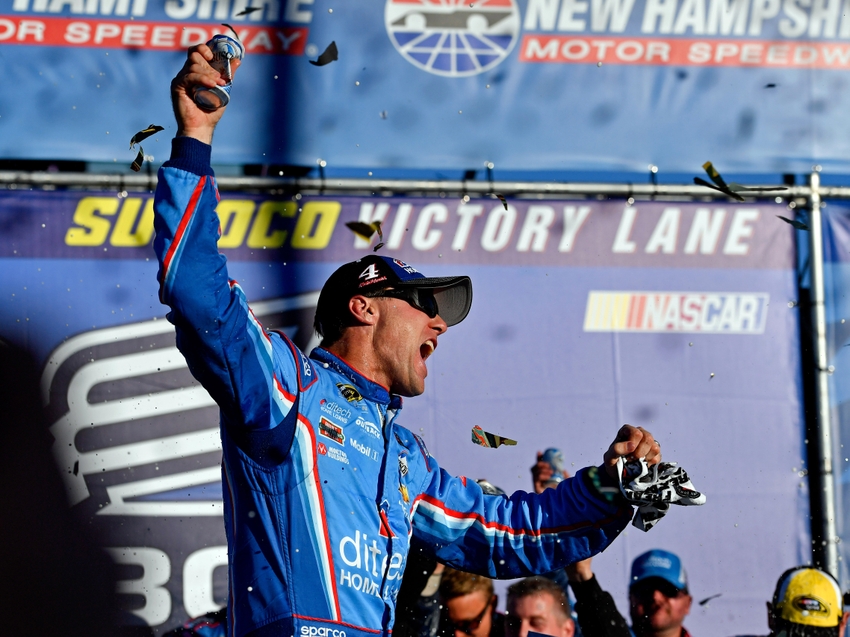 Stewart-Haas Racing's No.4 Chevy is the second car to clinch a spot in the Round of 12 for Harvick's first win at The Magic Mile in a decade.
Kevin Harvick waited a long time to find his way into the winner's circle at New Hampshire Motor Speedway. It was a ten-year wait and what it has done is guarantee him a spot in the Round of 12 that kicks off in two weeks.
The 2014 Sprint Cup champion passed Matt Kenseth with just six laps remaining and held off the No. 20 Toyota for his third victory of the season and second on a short track which marks his 100th start for SHR.
'I just want to thank all our sponsors and everyone at the shop who works on the Stewart-Haas Racing cars," Harvick said. "Man, that worked out really good. The car was pretty good on the restarts. Once we got clean air there at the end, it wound up being really good up front. I'm just really proud of our team. They did a great job.
"Oh, it's definitely going to be nice (heading to Dover with a win). One of our main goals this year was to not stretch ourselves out so bad. I feel like the performance of the car and the things that we're doing are good enough to be competitive, and we just need to not make mistakes and go from there."
Kyle Busch was one of the fastest cars down the stretch and probably could have caught the leaders had a number of yellow flags not interrupted things. Over the last 37 laps the three cautions shuffled those in front back in the field including Martin True Jr. who had battled Kenseth until he had a bad restart and was passed by three cars including the eventual winner.
Four drivers, Jamie McMurray (-5), Austin Dillon (-5), Tony Stewart (-11) and Chris Buescher (-30) are in jeopardy of falling out of the Chase after the race at Loudon. Stewart needs help and a solid finish at Dover with Buescher in the direst position, but could grab a spot with a win.
PIT NOTES:
Carl Edwards, who started on the pole finished sixth mostly because he was penalized on a late pit stop for missing the commitment line on entry.
There were 22 cars on the lead lap at the end, an unusual number for a short track, with 14 lead changes and six cautions, five coming in the second half of the race.
CAUTIONS:
Lap 124 – Debris on track. AJ Allmendinger gets free pass.
Lap 165 – Debris on track. Danica Patrick gets free pass.
Lap 240 – Michael Annett smoking on track. Ryan Blaney gets free pass.
Lap 263 – Michael McDowell blows tire. Joey Logano gets free pass.
Lap 284 – Trevor Bayne hits wall. Austin Dillon gets free pass.
Lap 290 – Ricky Stenhouse and Redd Sorenson spin out.  Clint Boyer gets free pass.
BAD BOY OFF ROAD 300 AT THE MAGIC MILE RESULTS:
* Denotes Chase Driver
1 – Kevin Harvick*
2 – Matt Kenseth*
3 – Kyle Busch*
4 – Brad Keselowski*
5 – Kurt Busch*
6 – Carl Edwards*
7 – Martin Truex Jr.*
8 – Jimmie Johnson*
9 – Kasey Kahne
10 – Kyle Larson*
11 – Joey Logano*
12 – Ryan Blaney
13 – Chase Elliott*
14 – Alex Bowman
15 – Denny Hamlin*
16 – Austin Dillon*
17 – Aric Almirola
18 – Danica Patrick
19 – Jamie McMurray*
20 – Ryan Newman
21 – AJ Allmendinger
22 – Clint Boyer
23 – Tony Stewart*
24 – Ricky Stenhouse Jr.
25 – Paul Menard
26 – Michael McDowell
27 – Casey Mears
28 – Matt DiBenedetto
29 – Landon Cassill
30 – Chris Buescher*
31 – Brian Scott
32 – David Ragan
33 – Greg Biffle
34 – Regan Smith
35 – Cole Whitt
36 – Reed Sorenson
37 – Jeffrey Earnhardt
38 – Trevor Bayne
39 – Josh Wise
40 –  Michael Annett
More from FanSided
This article originally appeared on