Why Atlanta needs new pavement and why drivers don't like it
Predictably, there were groans when Atlanta Motor Speedway disclosed Tuesday that after the completion of the upcoming Monster Energy Cup Series race on March 5, the track would be repaved for the first time since 1997.
Atlanta is one of the more popular tracks on the circuit precisely because its pavement is so old — the second-oldest surface in NASCAR's top series.
"I love the way it races," said Carl Edwards prior to last year's race at Atlanta. "The pavement is perfect, the Goodyear tire they bring drives very nicely, it has multiple grooves, and you really get a sensation of speed. You have to work with your crew chief the whole race. It's a real fun event."
"Drivers still love racing here," added Jimmie Johnson, who last year won the spring race at AMS en route to his record-tying seventh NASCAR championship. "As rough as it is and how porous the asphalt is it just continues to create an environment that we love regardless of rules package or tire that shows up. It's always fun here."
Old pavement means bumps and seams and multiple grooves and lots of driver choices to make about where to run — high, low or in between.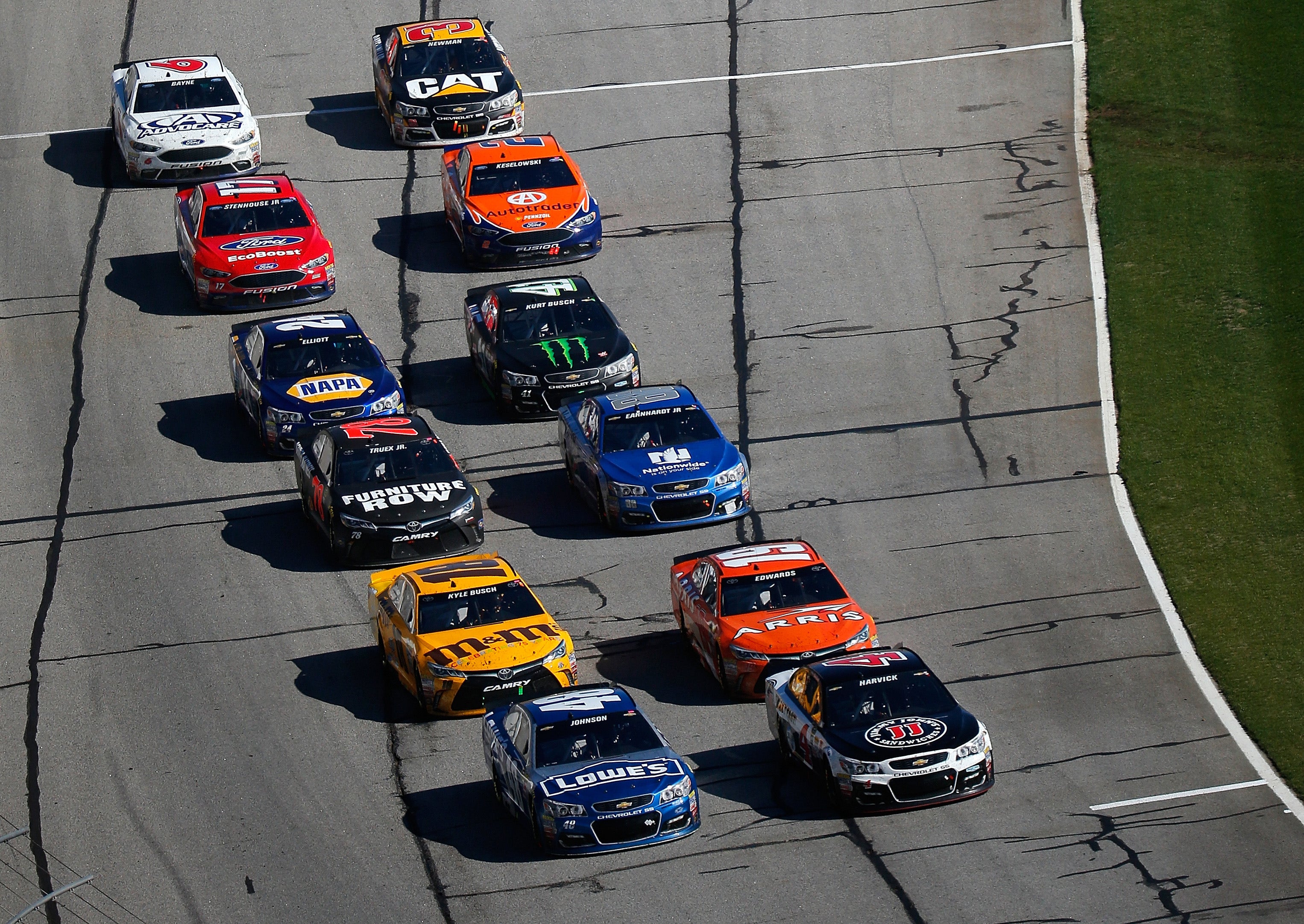 New pavement means a driver jams his foot to the floor and holds on for dear life.
Some context: In the spring Atlanta race in 1997, Robby Gordon won the pole with a qualifying lap of 186.507 miles per hour.
Between the spring and fall races in '97, AMS was repaved and reconfigured, as well as slightly lengthened from 1.522 miles to 1.54 miles. In the fall '97 race at Atlanta, Geoff Bodine broke the track record with a stunning lap of 197.478 mph.
And this was before HANS devices and SAFER barriers. I was there on that day and can tell you that there were drivers spooked by the high speeds.
Three races earlier that season at Talladega Superspeedway, the pole speed was slower at 193.271 and at the '97 fall race at Charlotte Motor Speedway — a track similar in size to Atlanta — the pole speed was only 184.256 mph.
Bobby Labonte won the fall '97 Atlanta race in a rout. He took the checkered flag 3.801 seconds ahead of Dale Jarrett. Labonte led 168 of 325 laps, as just five cars finished on the lead lap.
A more recent example: Michigan International Speedway was repaved after completion of the 2011 season but before the two races there in 2012. In 2011, the pole speed for the June race was 188.699 mph. A year later, with fresh pavement, it jumped all the way to 202.452 mph.
If you gave drivers a choice, they would almost never opt for a repave.
Asked last fall if he'd like to see Texas Motor Speedway repaved, Team Penske's Joey Logano was aghast.
"No, please no. Never repave this place," Logano said. "I would not be an advocate of that at all. It is really coming to a cool race track that has bumps, swells, wears tires, is fast and has some banking. It is unique. It has a lot of character and it puts on good races. I think it is fun."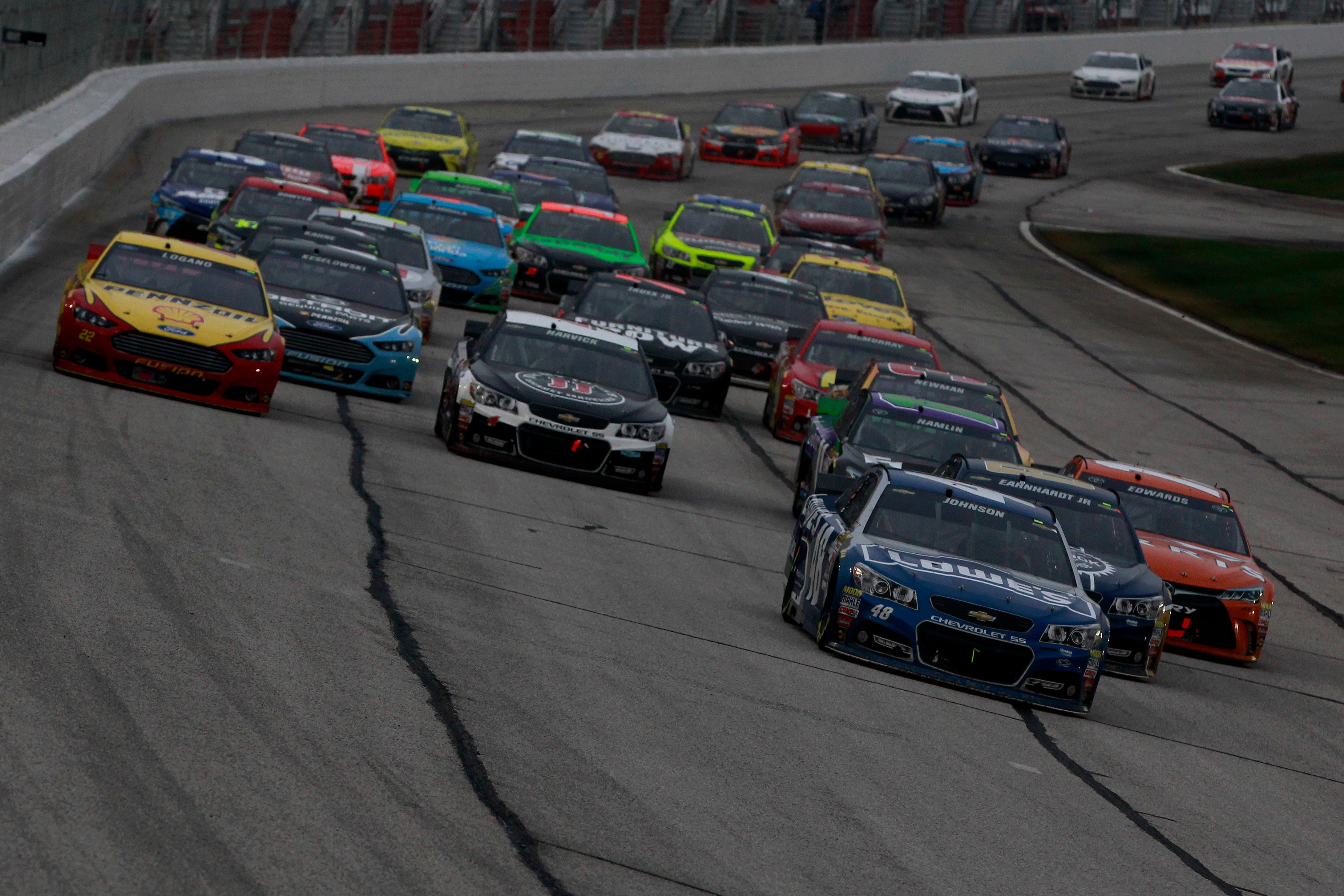 Alas, it's not always that simple.
Pavement wears out.
In some severe cases, old tracks develop bumps and undulations that actually make the racing more dangerous. Eventually, tracks have to repave the racing surface. Ignoring it is not an option.
Hopefully, with the advances made in paving materials in recent years, Atlanta will be good and racy in 2018. We'll find out for sure in about 14 months.