An Open Letter to Sprint Cup Teams Ahead of Talladega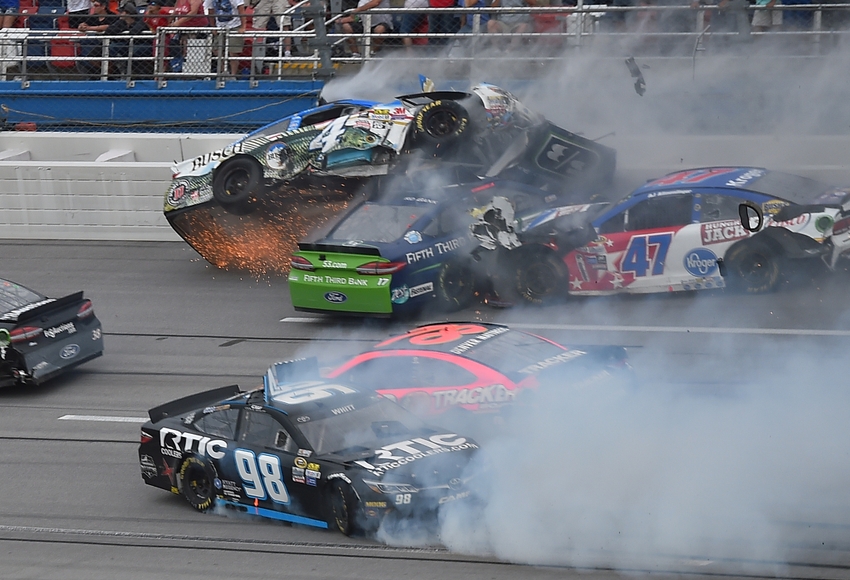 How will the Sprint Cup Series teams race at Talladega with a chance at the championship on the line? Will it be mass chaos or a Sunday afternoon drive?
Since the start of the season teams and fans alike have circled the Hellmann's 500 at Talladega on their calendars. That's because it's the only chase cutoff race which takes place at a track as unpredictable and ruthless as Talladega. The only drivers that are safely guaranteed a spot in the round of eight are Jimmie Johnson and Kevin Harvick. They locked in their positions with wins at Charlotte and Kansas. For the other ten drivers anything can happen when the green flag drops on Sunday.
At least I hope that's what happens. After this past weekend's race at Kansas there's been a lot of discussion around the Joe Gibbs Racing teammates of Carl Edwards and Kyle Busch. They raced each other hard but clean this past Sunday for second place as the laps wound down. However, racing hard for second probably cost Joe Gibbs Racing a chance at going to victory lane. The show Busch and Edwards put on is the type of racing fans love to watch each and every week. My concern going into Talladega is that we'll see the exact opposite.
While fans love Talladega most drivers and teams resent it because so many situations are out of their control. As we've seen in the past, this can lead to some rather boring racing at NASCAR's largest oval. Drivers just riding around, logging laps, and just staying in line to avoid a crash. This isn't what fans pay to see. We heard Dale Earnhardt Jr. express some guilt and remorse after not going for the win in May of 2014 at Talladega. Earnhardt Jr. was still embarrassed months later in Daytona and pledged to never race this way again. It was a let down to his team, sponsors, and most importantly the fans.
But the question regarding how teammates race each other at Talladega is how much teamwork is too much? Should a teammate do everything in their power to make sure the organization as a whole gets a win? I say absolutely not. This is NASCAR. Our one against all attitude it what separates NASCAR's competitors and fans from other motorsports. That attitude is what draws fans to the stands and to their TVs on Sunday afternoons. If we lose that we've lost everything.
Now let's be realistic. Due to the nature or restrictor plate racing I expect Kevin Harvick to help Kurt Busch throughout the afternoon and Jimmie Johnson to do the same for Chase Elliott. However, when it comes time for the money lap I will be disappointed if they both aren't doing everything in their power to get up front and take the checkered flag.
I get it, there is a big picture. Every race car involved in a wreck costs team owners money and possibly a shot at the championship. However, a race where teammates only concentrate on the organization as a whole doesn't help anyone. Not trying to win individually damages the reputation of everyone involved including NASCAR. Why come to a race as a fan knowing your driver isn't going to do everything possible to win?
Drivers who don't give 110% towards winning each week won't help falling TV ratings and attendance. It will only cause them to get worse. Fan's don't show up to see the Kevin Harvick shenanigans of 2015 or drivers that are scared to go for the win. Fans just want hard racing without team orders.
The Hellmann's 500 will start on Sunday afternoon with 40 drivers. Each driver capable of winning the if they drive hard all day long and take some chances throughout the afternoon. Each team needs to take a lesson from Dale Earnhardt Jr. and deliver on Sunday.
More from Beyond the Flag
This article originally appeared on