After 70 years, Martinsville Speedway to get lights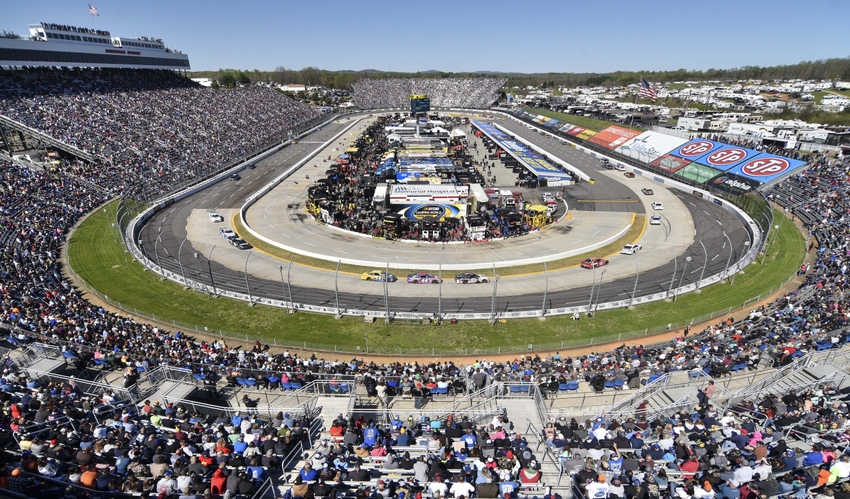 Dale Earnhardt Jr. was on hand for the unveiling of a new LED system that will begin construction after the Goody's Fast Relief 500 Oct. 30.
Martinsville Speedway in Ridgeway, Virginia is about to have its 70th anniversary, and what better way to celebrate this extraordinary event than to announce a major addition to the track — lights.
For almost three-quarters of a century, the .526-mile "Paperclip" has had nothing but daytime races, and while construction on the new system won't begin until after the Goody's Fast Relief 500 is completed in October, there are no nighttime NASCAR races in the immediate future.
The 2017 schedule has already been released, and in order to schedule a night event after that, a lot has to happen between networks that cover the race, sponsors and the like. The lights will give NASCAR and Martinsville Speedway a buffer in case a race runs late. In the past, weather has forced races to be postponed until the next day or shortened because of darkness.
"To be able to light this track up when the sun goes down, that's going to be something truly special," Martinsville Speedway President Clay Campbell said. "Our fans have told us that they want lighting. We're pleased to provide them with another amenity which will ensure Martinsville continues to be one of the premier destinations in motorsports."
The installation of the lights will be done by Graybar, a leading distributor of high-quality electrical and communications products and services who will oversee the addition of Eaton's Ephesus Stadium 750 LED professional sports lights to Martinsville.
"Bringing lights to Martinsville Speedway is something that has been a priority for us," said International Speedway Corporation President John Saunders. "But just like Martinsville, we wanted the lights for this project to be unique. They had to be of the highest-quality for both the competitors and the fans."
Unlike all the tracks on the circuit, these lights will be LEDs, making it the first major motorsports facility to have them. The project is dubbed 'Light Up Martinsville,' and it will be powered in-house, meaning the track is off the grid and will not draw from local utilities. There are generators that will supply what is needed.
When asked if there are any plans to go green in the future, like installing solar panels, Saunders said, "Not at this time, but we are taking this one step at a time."
Dale Earnhardt Jr. was on hand for the announcement and was genuinely happy to see the historic track add a new dimension to racing there.
"As a driver, I always get excited about coming to Martinsville," said Earnhardt. "Adding lights to the track will only add to its legacy."
After the announcement, Earnhardt, Saunders and Bill Mansfield, Graybar Senior Vice President, Sales and Marketing, did a ceremonial signing of the first light to be installed. The LED lighting solution will provide better illumination, greater flexibility and more efficiency than traditional metal halide lights.
"We're proud to be a part of this historic project," said Bill Mansfield, Graybar Senior Vice President, Sales and Marketing. "When you combine Graybar's services along with the products from Eaton's Ephesus lighting business, this project will create the best lighting for the best drivers and fans in the world. We can't wait to 'Light Up Martinsville.'"
The $5M investment represents the largest capital investment by ISC into Martinsville to date.
This article originally appeared on