AAA Texas 500 at Texas Motor Speedway: Takeaways and observations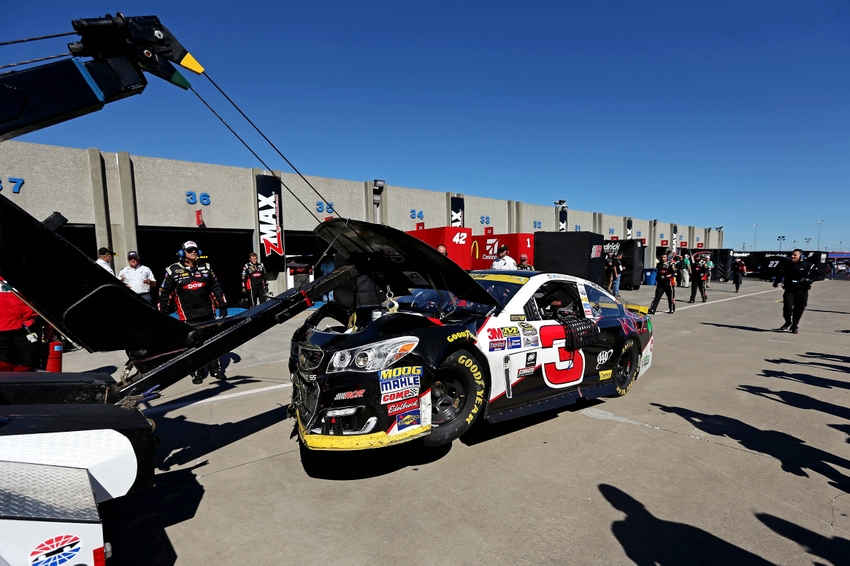 Here are five things that stood out after the AAA Texas 500, the next to last Chase race before the season finale in two weeks.
5. Will Austin Dillon go after Kevin Harvick at Phoenix?
There are some drivers who think because they started on the pole that they should be the first one across the finish line. Few go wire to wire although it gives them a leg up on the field for a good finish.
In the AAA Texas 500, Austin Dillon was having issues even before he blamed Kevin Harvick for helping him tag the outside wall after getting a bump from behind. Harvick immediately apologized over his radio, but that still did not calm down Dillon and his crew chief Slugger Labbe.
"He (Harvick) sucked down on my door all the way, like on it," Dillon said.  "I get it, you've got to hold a guy down, but he sucked down on my door and got me tight.  That is the reason I slid up in front of him and then he didn't lift he just turned me.  There are two more weeks left."
Labbe was more to the point as if saying some retaliation was ahead.
"Write down that number, we are going to Phoenix and he is going to need a win and we don't," he said.
Harvick's response?  "Slugger says a lot of things that he shouldn't.  All-in-all there was no intent there and I like racing with Austin and I like everything that they do and there was no reason to…I was running seventh and sixth.  We were on a restart there and he slid up, and he got loose, and I hit the back of him."
Stay tuned.
4. Has Chase Elliott locked up Rookie of the Year?
After a solid fourth place finish, Chase Elliott extended his lead in the Rookie of the Year points standings ahead of Ryan Blaney (Wood Brothers No. 21 Ford), Chris Buescher (Front Row Motorsports NO. 34 Ford), Brian Scott (Richard Petty Motorsports No. 44 Ford) and Jeffrey Earnhardt.
Taking over for Jeff Gordon in the No. 24 Chevy SS, Elliott has not let the pressure of replacing a legend get to him by not only making the Chase in his first Sprint Cup season, he made it into the second round before being eliminated.
Elliott does not get enough credit for the job he has done this year. The son of another legend, "Awesome" Bill Elliott, there was much expected from Chase and he has more than held up his end and to show his grit, he fought through flu-like symptoms on one of NASCAR's longest days at Texas Motor Speedway on Sunday to wait out a near six hour weather delay to run the full 501 miles in the AAA Texas 500 with Justin Allgaier waiting in the wings if he couldn't make it.
While the soon to be 21-year old (Nov. 28) did not find his way into the winner's circle this year, he has ten top-5 and 16 top-10 finishes to go with a pair of poles.
3. Two in, two spots remaining
Jimmie Johnson and Carl Edwards have punched their ticket into the championship race at Homestead-Miami Speedway on Nov. 20 leaving just two spots left for the remaining six drivers. Phoenix has become the ultimate elimination race because there are no more chances to advance after Sunday's Can-Am 500.
Kurt Busch is in a must-win situation being 34 points below the cutoff line after finishing 22nd at Martinsville and 20th at Texas.
"We just missed the set-up," he said after the long day in Fort Worth.  "It's a Chase race, it's kind of important and we missed it again."
Another that is borderline must-win is Kevin Harvick who finds himself 18 points out. He can make it on points only if he has a good finish with disaster hitting those ahead of him. Being the first one across the finish line makes it a moot point.
"We have done it I don't know how many times, so we will just go there and do what we always do and race as hard as we can," he said.
Harvick also has to keep in mind that he didn't make any friends with Austin Dillon and his crew chief Slugger Labbe after the two tangled in the AAA Texas 500 which was addressed earlier.
2. Junior must really want back in his car
Dale Earnhardt Jr. has not been behind the wheel of his No. 88 Chevy SS since Race 18 at Kentucky and it seems like he is getting itchy to get back into the swing of things. How else can you explain NASCAR's Most Popular Driver getting pulled over for, you guessed it, speeding on the way to Texas Motor Speedway on Sunday?
Amy Reimann, Junior's fiancé was in the car with him and she posted a picture on her Twitter feed of the police officer writing a warning ticket.
If you look closely at the picture, Earnhardt is driving a Buick, not a Chevy that has been associated with the Earnhardts over the years although it is a General Motors product.
Reimann did not say how fast he was going, but Junior had a little fun with it when asked.
Earnhardt has been at the track in recent weeks to support both of his replacement drivers, Jeff Gordon and Allex Bowman, along with his Hendrick Motorsports No. 88 team. He has missed the second half of the season with concussion-like symptoms and during his recovery he has been making special appearances like Martinsville when it was announced that the 70-year old track was getting lights for the first time.
1. Sprint leaving Cup, but still no sponsor for 2017 and beyond
NASCAR doesn't seem to be worried, at least publically, about finding a replacement for Sprint as the premier series sponsor even though the cell phone company is done after the final race of the season in just two weeks.
Reports have Sprint paying about $50 million a year, but NASCAR will be lucky to get half that from the next sponsor because there has been a fall in ticket sales and TV ratings. The delay is causing some angst for teams and one current partner, Lionel, who use the "(Sponsor) Cup Series" logo on their 2017 diecast cars.
NASCAR chief operating officer Brent Dewar says they are in negotiations with a number of companies in an advanced stage. One rumor has Apple as being one of the companies that have already been vetted. Budweiser could emerge as a favorite because it is not like they are unfamiliar with NASCAR. Anheuser-Busch was previously involved in sponsoring the second tier Busch Series.
When Sprint acknowledged they were leaving after the 2016 season, many suspected a logical replacement would be Verizon, however, the telecom giant locked into a ten-year, $100M deal with IndyCar instead.
Sprint is ending a 13-year partnership, the original ten-year deal plus a three-year extension.
This article originally appeared on