54 days to Daytona: Juan Pablo Montoya and the flaming jet dryer
Less than eight weeks to go until the 2017 Daytona 500, which takes place Feb. 26th on FOX.
And with 54 days left until the green flag drops at Daytona, we revisit the 54th running of the Great American Race, which took place under utterly bizarre circumstances in 2012.
Rained out for the first time in its history, the 2012 Daytona 500 was moved to primetime on Monday night, with a huge audience of television viewers on FOX.
With 40 laps left in the race, and the caution flag out, Juan Pablo Montoya smashed his No. 42 Earnhardt Ganassi Racing with Felix Sabates Chevrolet into a jet dryer in Turn 3, which exploded into flames as 200 gallons of fuel dumped out of the vehicle.
Jet dryer driver Duane Barnes was fortunate to escape without serious injury, despite not wearing either a helmet or a firesuit.
"I left the pits and felt a really weird vibration, and I came back in and checked the rear end and said it was OK," Montoya said. "I got into the backstraight, and we were going in fourth gear but wasn't going that fast. Every time I got on the gas I could feel the rear squeezing. When I was telling the spotter to have a look how the rear was moving the car just turned right."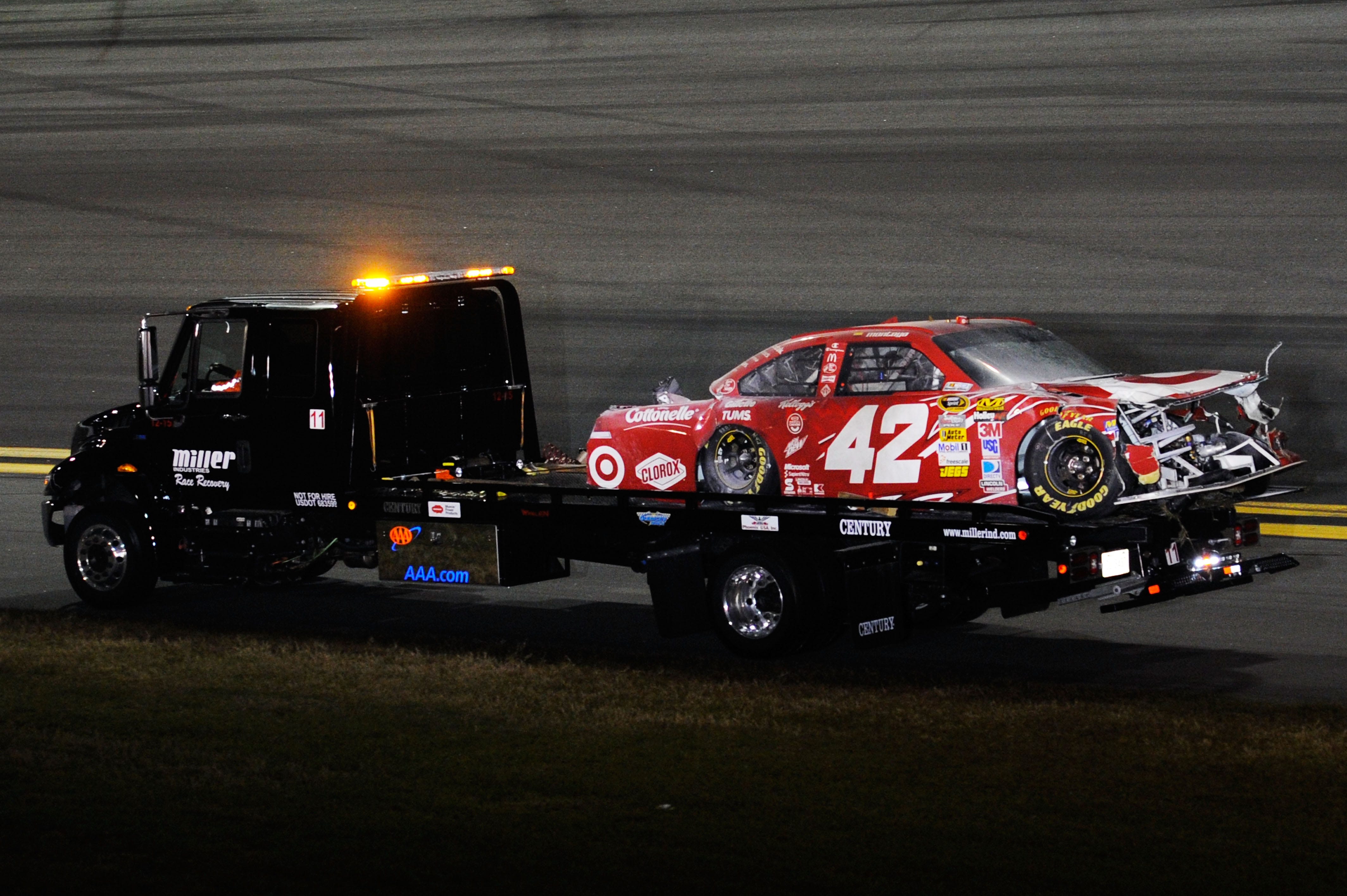 Montoya was not expecting the huge impact and subsequent explosion.
"You don't think, 'Oh my God, I'm going to kill myself,'" Montoya said. "You go, 'Oh, this is going to hurt a little bit.' It wasn't that bad. … The way I've always looked at it, either you're going to be OK or you're not. I don't think anyone could hit anything harder than I did."
The enormous fireball caused a lengthy red-flag period, which lasted 2 hours, 5 minutes and 29 seconds. During the red flag, track safety workers used Tide — yep, the laundry detergent — to clean up the jet fuel. Turns out scrubbing jet fuel off of asphalt is analogous to using soap to get oil off one's hands.
As if that weren't surreal enough, Brad Keselowski Tweeted repeatedly from his Penske Racing Dodge during the long red-flag period. Keselowski entered the 500 with about 60,000 Twitter followers; by the next day, that number was up to more than 200,000, as NASCAR finally caught the social media wave.
NASCAR acted quickly after the incident, mandating that jet dryer drivers wear helmets and firesuits, as well as adding a third pace car under caution.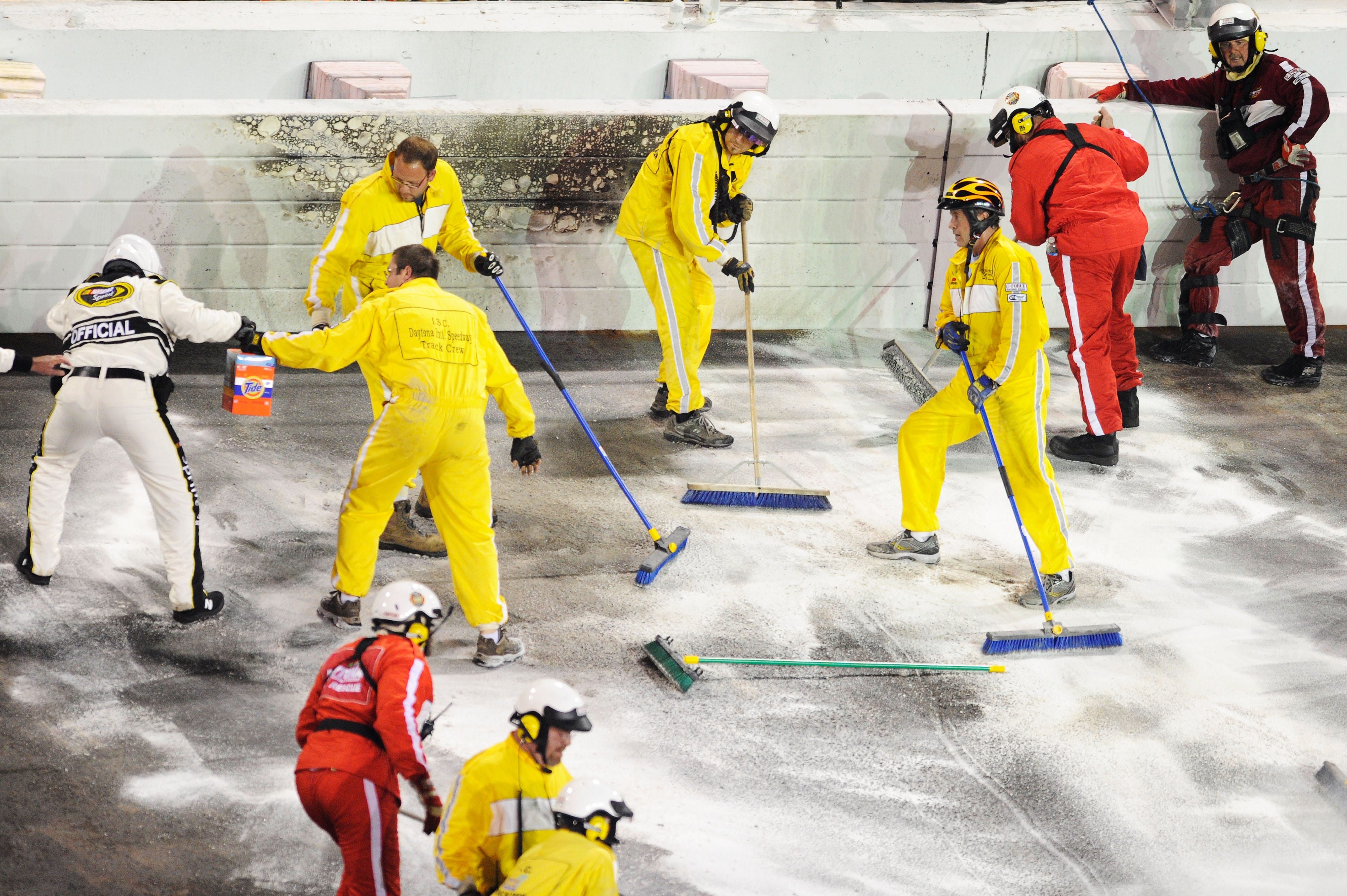 Matt Kenseth went on to win the race, his second Daytona 500 victory.
The carcass of Montoya's flambéed Chevrolet? It's on Dale Earnhardt Jr.'s 200-acre property in Mooresville, N.C., a gift from Montoya's then crew chief, former Hendrick Motorsports engineer Chris Heroy.
And on a sad note, Barnes, the jet dryer operator, died unexpectedly in his home in July 2015. He was 55 years old and had worked at Michigan International Speedway for 27 years.