The Orange Cone takes wild ride at Rolex 24 at Daytona
The 52nd Rolex 24 at Daytona has brought out some of the biggest names from the world of motorsports, including the infamous @TheOrangeCone.
With just over four hours remaining in the endurance event, the Level 5 Motorsports Ferrari F458 Italia GT Daytona Class car driven by Milo Valverde misjudged his entry into the bus stop on the backstretch of the Daytona road course. Unfortunately, Valverde's trip off-course was not without its consequences.
Valverde not only hit the orange cone, but took it for a lengthy ride around the course.
Video: TUDOR Championship: – Wild Ride for the Orange Cone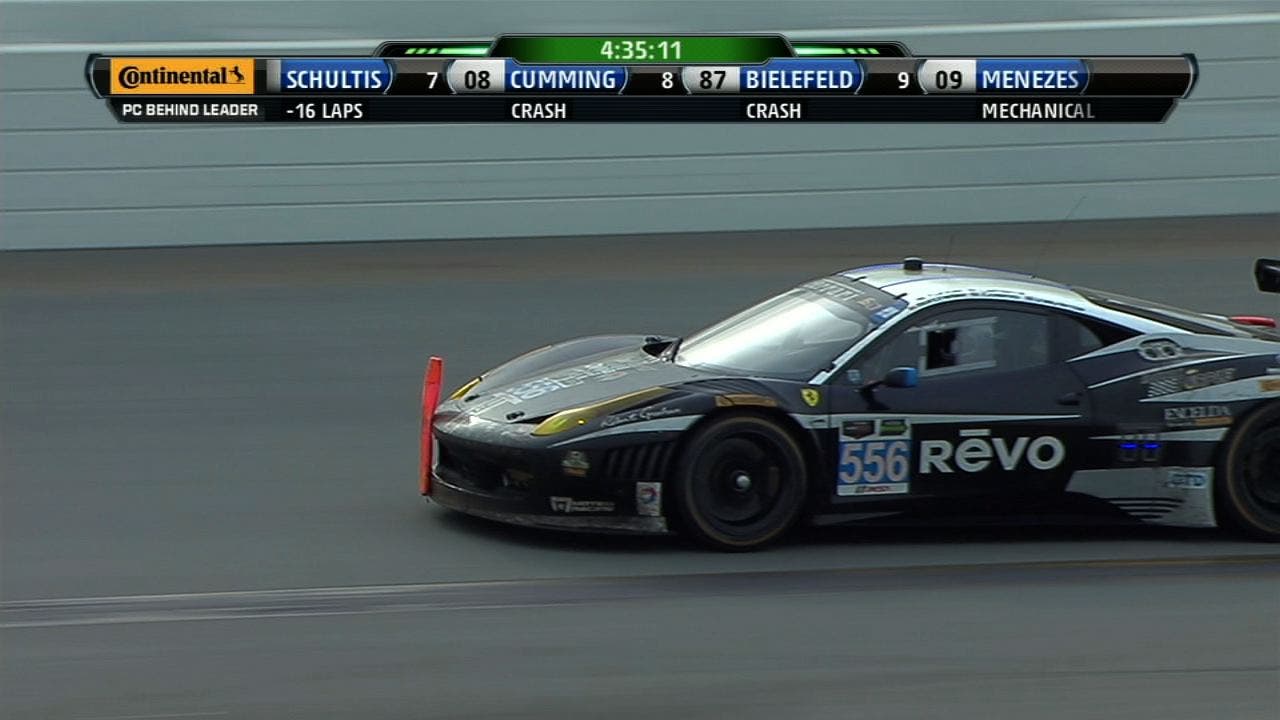 As expected, Twitter had a little early-morning fun with the incident.
Huge hit for @TheOrangeCone! You OK? #Rolex24

— SPEED (@SPEED) January 26, 2014
More #BusStopProbz. At least I got a nice ride and some good TV time out of it. #Rolex24

— Orange Cone (@TheOrangeCone) January 26, 2014
RT @Level5Racing: After a brief run in with @theorangecone, the No. 556 Ferrari continues on in 6th with Milo behind the wheel …

— Orange Cone (@TheOrangeCone) January 26, 2014
Dude the @TheOrangeCone is looking super slim, stuck on the front of the 556 car. pic.twitter.com/HC0Jv7D3rI

— JJ Yeley (@jjyeley1) January 26, 2014
–@jjyeley1 LOL Nah, I am already back at work in the Bus Stop! I am an adrenaline junky man!

— Orange Cone (@TheOrangeCone) January 26, 2014
Now I know how you felt in 1996!!! RT @toddparott: @TheOrangeCone Leading the pack at Daytona ! pic.twitter.com/ZblAqO8Szz

— Orange Cone (@TheOrangeCone) January 26, 2014
@TheOrangeCone @Level5Racing You could hear @TheOrangeCone screaming "WWWWWWWEEEEEEEEEEEEEEEEEEE!!!!!!!!" all the way through turn 4.

— Todd Modderman (@ToddModderman) January 26, 2014
And @TheOrangeCone wins the 52nd running of the #Rolex24!

— NASCAR Wonka (@NASCAR_Wonka) January 26, 2014
–@Level5Racing was it good for you? LOL Thanks for the ride!

— Orange Cone (@TheOrangeCone) January 26, 2014
Don't miss a minute of the race with complete coverage on the FOX family of networks, FOX Sports Go and our live online stream
Coverage details: http://foxs.pt/1aymnFA
Live stream: http://foxs.pt/KR1YyI