The 10: NASCAR and Barrett-Jackson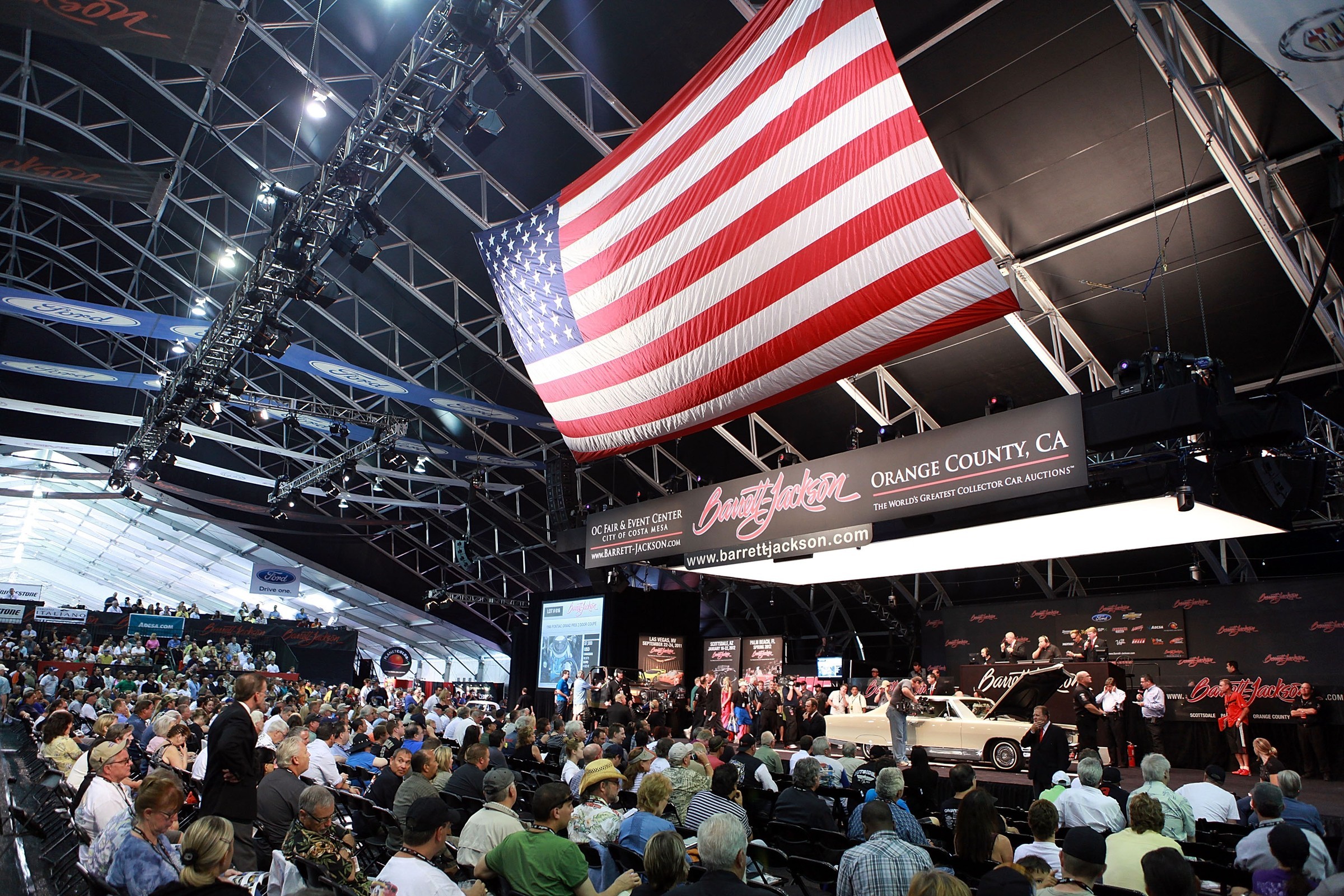 NASCAR racers, naturally, are car geeks. So it's not surprising that as the popularity of the Barrett-Jackson Collector-Car Auctions have grown over the years, so as the interest of NASCAR racers.
This week, Barrett-Jackson is in Reno-Tahoe, Nevada for the first time, with SPEED and the FOX family of networks providing live coverage Aug. 8-10.
Here are 10 cars with strong NASCAR connect that sold at past Barrett-Jackson auctions.
10. 1992 Ford Thunderbird, sold for $45,000 at Palm Beach in 2010
A relative bargain, this T-bird was built by legendary NASCAR team owner Junior Johnson for Bill Elliott. Mike Beam, who was the team's crew chief, personally oversaw the restoration of the car, which was said to have been the car Elliott drove to one of his two victories at Atlanta Motor Speedway in 1992.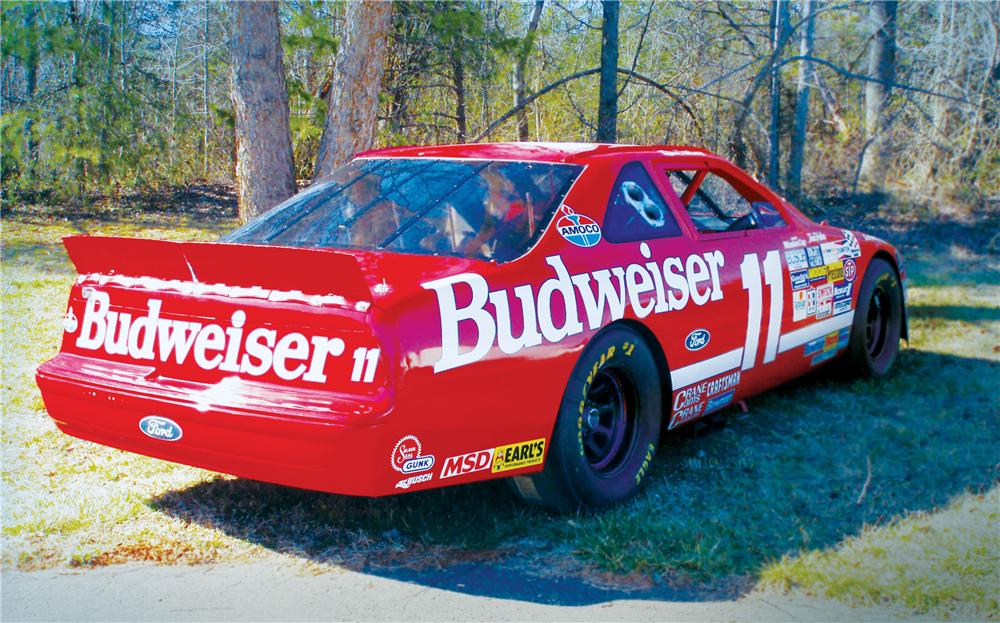 9. 2010 Toyota Camry, sold for $82,500 at Scottsdale in 2011
This race-ready 2010 Toyota Camry NASCAR Nationwide Series road course stock car was prepared by Rusty Wallace Racing. Steve Wallace, Rusty's son, scored top-10 finishes in this car three times in four road races. Rebuilt by the Rusty Wallace Racing staff following the 2010 season, this had an 800+ horsepower Toyota engine from Triad Racing Technologies.
8. 1986 Chevrolet Monte Carlo, sold for $97,200 at Scottsdale in 2002
This Winston Cup was owned by Richard Childress and driven by Dale Earnhardt in 1986, the year of his first championship with RCR. Fully restored to its original condition with a letter of authenticity from crew chief Kirk Shelmerdine and a chain of ownership. It was sold with a Dale Earnhardt/Wrangler racing helmet, complete with radio and a certificate of authenticity signed by Dale Earnhardt.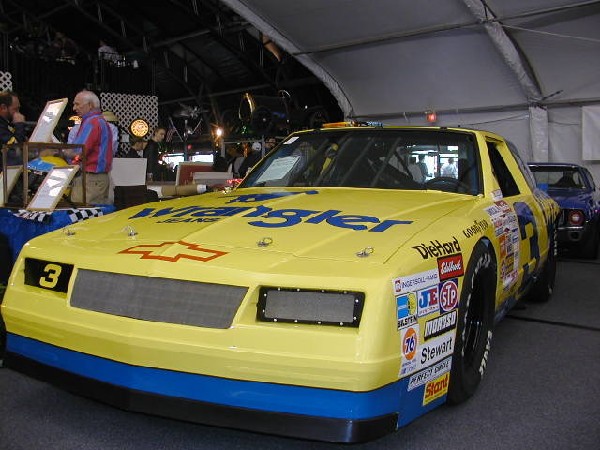 7. 1993 Chevrolet Lumina, sold for $110,000 at Scottsdale in 2013
Another Earnhardt/RCR Chevrolet, this one was driven by Earnhardt in the Bristol night race in 1994. As such, it had reflective markings, as well as "get well Ernie" sticker on the driver's side for injured driver Ernie Irvan. The car driver's seat was built by hand by Dale himself. Described as "a true piece of history and is in the exact condition it was when it rolled off the track from its last race the Food City 500."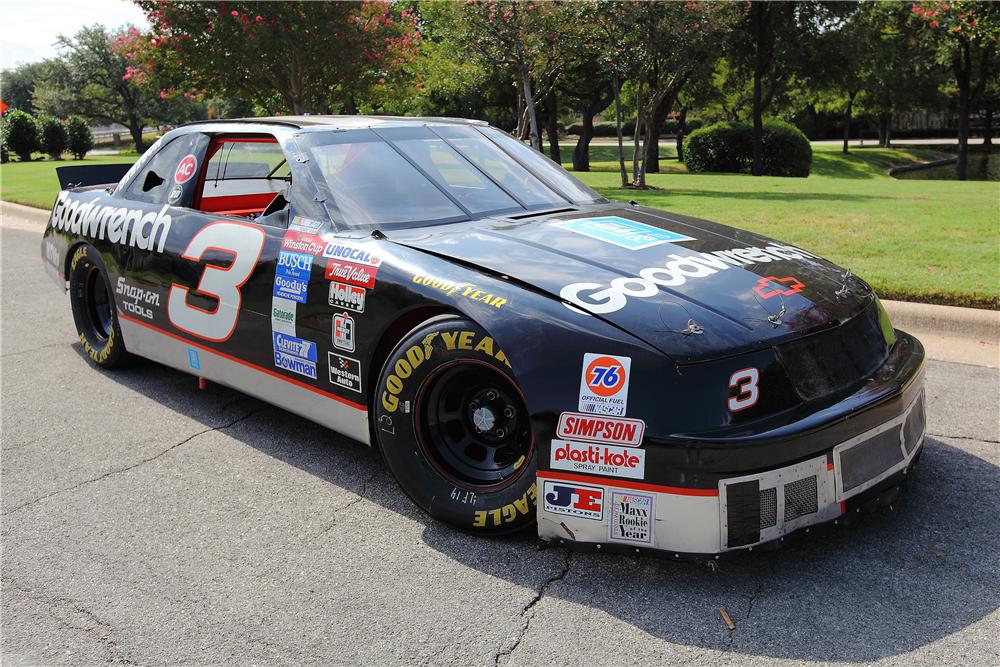 6. 1991 Ford Thunderbird, sold for $137,500 at Scottsdale in 2010
This is the Robert Yates Racing Ford that Davey Allison drove to victory in the 1992 Daytona 500. When an eagled-eyed SPEED viewer saw the car on television, he noticed decals were wrong — they were in the font used for Ernie Irvan after he replaced Allison. Yates quickly called the South Carolina decal firm that made the originals and had them make a new set, which was overnighted to Scottsdale in time for them to be replaced before the car went across the block.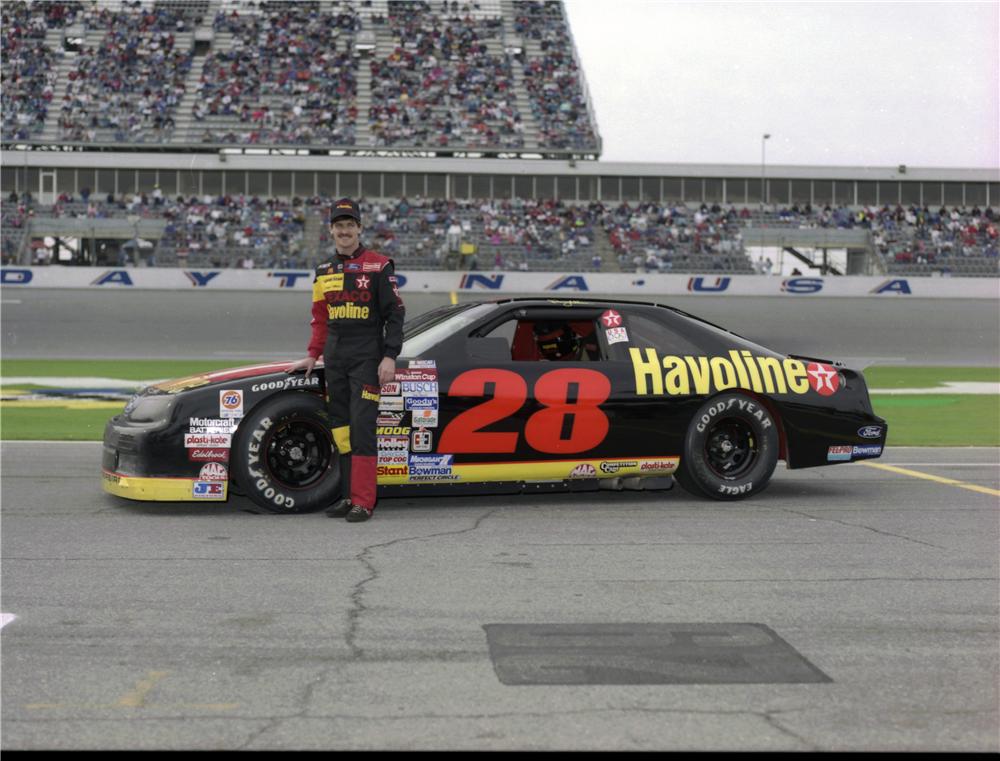 5. 1964 Plymouth Belvedere, sold for $198,000 at Scottsdale in 2013
One of the most intriguing cars ever to sell at Barrett-Jackson was this 1964 Plymouth, built by legendary crew chief Ray Evernham and named ForPly. Under the hood was Evernham Motorsports Dodge R5-P7 race engine re-engineered for street use, with 750+ horsepower. The car's front and rear clips, suspension and transmission came from the Evernham Motorsports No. 10 Dodge Charger driven by Scott Riggs at the 2007 Daytona 500 Proceeds from the sale went to benefit IGNITE, a Davidson, N.C.-based program that supports adults with high functioning autism or Asperger's syndrome.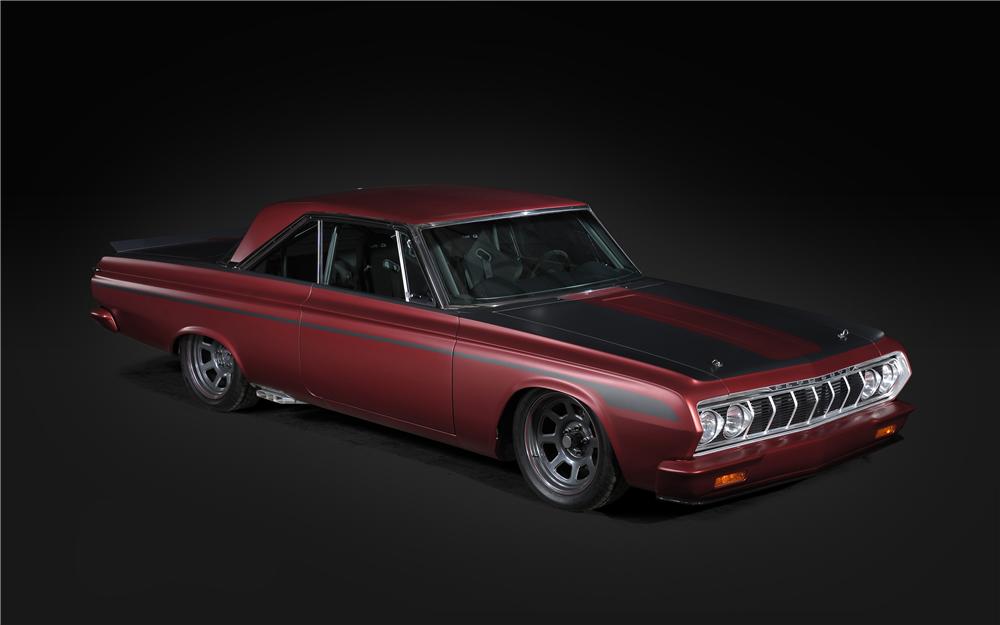 4. 2010 Dodge Charger, sold for $250,000 at Scottsdale in 2012
Donated by Penske Racing, this is the car Brad Keselowski drove to victory in 2010 in a NASCAR Nationwide Series race at Talladega Superspeedway. Best of all, the entire sale proceeds were donated to the Paralyzed Veterans of America. Keselowski himself was on hand for the sale and admitted to being shocked at how big the auction was.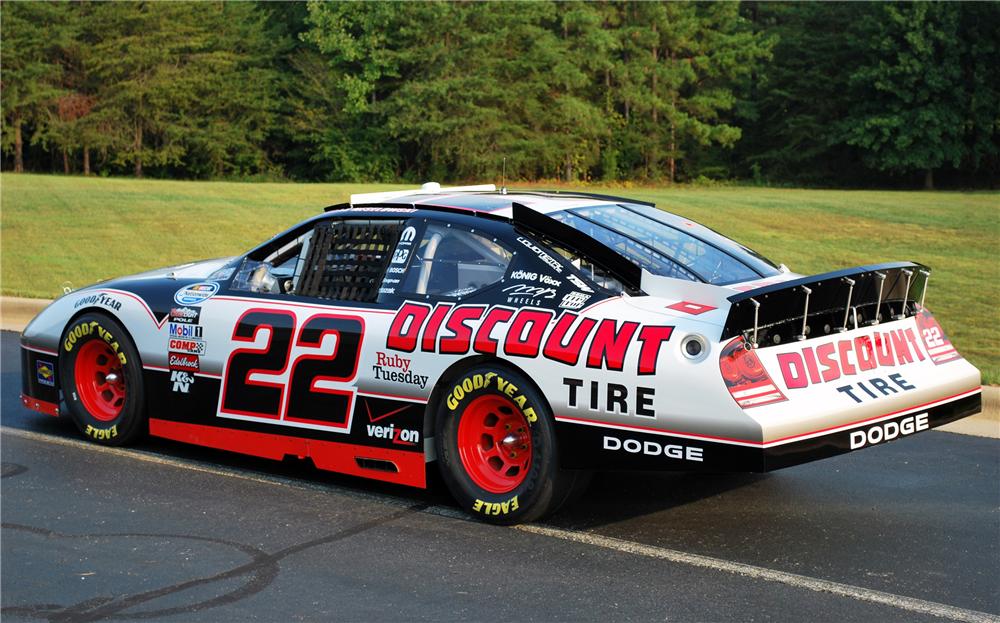 3. 2007 Chevrolet Monte Carlo, sold for $300,000 at Scottsdale in 2008
This Tony Stewart/Home Depot car races at Kansas Speedway, Atlanta Motor Speedway and Texas Motor Speedway in 2006. It also had six top-5 and 10 top-10 finishes. Stewart was on hand to auction the car off, with all proceeds of the sale going to the Darrell Gwynn Foundation.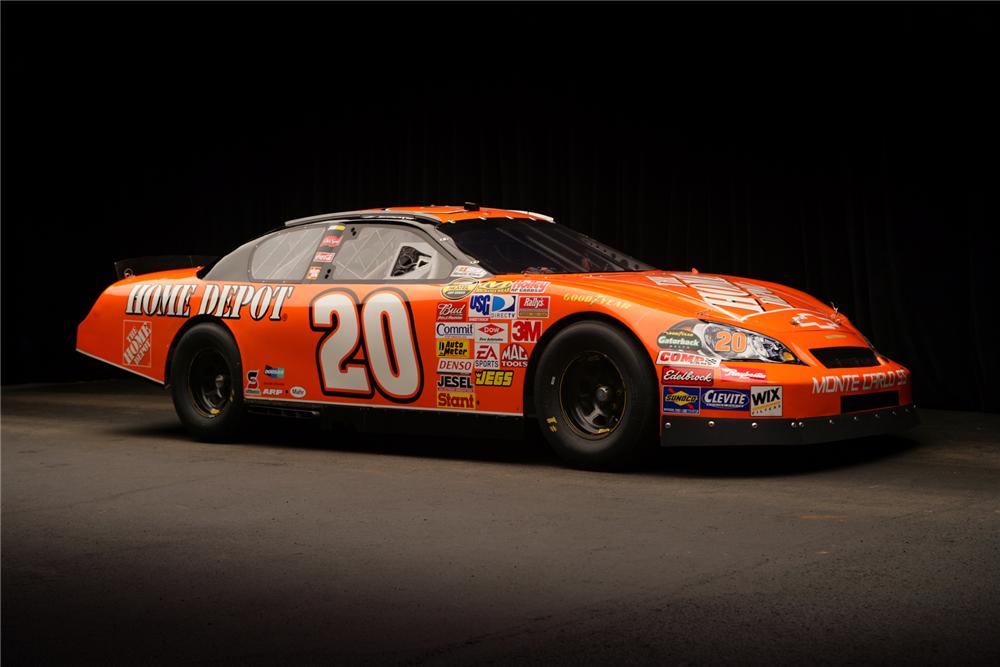 2. 2006 Chevrolet Monte Carlo, sold for $500,000 at Scottsdale in 2009
This Jeff Gordon No. 24 DuPont Chevrolet Monte Carlo was raced 14 times in the 2006 & '07 seasons winning 2 races at the USG Sheetrock 400 at Chicagoland Speedway on July 19, 2006, and the Bank of America 500 at Lowe's Motor Speedway on October 13, 2007. It was sold to famed collector Ron Pratte, with all proceeds going to The Hendrick Marrow Program. Pratte donated the car back and it was resold for another $175,000 at Scottsdale in 2013, with the money this time going to the AARP Drive To End Hunger Program.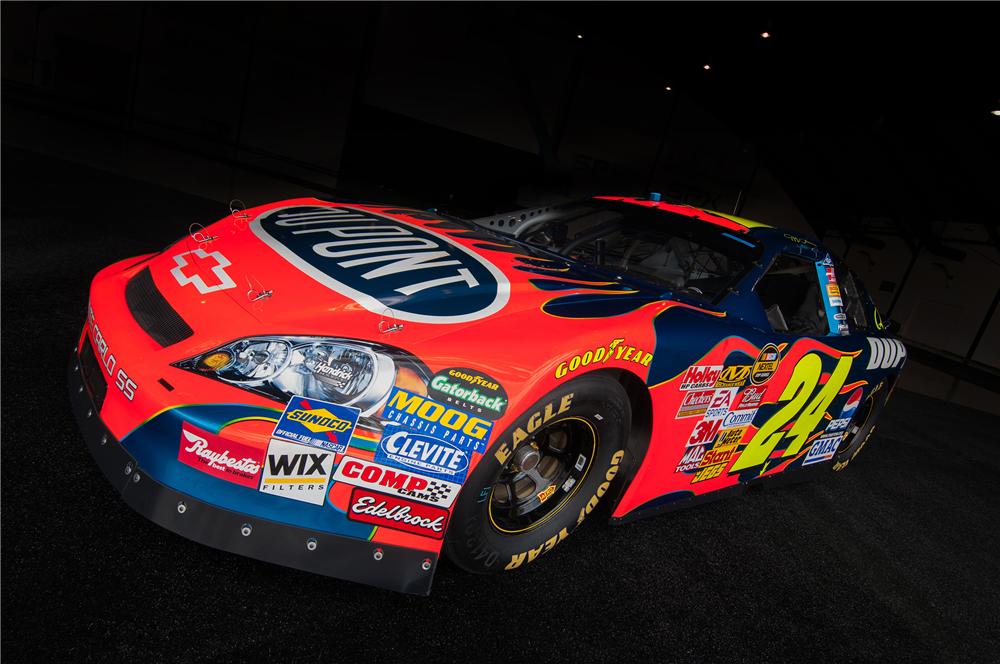 1. 2014 Chevrolet Corvette, sold for $1.1 million at Scottsdale in 2013
NASCAR team owner Rick Hendrick paid $1.1 million for the right to purchase the first production 2014 C7 Chevrolet Corvette, VIN #0001. This was another charity car, with all sale proceeds going to College for Creative Studies. Two months later, Hendrick paid another $1 million to buy the first production 2014 C7 Corvette convertible. This time, the entire sale price went to the Barbara Ann Karmanos Cancer Institute.