Sights and Sounds: Homestead-Miami Speedway
Editor's Note: Scroll down for updates…
10:45 a.m. ET — It's the final race day of the season, and the garage is buzzing, the teams are hard at work and it's 'Chamber of Commerce' weather at Homestead-Miami Speedway! We'll have a live stream of exclusive content and camera angles for Sunday's NASCAR RaceDay starting at 12 p.m. ET: http://foxs.pt/1gL55pH
Not only is Sunday's race the last of the year, it could also mark the final race for veterans Jeff Burton, Mark Martin and Ken Schrader. Burton's 2014 plans are still up in the air, while Martin is taking a different role within Stewart-Haas Racing, and Schrader is focusing on dirt track racing in the future.
For nearly 40 years I have measured myself against the best stock car drivers of the era. It's been #1HellOfaRide #ThanksFans #NASCAR

— Mark Martin (@markmartin) November 17, 2013
Sad to see my favorite driver as a kid @markmartin run his last race today. Had a blast racing with him for two of my sprint cup wins.

— Joey Logano (@joeylogano) November 17, 2013
@markmartin is a man we can all look up to. Intense competitor with an equal amount of values. Made entire sport better through his actions

— Jeff Burton (@JeffBurton) November 17, 2013
I am sad because of this #KennySchrader https://t.co/Sf5iTCi8Mq

— Kenny Wallace (@Kenny_Wallace) November 17, 2013
In honor of his final start with Richard Childress Racing, Caterpillar used the rear quarter panel of the No. 31 Chevrolet to send a nice message to Burton.
Sunday will also be Juan Pablo Montoya's last race in the Sprint Cup Series, as he is moving on to Penske Racing's IndyCar organization in 2014.
Last day for me in the @Target car. Wanna thank everybody that supported me and really excited to be joining @IndyCar with @penskeracing!!

— Juan Pablo Montoya (@jpmontoya) November 17, 2013
Not only are there a number of drivers stepping away from an active role in the sport at the end of the day, so will nearly 40 percent of the NASCAR officials in the garage.
10:55 a.m. ET — The Joe Gibbs Racing team is hard at work rewrapping Kyle Busch's No. 18 Toyota, after Busch made slight contact with the wall in Saturday's practice session.
It's more of a routine day for the No. 17 Roush Fenway Racing crew as they run through their pre-race checklists.
Tires, tires and more tires. The No. 56 Michael Waltrip Racing crew try to beat the heat and glue lugnuts onto the tires in the comfort of a shady Sprint Cup Series garage stall.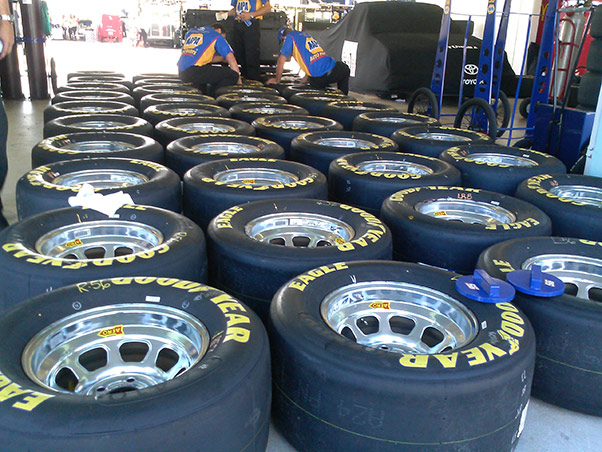 11:35 a.m. ET — The NASCAR RaceDay crew is getting ready for a big day at Homestead. We have a two-hour show on tap at 12p ET, plus Kaitlyn Vincie and Rutledge Wood will have exclusive web content and camera angles throughout the entire show. Watch here: http://foxs.pt/1gL55pH
At 12pET check: http://t.co/KwwFfxNUrD, I will host a behind the scenes look from @HomesteadMiami for 2 hrs during #RaceDay for @FOXSports1!

— Kaitlyn Vincie (@kaitlynvincie) November 17, 2013
Since they'll be running around keeping you up to date, Kenny and Rut prepare by stretching it out.
ME and #rutledgewood stretching out https://t.co/VhJ61RvhxL

— Kenny Wallace (@Kenny_Wallace) November 17, 2013
11:50 a.m. ET — Even DeLana Harvick is getting sentimental about Kevin Harvick's final start with Richard Childress Racing.
Before we start I have to say what a bitter sweet day today is. Not because of a number, or anything like that, but because I'm truly cont'd

— DeLana Harvick (@DeLanaHarvick) November 17, 2013
going to miss each and every person on the 29 team. They're by far the best group of guys I've ever had the privilege to know. I wish cont'd

— DeLana Harvick (@DeLanaHarvick) November 17, 2013
them all the best of luck in 2014! You all are bad ass and I'm so happy to have shared so much with y'all! #lastcall #29rollin

— DeLana Harvick (@DeLanaHarvick) November 17, 2013
12:05 p.m. ET — The crowd is rocking for NASCAR RaceDay! We're rolling with live, behind-the-scenes access from Rutledge and Kaitlyn: http://foxs.pt/1gL55pH
Rockin it on #Raceday !! pic.twitter.com/rb8tzaYpKu

— Darrell Waltrip (@AllWaltrip) November 17, 2013
12:30 p.m. ET — The first FOX Sports NASCAR RaceDay Live Vote is now open! Is Jimmie Johnson an athlete? Vote now: http://foxs.pt/1gL55pH
12:35 p.m. ET — Mark Martin's final ride even caught the attention of Dario Franchitti, who is also stepping out his IndyCar ride due to injuries.
Can't believe today is the last race of one of my heroes @markmartin , a total legend and one on the best people I've ever met.

— Dario Franchitti (@dariofranchitti) November 17, 2013
1:20 p.m. ET — Michael Watlrip wrote a special thank you note to NAPA, who will be leaving MWR after Sunday's race.
A note to a friend. @napaknowhow pic.twitter.com/dbp9mtcwcs

— Michael Waltrip (@mw55) November 17, 2013
2:00 p.m. ET — Dario Franchitti isn't the only IndyCar driver paying attention to Sunday's season finale at Homestead, Tony Kanaan is at the track watching the action.
2:50 p.m. ET — Pre-race activities are underway at Homestead.
3:10 p.m. ET — The flyover is complete, the engines are fired and it's time to go racing for the final time in 2013! Follow all the action from Homestead with live updates and scoring here: http://foxs.pt/18GOLyb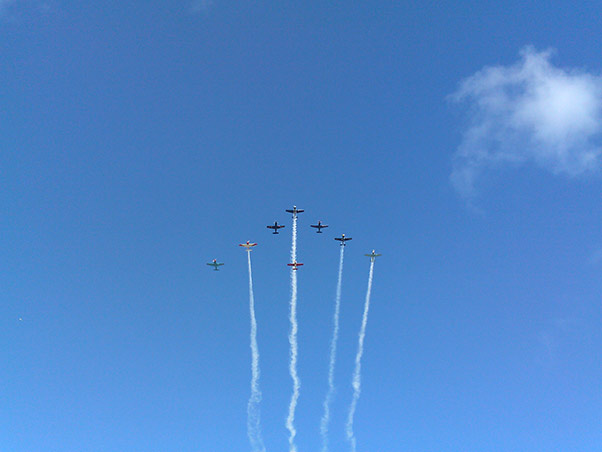 Video: CUP: Toby Keith Gets Homestead Race Started Right – 2013
Who will take home the Sprint Cup Series championship trophy at the end of the night?