Say cheese: The best NASCAR selfies of 2014 … so far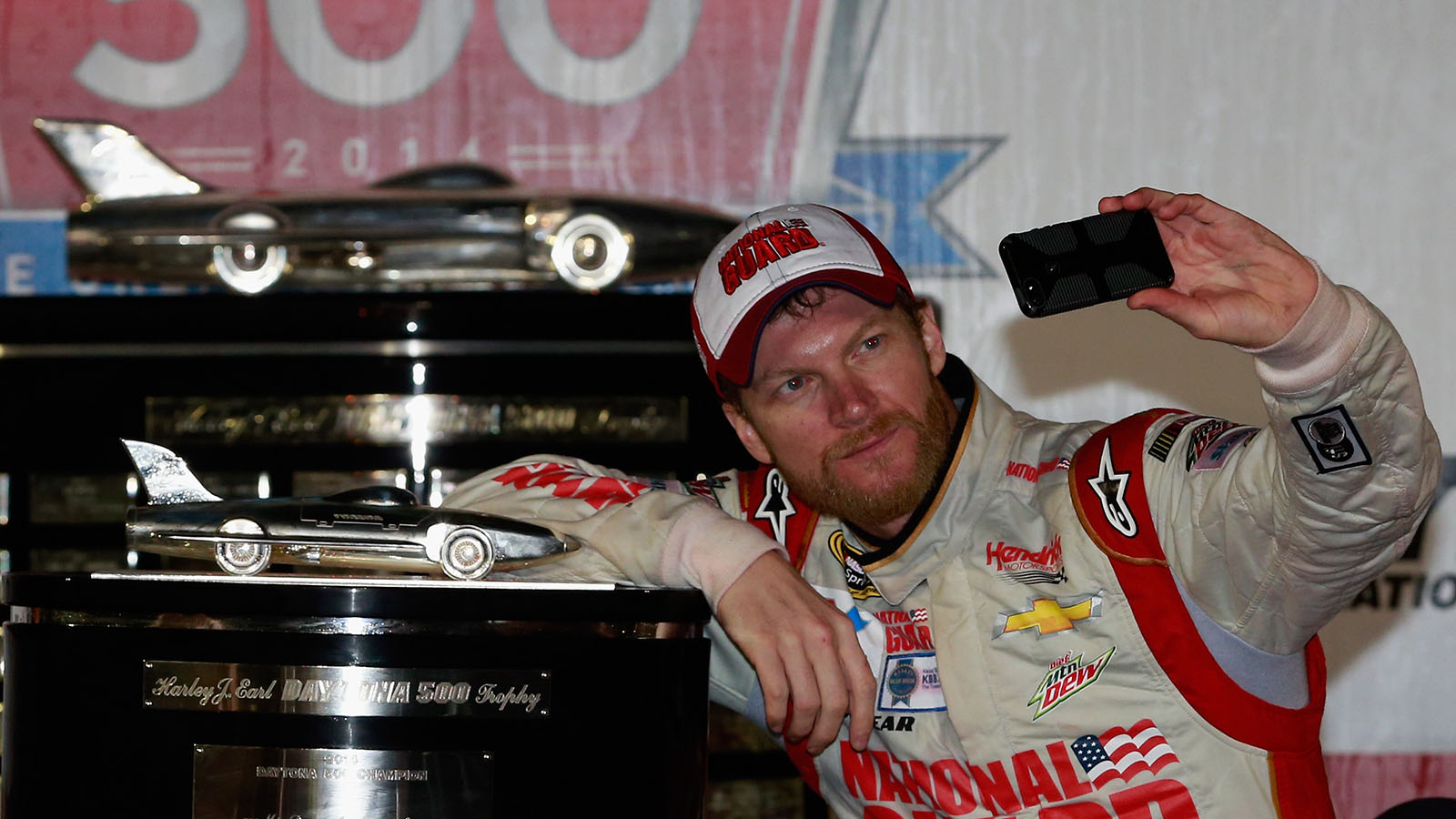 The 2014 NASCAR season could be called "The Year of the Selfie." Drivers, crew members and fans have turned their smartphones on themselves like never before.
As the Sprint Cup Series takes a break this weekend, let's take a look back at the best NASCAR selfies of the '14 season … so far.
Dale Earnhardt Jr. got things off to a strong start with this selfie in Daytona.
Tonight seemed like as good a night as any to join Twitter. How is everyone doin? #2XDaytona500Champ pic.twitter.com/4k4JVA7fG9

— Dale Earnhardt Jr. (@DaleJr) February 24, 2014
Since then, we've seen selfies with family…
Look who I ran into at the Daytona Experience. Dad's Happy! #2XDaytona500Champ pic.twitter.com/I0zf5PLfr5

— Dale Earnhardt Jr. (@DaleJr) February 24, 2014
… selfies with friends …
Hanging w/ @Patricia_AFF @DanicaPatrick @StenhouseJr … #budwiser @jakeowen @KevinHarvick concert pic.twitter.com/ezJmjlQE38

— Kurt Busch (@KurtBusch) February 23, 2014
… and selfies all alone.
Dinner is served. Cold! Life of a bachelor pic.twitter.com/IJngyKrfiI

— Tony Stewart (@TonyStewart) May 22, 2014
Some have even been pretty painful.
Not real happy about taking a lugnut to the face or the shredding tires tonight! pic.twitter.com/vWZ20LuMEi

— Mike Lingerfelt (@MikeLingerfelt) April 27, 2014
Victory Lane is a very popular background…
According to @NASCARStats, Chad Knaus & @JimmieJohnson lead @NASCAR in driver selfie rating. pic.twitter.com/Nqjicqq5zA

— Team Lowe's Racing (@LowesRacing) June 2, 2014
… but you can really take them anywhere. Even on a bus.
Beat this @TheEllenShow pic.twitter.com/EijkrPNXP5

— Darrell Wallace Jr (@BubbaWallace) March 20, 2014
It's also a great way to spend a rain delay.
Alright here it is #NASCARselfie @Realtree @badboybuggies pic.twitter.com/krTDhRObM6

— Austin Dillon (@austindillon3) March 16, 2014
You don't even need to be a NASCAR driver to take a NASCAR selfie.
Great guys and great competitors @DaleJr & @JimmieJohnson #Awesome #RIRSelfie pic.twitter.com/HDkHnlcFfI

— Robert Griffin III (@RGIII) April 26, 2014
NASCAR fans are also getting in on the action. Some are real …
What a great day at @kansasspeedway including a quick selfie with Carl Edwards! @roushfenway @NASCAR pic.twitter.com/CW39prMT5Y

— Michele Spry (@ms_spry) May 9, 2014
Others … not so much.
@NASCAR met up with @StenhouseJr in the bathroom for a #NASCARselfie pic.twitter.com/AWoyX41I8a

— Caleb Rivers (@capncaleb) March 16, 2014
Selfies with Dale!😂😛 @DalesGloves #nascar pic.twitter.com/h8KmNd9ZdK

— Alexis Braun (@alexistaybraun) June 28, 2014
We can't wait to see what the rest of 2014 brings. Three cheers for NASCAR selfies!
Pre-race calls for @NASCAR #SprintAllStar Race #Selfie! Let's do this! #100KCams -MM,JW,KC pic.twitter.com/uDJ7Mgviry

— Miss Sprint Cup (@MissSprintCup) May 18, 2014