Rope-a-dope: The five worst fights in NASCAR history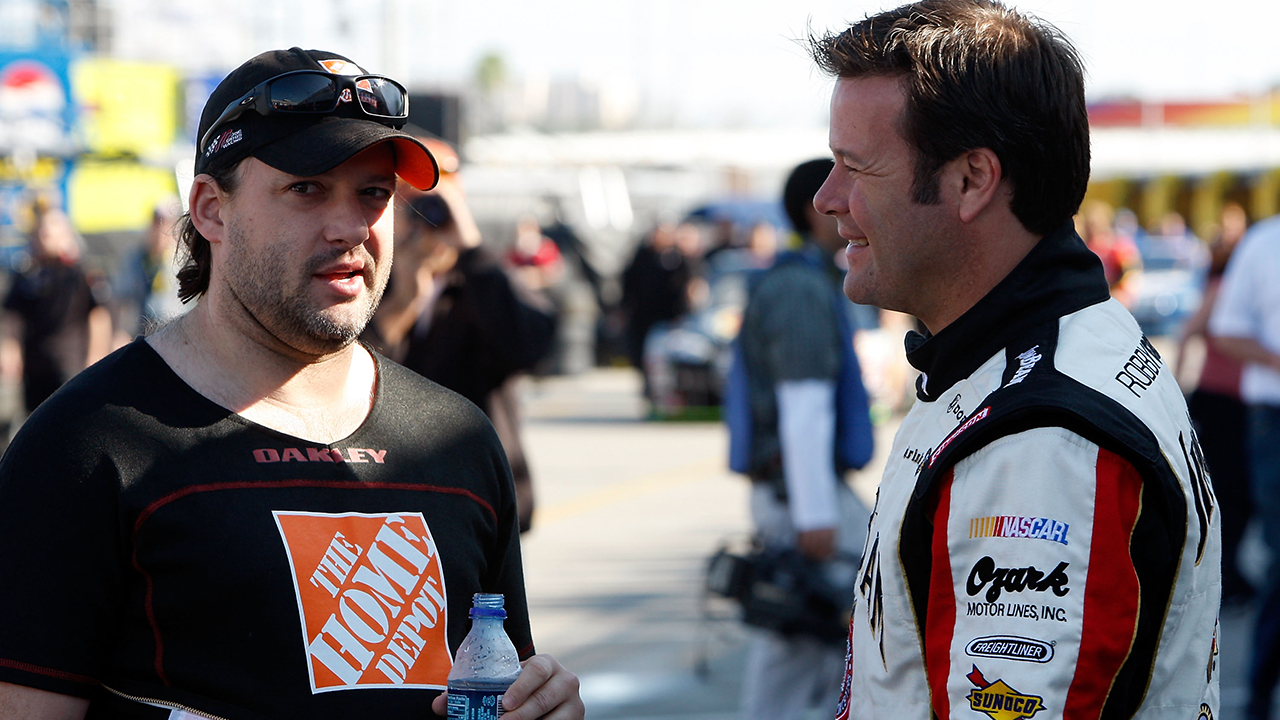 On Monday, we laid out five of the best fights in NASCAR history. But not every scrap in the garage or on pit road turns into an all-out brawl. So, with that in mind, we now present the five worst 'fights' over the years.
Tony Stewart vs. Robby Gordon
Two of the most hot-tempered drivers in the sport at the time, Tony Stewart and Robby Gordon got together during practice for the Daytona 500 in 2000. Following the incident, Gordon went to Stewart's garage stall to discuss what happened.
After some heated words, Gordon turned to walk away but was shoved by Stewart. As the two drivers came together once again, a handful of Stewart's crew members got involved and shoved Gordon away, one of whom left a cut on Gordon's face. As things settled down, Gordon attempted to explain his frustrations with Stewart's crew, led by Greg Zipadelli.
"I was like, 'Hey, why'd you hit me? It's only practice, you can tap on the break or whatever,'" Gordon said after the incident. "He says, 'You pushed me in the grass.' I know he wasn't in the grass yet … I guess he got a little heated because he pushed me and then I grabbed him a little. You know how it goes from there."
For being two of the more hotheaded drivers, the action was a bit of a letdown.
Jeff Gordon vs. Jeff Burton
In one of the most bizarre accidents in recent memory, Jeff Burton turned Jeff Gordon hard into the outside wall under caution at Texas Motor Speedway in 2010. After climbing from his wrecked race car, Gordon walked down the track and without saying a word shoved Burton.
The two wrestled around the backstretch as NASCAR officials and safety workers attempted to separate them. No punches were ever thrown, but the incident caught many off guard.
Burton took complete blame for the incident, saying he was trying to pull alongside Gordon's car, but hooked the right rear after he struggled to see in the sun glare.
"Of all the people out there, I never thought that would happen with Jeff Burton," Gordon said. "I've always had a tremendous amount of respect for him, but I certainly lost a lot today."
"I don't blame him for being mad," Burton said. "He didn't do anything he shouldn't have done. He was upset and he should have been upset. I wrecked him under caution, I didn't mean to wreck him, but I wrecked him under caution. He meant to tell me he was upset, that was OK. I don't have a bit of problem with what he did. He was mad and he should have been mad."
Video: CUP: Burton vs. Gordon Fight – Texas 2010
Max Papis vs. Mike Skeen's girlfriend
The conclusion of last year's NASCAR Camping World Truck Series race at Canadian Tire Motorsports Park was full of drama. The leader was spun in the final corner for the win, while the third- and fourth-place trucks wrecked each other in the same turn.
Following the race, Max Papis was quick to show Mike Skeen how unhappy he was for being wrecked. After rubbing fenders during the cooldown lap, Papis parked his truck next to Skeen's as crew members rushed in.
One of Skeen's crew members reached into Papis' truck in an attempt to pull the fire extinguisher, but was quickly thrown to the ground by Papis' team. After climbing from the truck, Papis had words with Skeen before cooler heads prevailed.
After Papis gave his side of the story to FOX Sports 1, Skeen's girlfriend pulled Papis aside and slapped him hard across the face. In the following days, Papis would claim his jaw was dislocated from the slap. Ultimately, though, he would retract that statement, blaming a language gap.
Video: TRUCKS: Max Papis Gets Slapped – Mosport 2013
Nelson Piquet Jr. vs. Brian Scott
Much like Saturday night's race at Richmond, tempers were out in full force during last spring's Nationwide Series race at the three-quarter-mile track. Racing hard in the final laps, Brian Scott and Nelson Piquet Jr. resorted to beating and banging out the fenders after the race.
Piquet spun Scott as they entered pit road on the cooldown lap, and then drove his nose into Scott'€™s car. When the pair finally made it to pit road, they parked next to one another as the crews rushed in to stand up for their drivers.
Climbing from the cars, the two had a heated exchange before shoving one another. Piquet then kicked Scott below the belt. Crew members rushed in and were able to separate the two drivers.
Video: NNS: Piquet Jr. Kicks 'Below the Belt' – Richmond 2013
Carl Edwards vs. Matt Kenseth
If there's one guy you don't want to fight in NASCAR, it's most likely your teammate. That nearly happened at Martinsville Speedway in 2007 between then teammates Carl Edwards and Matt Kenseth.
Following the race, as Kenseth was speaking with Bob Dillner, Edwards walked between the two and shoved his teammate down along the wall. After a few heated words, Edwards jumped over the wall to exit the track, but threw a fake punch, causing Kenseth to flinch. Edwards simply smiled and walked away.
According to their fellow Roush Fenway Racing teammate Greg Biffle, who saw the on-track incident take place, it was a case of racing hard for position late in the race.
"Carl came in there, slammed Matt out of the way, then they get going off the corner and runs him into the fence," Biffle said. "If you drive like that, if you dish it out, then you've got to be able to take it. You would expect Carl would figure that if I'm going to drive like that, someone's going to race me the same way, especially a teammate. I think the true colors are coming out."
As mentioned before, not every driver will land a punch and not every scrap will turn into an all-out brawl. Racing is a sport driven by emotions, and every once in a while, emotions run high.
But, hey, at least none of the drivers look like these two racers, even though Gordon and Burton came pretty close.