Ricky Vs Danica: Who's On Top After New Hampshire?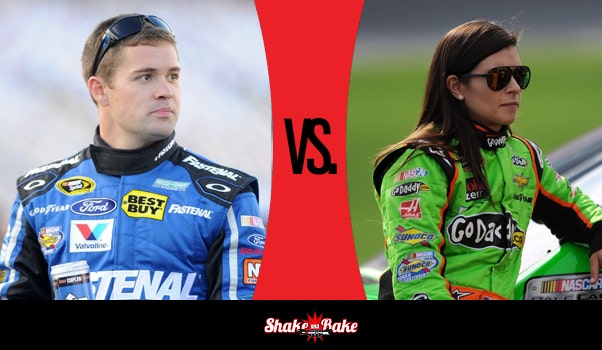 The toughest part about being in love?
Well, sometimes it's just admitting that you've done your soulmate wrong.
"I'm sorry," might be the two most difficult words to use in the English language.
Consider the case of NASCAR's power couple and fellow Sprint Cup Rookie of the Year contenders Danica Patrick and Ricky Stenhouse Jr.
Sunday at New Hampshire Motor Speedway, the lovebirds were both struggling to get around the 1.058-mile flat oval, which offers almost no adhesion in the corners, making it one of NASCAR's tougher tracks to master.
On Lap 237 of a scheduled 301-lap race, Patrick appeared to badly misjudge the braking area going into Turn 1, slammed on the brakes, turned left and hit Stenhouse, driving his car up into Travis Kvapil's.
One error in judgment, three badly wrecked race cars.
Not good.
Patrick's explanation?
"It felt like was either I misjudged the braking or everyone jammed up a little bit," she said. "I got sideways trying to slow down so that I didn't drive up into the back of anyone. I just got sideways and there is nothing you can do. The worst part is that you know obviously I didn't want to take anybody with me. I feel bad. What can I say? We were having a reasonable race and just didn't mean to do it."
For his part, Stenhouse didn't point any fingers, especially not at the GoDaddy Girl.
"It is just part of it," he said of the crash. "Like I told these guys, I have been wrecked before and wrecked people myself. Fortunately we have been able to finish a lot of these races and that is what has kept us in the points of where we are. We haven't run well enough to be in the top-20 in points I don't feel like. It is unfortunate to end the day with a crash but the guys fixed it and we got back out there and made the most of it and didn't get a DNF, that is always good."
In the final results, Stenhouse was credited with a 34th-place finish, three positions ahead of Danica.
Presumably the young lovers will use the upcoming NASCAR off week to go vacation somewhere together.
And for now, at least, Ricky's still on top.
One can only that some crumpled sheetmetal won't get in the way of young love.
Scoreboard after 19 races:
Ricky – 20th in points, 0 top fives or top 10s, best finish of 11th.
Danica – 27th in points, 0 top fives, 1 top 10, best finish of 8th.
Better race finish – Ricky 15-4 over Danica.