Ricky Vs. Danica: Who Is On Top After Bristol?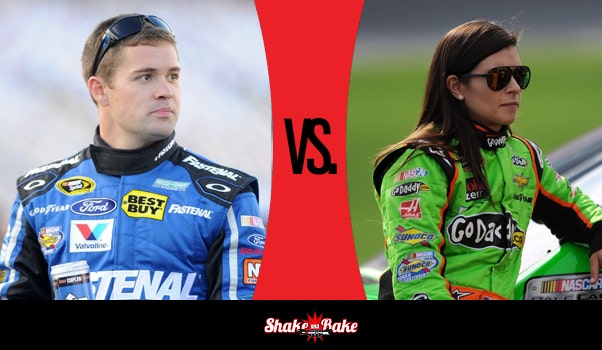 Saturday night was "Groundhog Day" in the NASCAR Sprint Cup Rookie of the Year battle between NASCAR's power couple, Danica Patrick and her boyfriend, Ricky Stenhouse Jr.
Stop me if you've heard this one before: In the Irwin Tools Night Race at the high-banked 0.533-mile BMS oval Ricky finished 18th, Danica 26th.
In other words, same old, same old, just like in the 1993 movie, "Groundhog Day," where Bill Murray relives the same day, over and over and over again, as he tries to woo Andie MacDowell and convince her he's not a selfish, conniving dirtbag.
Why do we mention Groundhog Day in connection with Ricky and Danica?
In the 24 Sprint Cup points races run this year, Ricky has an average finish of 19.875. His last three races? Eighteenth at Watkins Glen, 19th at Michigan, 18th at Bristol. Groundhog Day, indeed.
Danica is even more maddeningly consistent. Her average finish this year is 25.875, virtually identical to the 26th place she post at Bristol.
Despite being mired in a season of mediocrity, Danica was her usual upbeat self after Saturday night.
"Overall I would honestly say we are still on a good streak of running strong," she said. "There is nothing you can do about getting into the wall and having damage. We came back as best as we could and made the car as good as it was at the end. That is a positive. My goal honestly in my mind is like, 'Man if we can come away with a top 30 with having these problems then that is alright' and we finished 26th through attrition and staying out of trouble. We will take it and move on."
Be that as it may, Ricky came out on top yet again, so as we head to Atlanta for the Labor Day weekend, it looks like Danica will be back cooking livermush for Ricky one more time.
Scoreboard after 24 races:
Ricky — 23rd in points, 0 top fives or top 10s, best finish of 11th.
Danica — 27th in points, 0 top fives, 1 top 10, best finish of 8th.
Better race finish — Ricky 20-4 over Danica.