Ricky vs. Danica: All-Star Race – Who's On Top This Week?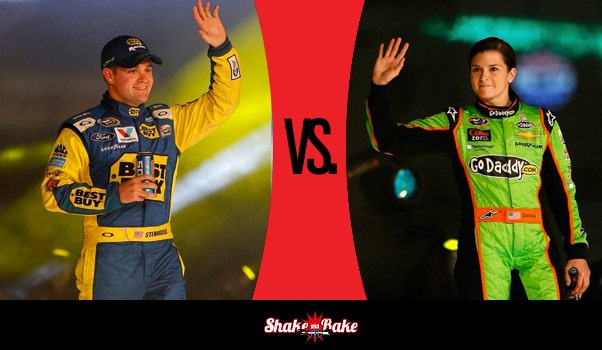 The good news for our NASCAR lovebirds in Saturday night's Sprint All-Star Race at Charlotte Motor Speedway was two-fold: Both Danica Patrick and Ricky Stenhouse Jr. transferred from the preliminary Sprint Showdown to the Sprint All-Star Race.
And, thanks to a 41-minute rain delay, they got to spend some quality time hanging out together up on Ricky's war wagon, where Danica was spied on her cell phone. Quick call to Mom to talk about her date? Checking on the E-Trade portfolio? Ordering a new domain name from GoDaddy.com? Only Danica knows for sure.
Ultimately, though, there was a big difference in the quality of evening the two enjoyed. Ricky finished second in the Sprint Showdown and earned one of the transfer spots that went to the top two finishers in that event. In other words, he raced his way in.
Danica, on the other hand, made the big show because she won the Sprint Fan Vote, essentially a popularity contest. Not that there's anything wrong with that. Clearly not everyone felt that way, because she received a surprisingly large number of boos from the vocal and energetic crowd at Charlotte Motor Speedway.
In the main event, Stenhouse was eighth on Lap 80, but backslid in the final 10-lap segment to finish 16th in the 22-car field. Danica finished 20th, the last car still running after Brad Keselowski went out early with transmission failure and Mark Martin late because of a wreck.
Being the last running car to finish is kind of embarrassing. Sort of like a start-and-park driver who forgot to actually park.
And that means that once again this week, the race is over and Ricky is on top, at least for now.
Scoreboard after 11 points races plus Sprint All-Star Race:
Ricky — 18th in points, 0 top fives or top 10s, best finish of 11th.
Danica — 26th in points, 0 top fives, 1 top 10, best finish of 8th.
Better race finish — Ricky 9-3 over Danica.