Read this: Matt Kenseth, wife Katie author children's book on bullying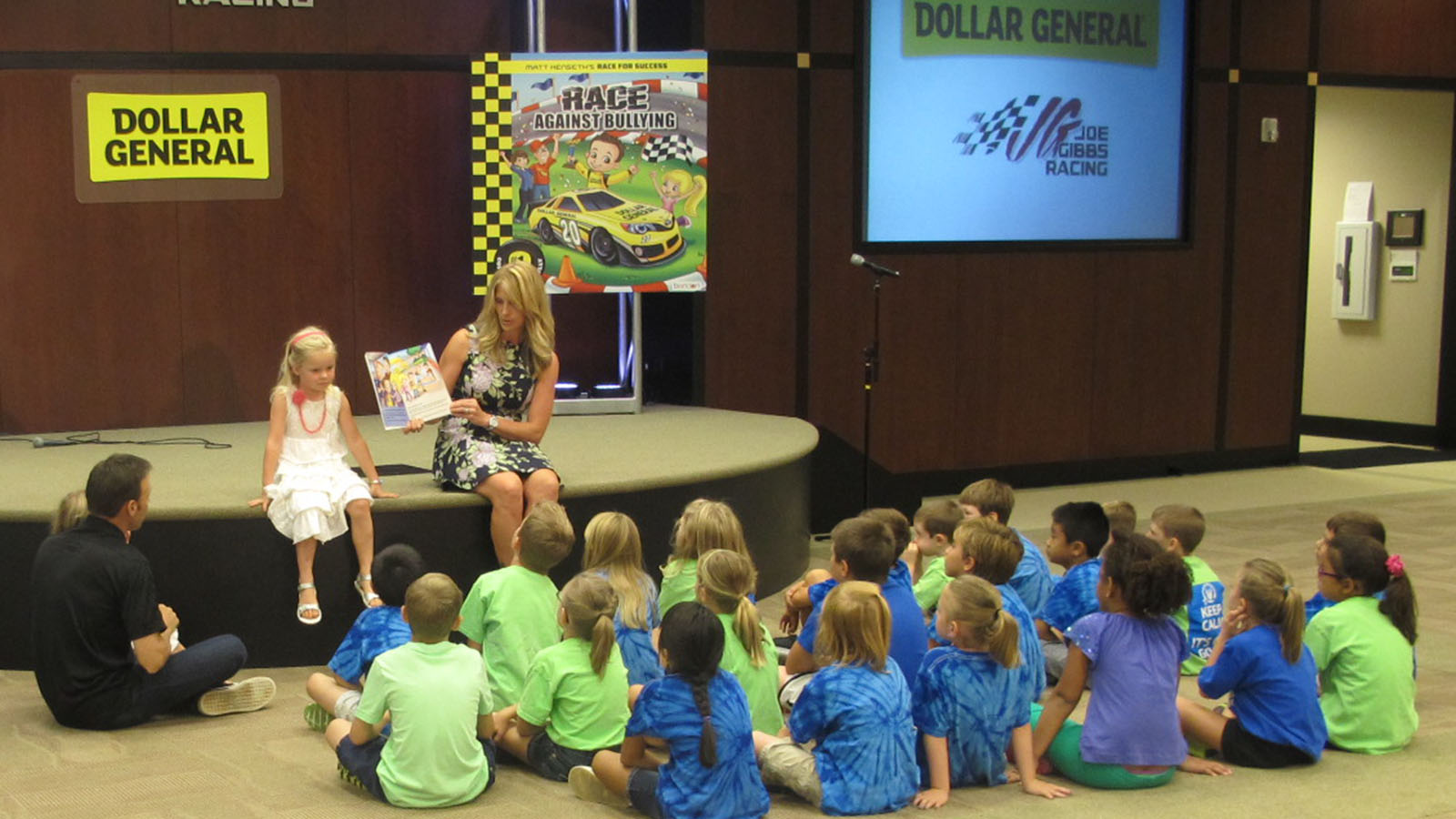 You can now add children's author to Matt Kenseth's list of professional accomplishments.
Kenseth, the 2003 Sprint Cup champion and a two-time Daytona 500 champion, joined wife Katie on Tuesday at Joe Gibbs Racing to debut a new children's book — "Matt Kenseth's Race Against Bullying" — aimed at educating children on how to make good choices if bullied by a fellow student.
The release of the book, which is available for purchase exclusively at Dollar General stores and DollarGeneral.com, coincided with National Youth Literacy Day and provided Matt and Katie an opportunity to share a story time with a group of second-graders from nearby Grand Oak Elementary School.
The Kenseths, who were initially approached about the project about a year ago by the driver's media relations representative, Adrian Parker, have three daughters all under the age of six, so the book carries personal meaning.
"I was kind of the kid that I wasn't the guy doing all the sports," Matt Kenseth said, recalling his school days in Wisconsin. "I was working on a race car, but I wasn't really necessarily a nerd, either. It was just kind of a little school. There was the same group that picked on me pretty hard. I don't know if I handled it the right way or not."
Katie enjoyed working with her husband on the book, which features both she and Matt as fictional characters in real-life schoolyard situations.
"Everything is fun with Matt," said Katie, who along with her husband didn't physically write the book but as its co-creators offered significant feedback, ideas and approval along the way. "He has such a dry sense of humor. There were a lot of days when he would read the book and say, 'I don't know.' And I would say, 'Would you read it to your kids?' It's funny. The children's book takes him more out of his box and it puts me more in a comfort zone. But we enjoyed it and enjoyed the different opinions."
In the process of working on the book, Katie actually learned a few things she didn't know about Matt, even though the two attended the same Wisconsin high school.
"As we started talking about the book, he actually opened up more about the fact that he was in a sense bullied," Katie said. "When he was in school, 'bullying' wasn't such a popular word. It was kind of like that's just how everybody was treated, you were picked on, that's what happened. So for me it was interesting to learn just exactly what he had been through, and that he was picked on for racing because he didn't play football or he didn't play baseball, he didn't play basketball, he never attended the prom or homecoming.
"Everything was always racing, so he was different. He was the different kid, and it's fun and kind of rewarding for him now today to be successful. A lot of times the kids that picked on him want to come to a race or get excited to see him now. So I learned a lot about his education and just things like that, which was fun."
Kenseth, who since joining the Sprint Cup Series in 2000 has come to be regarded as one of the sport's premier drivers, never aspired to be a children's author.
"This is something that I didn't really think that I would ever be able to be a part of, so it was neat to be able to do that and to be involved with Dollar General and the Literacy Foundation," he said. "And to tie that all together, it was a lot of work to make all that happen, and it was pretty neat that we got it all together."
Matt Kenseth's Race Against Bullying is the first of four children's books the Kenseths plan to co-author in the coming months. Future book topics will likely include nutrition and honesty.
Bullying was a logical first choice for a topic since the Kenseths' three young daughters will soon be delving headlong into the school years. Already, Katie recalls one instance when she witnessed the couple's oldest daughter, 5-year-old Kaylin, on the playground where a young boy was being made to feel left out by his peers.
"She didn't necessarily pick on the kid but she didn't stop it, so as a mom I stood there and I felt sick to my stomach because I thought, 'This is something I have to start working on with her,'" Katie said. "I would have thought at her age you wouldn't have to deal with that and that everybody would just love to play and they'd run around and it would be great. But it was different. So that for me was kind of eye-opening. I didn't like the look on that boy's face. I didn't like watching her chime in, or not so much chime in, but not stop it, and think that that was OK.
"We've worked really hard with Kaylin since that day to be the one to say, 'Oh, you can play with me, then.' I've also explained to her that a lot of times in life, the harder the thing is to do, the more right it is."