Race Wrap-Up: Short track temper tantrums in Richmond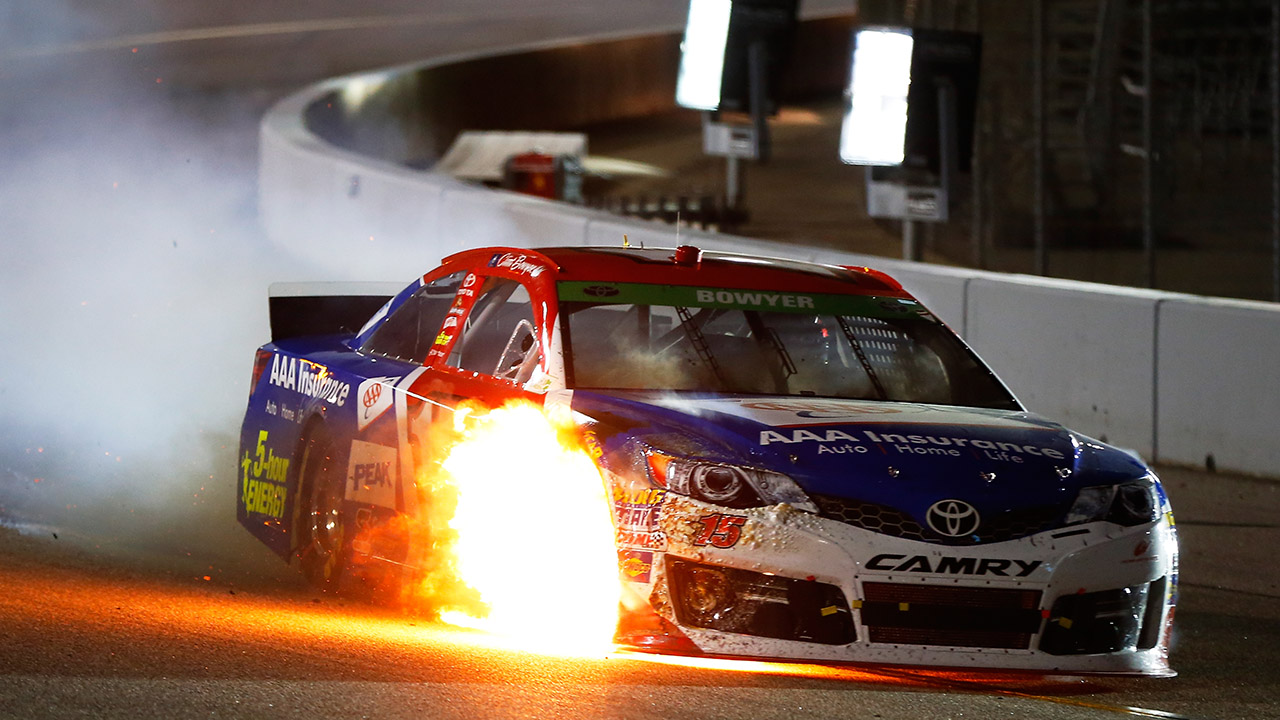 Things got out of control tonight at Richmond International Raceway.
Before drivers made lap two, Clint Bowyer gets in to Kyle Larson sending him spinning.
Karma, anyone? Clint Bowyer experiences tire issues that send him to the garage.
Joey Logano wins in a temper-fueled-nail-biting-on-the-edge-of-your-seat finish!
Then Marcos Ambrose shows Casey Mears' left eye his despleasure.
Here's what drivers are saying on Twitter:
Our night wasn't great… but it sounds like there was a lot if excitement afterwards! 👍👍

— Kevin Harvick (@KevinHarvick) April 27, 2014
Heck of a race, Hate we didn't win that one. The #2crew gave me a rocket at the end! Congrats @Team_Penske and @joeylogano

— Brad Keselowski (@keselowski) April 27, 2014
Glad we ran good. Sucks we didn't run better at the end. Lost all front brakes. What a fun racetrack. Y'all have a hell of a Sunday. #cheers

— Dale Earnhardt Jr. (@DaleJr) April 27, 2014
Apparently I burped in an interview. Gonna do a lot of that tomorrow.🍺 #ExcuseMe

— Dale Earnhardt Jr. (@DaleJr) April 27, 2014
So, I went to Australia once. They don't take no 💩. #ThunderStruck

— Dale Earnhardt Jr. (@DaleJr) April 27, 2014
— Kyle Busch (@KyleBusch) April 27, 2014
Thankful tonight for fans that appreciate a driver who gets upset when he misses out on a chance to win Believe they are the silent majority

— Brad Keselowski (@keselowski) April 27, 2014
Great job all weekend by my @FR78Racing team. Really needed it to stay green, we were great on long runs not so good on long runs.

— Martin Truex Jr. (@MartinTruex_Jr) April 27, 2014
Oops. Yes not good on the short run!!!!

— Martin Truex Jr. (@MartinTruex_Jr) April 27, 2014
Car was better than 8th. Another solid run for the 31 @QuickenLoans Chevy. Couldn't catch a break on restarts. On to Dega.

— Ryan Newman (@RyanJNewman) April 27, 2014
Do you know how hard you have to misjudge a corner and plow into the guy in front of you to wreck someone 3 cars up? #morons

— Denny Hamlin (@dennyhamlin) April 27, 2014
Wow exciting night of racing. #team24 is bringing it every week! A win is in our sights.

— Jeff Gordon (@JeffGordonWeb) April 27, 2014