Race Day Blog: Sights and Sounds From the Sprint All-Star Race
12:05a ET — Hey JJ, you feelin' like a million bucks?
11:53p ET — Jimmie Johnson wins his fourth career All-Star race, which leads all drivers. Unreal.
11:47p ET — Brad Keselowski, who suffered transmission failure in the first segment, is taking five-time on this final restart. Who ya got?
11:45p ET — Here's how they enter pit road, which is decided by the average finishing order from each of the four segments.
And here's how they exit pit road. 10 lap shootout coming up to decide who will walk away with all of the glory and fame.
11:35p ET — Kyle Busch wins segment three; Kurt Busch takes segment four. Will one of the the Busch bros walk away $1,000,000 richer?
11:00p ET — There will be no $2,000,000 bonus as Kyle Busch spoils the party.
10:45p ET — The answer to our earlier question is YES, Kurt Busch can win the first segment. He's the only driver who is now eligible for the extra $1,000,000.
10:37p ET — We're back green at Charlotte Motor Speedway. Can Kurt Busch hold on to the lead and win Segment 1?
10:20p ET — More shenanigans taking place during the rain delay. Your pole-sitter doubles as a weatherman and flux capacitor guru.
10:10p ET — Things are getting a bit weird under the rain delay. Who taught these dudes how to dance?
9:54p ET — Well that didn't last long. Red flag is out for rain after just 13 laps of action. Unfortunately for Brad Keselowski, it didn't come soon enough as he is out with a broken transmission.
9:39p ET — Boogity, Boogity, Boogity! Let's go racing All-Star racing boys!
9:20p ET — We can't go racing without Michael Waltrip's Grid Walk. Enjoy.
9:12p ET — Driver intros complete. Who's ready to go racing, All-Star style?
9:00p ET — We agree with Daytona 500 winner Trevor Bayne!
8:58p ET — Kaya Jones, formerly of the Pussycat Dolls, may not have had the best performance, but she's still smokin' hot!
8:52p ET — In case you had any doubt, the Sprint All-Star fan vote winner has been announced…
8:34p ET — Jamie McMurray dominates the Showdown to advance into the big show. Ricky Stenhouse Jr. also advances.
8:07p ET — You can't hold us down for long, Mother Nature.
7:58p ET — Engines are fired! The Showdown will be 40 laps to decide which three drivers transfer into the All-Star race.
7:35p ET — Chris Myers and Michael Waltrip lookin' good in the Hollywood Hotel. Be sure to to tune in to SPEED for Live coverage of tonight's All-Star race.
7:20p ET — We knew tonight was going to be big, but we didn't know it would be THIS big. Good on ya, Spanky!
7:15p ET — Showdown driver intros are expected to start at 7:30p with green flag at 8:00p. Are you wondering why there is no Air Titan? Senior VP of NASCAR Steve O'Donnell has the answer.
7:00p ET — Track drying efforts currently underway, but Mother Nature has once again pushed back the start time. Here's a quick look at the radar:
6:45p ET — Quick check in on the drivers meeting. Can you spot your favorite driver?
6:30p ET — Are you ready for the Sprint All-Star race? SPEED's Live coverage of tonight's action from Charlotte Motor Speedway kicks off at 7p ET.
Where's Waldo? Can you spot your favorite driver in the Showdown/All-Star Race drivers meeting? twitter.com/jeff_gluck/sta…

— Jeff Gluck (@jeff_gluck) May 18, 2013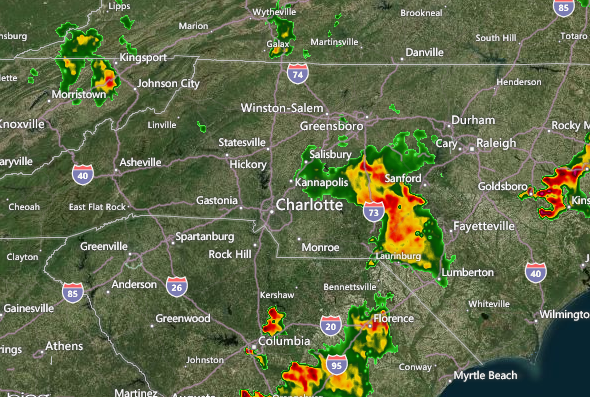 "@bsargentokc: @odsteve Why doesn't NASCAR provide Air Titan at all tracks?" We make it available.Track decision

— Steve O'Donnell (@odsteve) May 18, 2013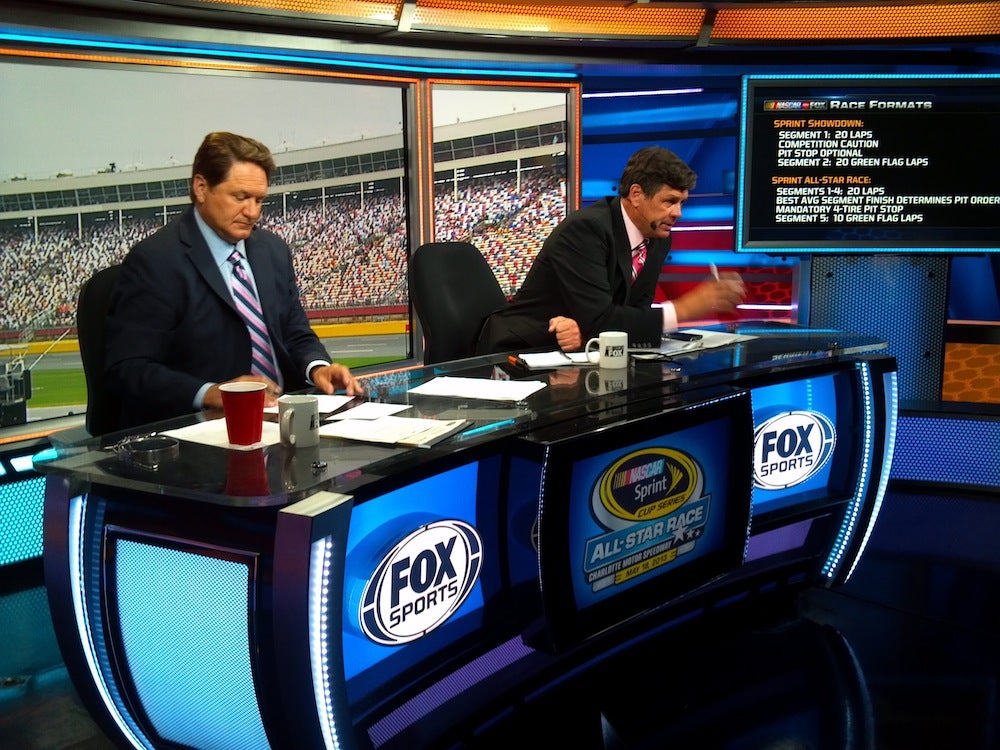 Green Green Green!! RT if you're watching the #NASCAR #SprintAllStar race on @speed

— NASCAR (@NASCAR) May 19, 2013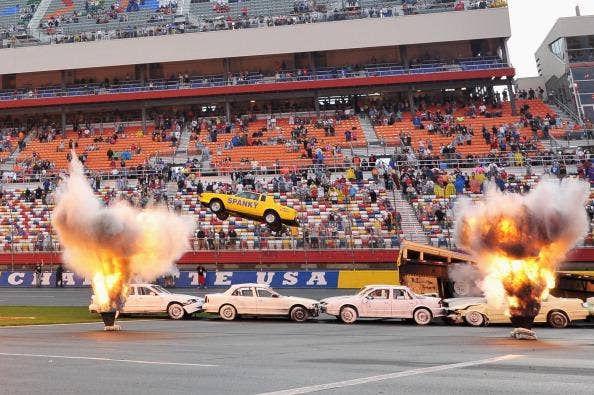 Video: CUP: McMurray Wins, Stenhouse Jr. Advances – Sprint Showdown 2013
Sprint Showdown winner @jamiemcmurray and runner up @stenhousejr talk with the media. #SprintAllStar twitter.com/CLTMotorSpdwy/…

— CharlotteMotorSpdwy (@CLTMotorSpdwy) May 19, 2013
.@danicapatrick has won the #SprintAllStar fan vote.

— FOX SPORTS: NASCAR (@NASCARONFOX) May 19, 2013
All @nascar driver intros should be like this! #sick #allstarrace

— Trevor Bayne (@Tbayne21) May 19, 2013
Man I wish I was running tonight! Hard to watch..Can't wait for the day we run full time in cup!!

— Trevor Bayne (@Tbayne21) May 19, 2013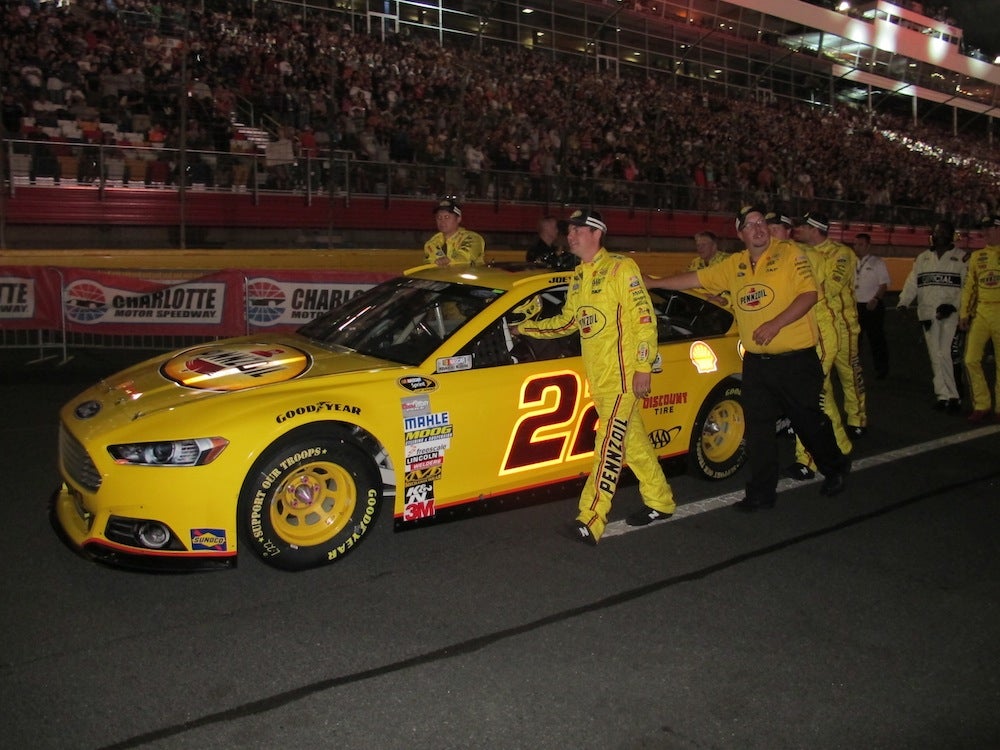 #TeamNoRainDelay rain dance video from the Nos. 5 and 88 teams! #NASCAR vine.co/v/bElIBrZOgFZ

— Hendrick Motorsports (@TeamHendrick) May 19, 2013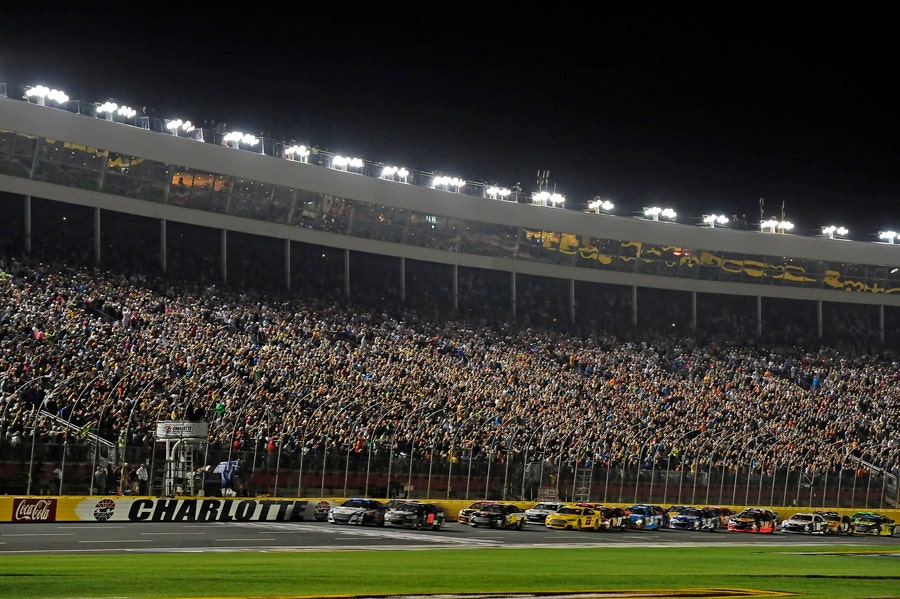 Video: CUP: Carl Edwards Explains Flux Capacitors – All-Star 2013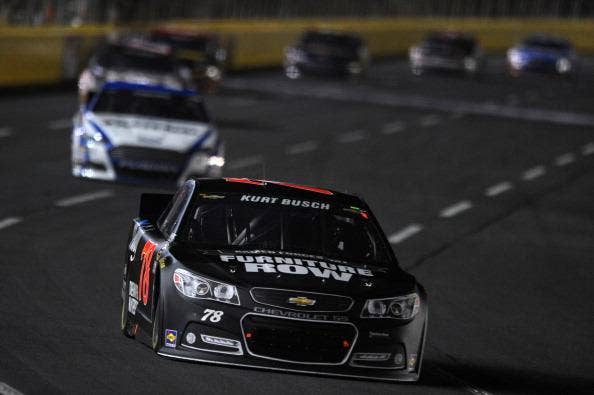 Video: CUP: Kurt Busch Wins Segment 1 – All-Star 2013
From one Busch to the next, it's Kyle winning Segment 2. Bowyer, Edwards, KuBusch and Johnson are your top five. #SprintAllStar

— FOX SPORTS: NASCAR (@NASCARONFOX) May 19, 2013
Order onto pit road (by avg finish): 78, 18, 5, 48, 15, 22, 99, 88, 1, 11, 24, 29, 20, 39, 16, 17, 14, 55, 9, 34, 10 #NASCAR #SprintAllStar

— NASCAR on SPEED (@NASCARonSPEED) May 19, 2013
Here's how they lineup for the final restart: Kahne, Johnson, KyBusch, Logano, KuBusch, Edwards, Hamlin, McMurray, Dale Jr #SprintAllStar

— FOX SPORTS: NASCAR (@NASCARONFOX) May 19, 2013
Changing my mind Think jj has this one now. I like his restart position.

— Brad Keselowski (@keselowski) May 19, 2013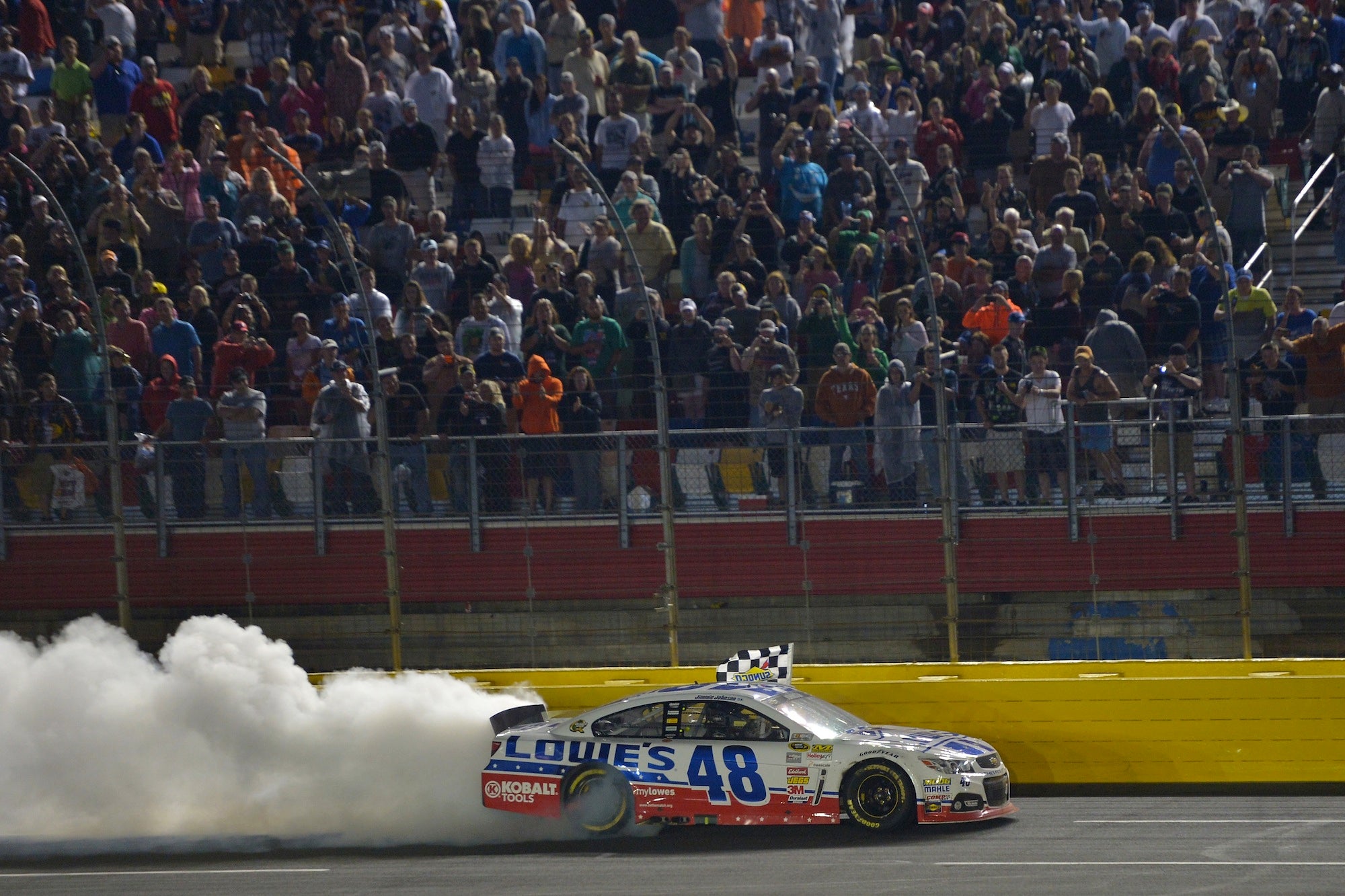 Breaking news: @jimmiejohnson is really good!Just in case you haven't noticed

— Jeff Burton (@RCR31JeffBurton) May 19, 2013
Geeez @jimmiejohnson and his boys can get it done at Charlotte… And everywhere else! congrats

— Trevor Bayne (@Tbayne21) May 19, 2013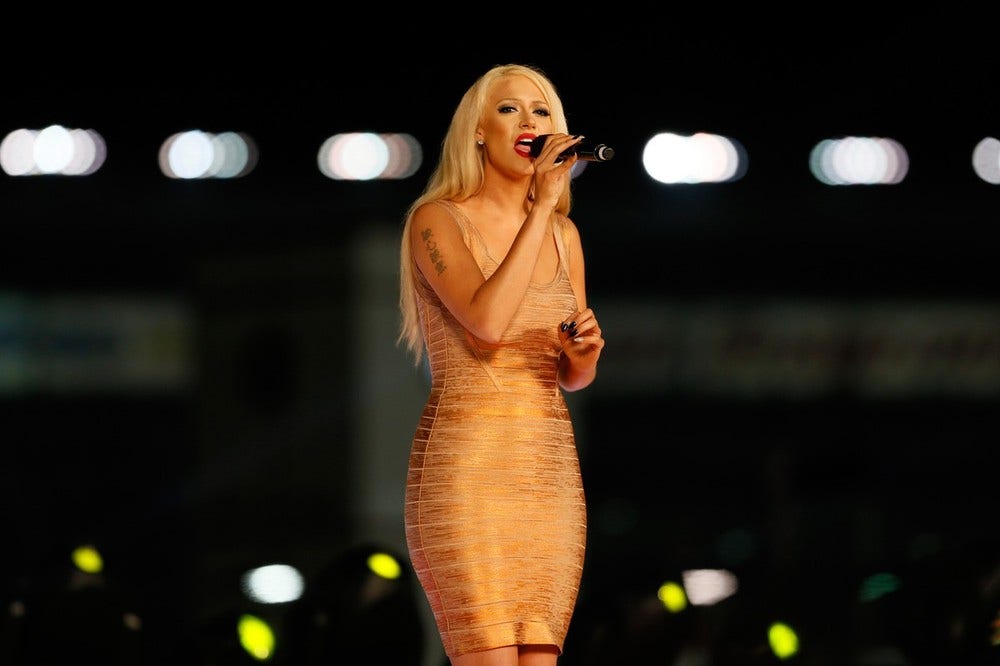 Four! #SprintAllStar twitter.com/JimmieJohnson/…

— Jimmie Johnson (@JimmieJohnson) May 19, 2013