Put 'em up: Top 5 fights of the 2013 NASCAR season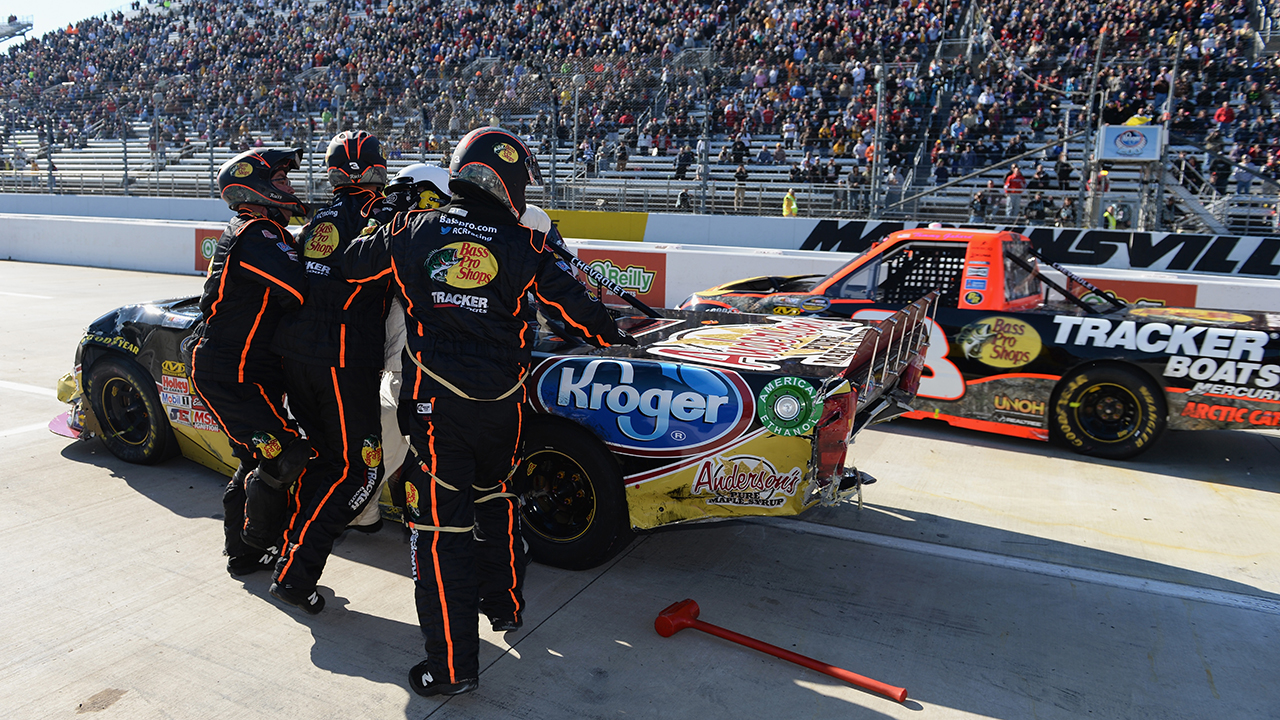 Without question, the boys of NASCAR continued to have at it in 2013, with at least one girl getting in on the action, too.
Here are Shake and Bake's Top 5 NASCAR fights of 2013:
KEVIN HARVICK vs. TY DILLON – Tiny Martinsville Speedway always seems to bring out the worst in drivers and last year was no exception. In the fall NASCAR Camping World Truck Series race, Harvick and Dillon took turns wrecking each other and trading insults afterwards. Pop-Pop – Ty's grandfather/team owner Richard Childress – didn't ask anyone to hold his watch so he could clock Harvick, but the two did sit down afterwards to hash things out.
Video: TRUCKS: Dillon Dumps Harvick – Martinsville 2013
MIKE SKEEN vs. MAX PAPIS – During the closing laps of the Truck Series race on the Canadian Tire Motorsports road course, NASCAR veteran Papis and road racer Skeen were racing for third place but got together and made contact that dropped both in the field. On pit road, one of Skeen's crewmen tried to reach inside Papis's truck. Then, after Papis completed his post-race interview, Skeen's girlfriend, Kelly Heaphy, walked up to him, started yelling and slapped him on the face. NASCAR fined Heaphy $2,500 and suspended her indefinitely.
Video: TRUCKS: Max Papis Gets Slapped – Mosport 2013
JOEY LOGANO vs. TONY STEWART – At Auto Club Speedway in March, Joey Logano and Denny Hamlin crashed on the last lap, with Hamlin going headfirst into a wall and breaking his back. But it was Stewart who was furious with Logano's driving, and the three-time champion confronted Logano on pit road, where a near-melee ensued. "The dumb little son of a b—h runs us clear down to the infield," Stewart said of Logano. "He wants to b—h about everybody else, he's the one who drives like a p—k. I'm going to bust his ass."
NELSON PIQUET JR. vs. BRIAN SCOTT – At the spring NASCAR Nationwide Series race at Richmond International Raceway, Piquet and Scott ran into each other on track and traded insults and blamed each other off track after the fact. But the real shocker was that Piquet attempted to kick Scott square in the privates. "€œHe kicked me below the belt, which I think is a chicken move," said a visibly upset Scott. Countered Piquet, "I don't take any s–t. He did the same thing to me in Martinsville."
Video: NNS: Piquet Jr. Kicks 'Below the Belt' – Richmond 2013
JOEY LOGANO vs. DENNY HAMLIN – The fight between Logano and Hamlin began on Twitter after the Daytona 500, when Hamlin derisively referred to Logano in a Tweet. Then, at the spring Bristol race, Hamlin turned Logano in the closing laps, leading Logano to confront Hamlin on pit road. More Twitter insults followed, but it got real at Auto Club Speedway when the two men were going for the victory, made contact on the last lap and Hamlin had a scary head-on crash that broke his back and ruined his season. It was a racing incident, with two men fighting for the win, but it intensified the bad blood between the former teammates.