Perfect landing: Clint Bowyer flips, earns style points on Twitter
Michael Waltrip Racing's Clint Bowyer took a wild ride on the last lap of Thursday's Budweiser Duel and impressed many fans and fellow drivers.
The incident happened when Jimmie Johnson ran out of fuel coming off the final corner at the front of the pack. Collected in the wreck, Bowyer's car lifted into the air and barrell-rolled before landing on its tires.
Check out the footage of Bowyer's aerial escapade from FOX Sports 1:
Ever wonder what a driver looks like as he's flying through the air? Bowyer's eyes tell you all you need to know.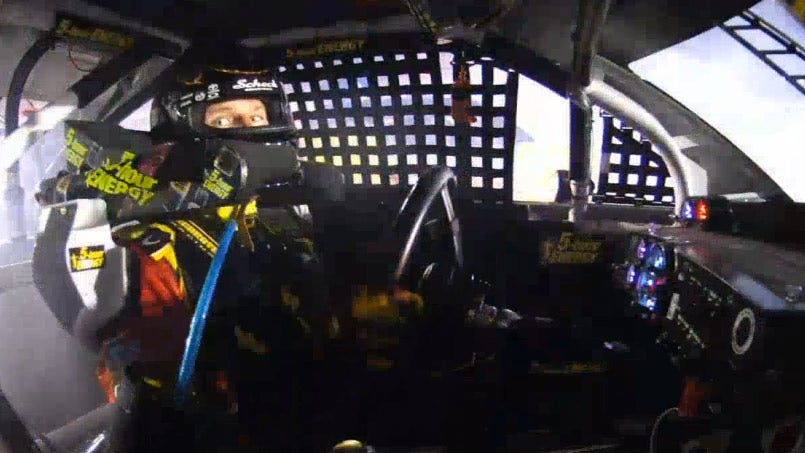 Luckily, he was able to climb from the car unscathed.
Pretty quiet when she goes upside down! We'll get the backup polished up and ready for the 500…be just fine!!! 👌

— Clint Bowyer (@ClintBowyer) February 21, 2014
Following the incident, many took to Twitter to praise Bowyer's flying skills.
That was a cool flip by @ClintBowyer. Nice car control. Lmao

— Tony Kanaan (@TonyKanaan) February 21, 2014
That was sweet flip by @ClintBowyer giddy up!

— Scott Dixon (@scottdixon9) February 21, 2014
Style points for @ClintBowyer

— Ryan Briscoe (@Ryan_Briscoe) February 21, 2014
We finished 10th after doing a back tuck. Holla @ClintBowyer

— Brett Griffin (@SpotterBrett) February 21, 2014
.@ClintBowyer 9.5 on that dismount, friend… #Sochi2014 material, if we say so. (But for real, glad you're okay) pic.twitter.com/Ms7S4P02ML

— Texas Motor Speedway (@TXMotorSpeedway) February 21, 2014
When involved in a high speed crash @DISupdates the last thing you want to see is your teammate flipping over. Nice landing @ClintBowyer

— Michael Waltrip (@mw55) February 21, 2014