New Years Resolutions for your favorite NASCAR drivers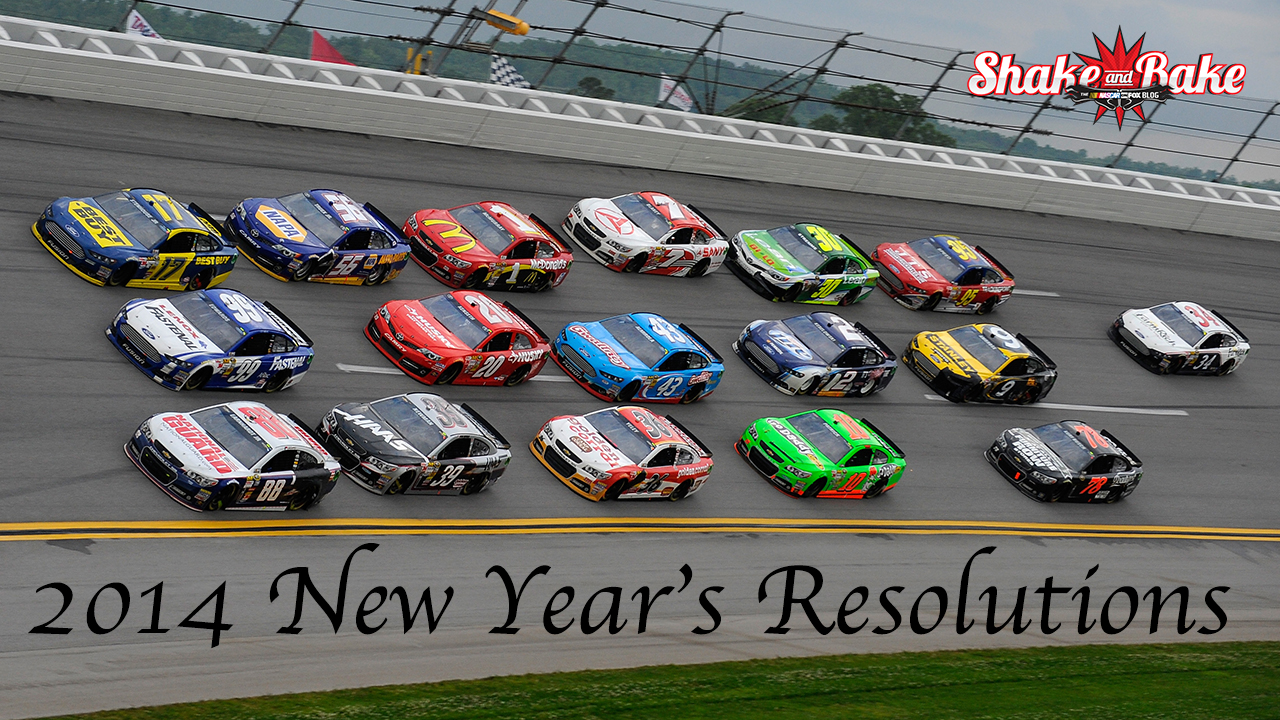 We're just two days into the new year and it's already time to start thinking about ways to change your life for the better. NASCAR drivers are in the same boat. Our always entertaining friends Nascarcasm and NASCAR Wonka each give us ten New Year's Resolutions that your favorite drivers are making for 2014.
Nascarcasm
1. Jimmie Johnson – For marketing purposes (and to piss off other drivers) come up with a few words that rhyme with "seven."
2. Matt Kenseth – Overcome the severe growing pains that oh-so-severely hindered his first year at Joe Gibbs Racing.
3. Kevin Harvick – Get around to cleaning up the charred, smoldering remains of the bridge back to RCR.
4. Dale Earnhardt Jr. – Make performance on track match his performance on eBay, where he sometimes wins something.
5. Jeff Gordon – Lose 10 pounds. And if he's only lost 9 by December, have Brian France just subtract that last pound.
6. Martin Truex Jr. – Make this year better than the last. Which will definitely happen even if he develops scurvy, gets kidnapped by a splinter group, is beaten with raw meat and locked in prison cell with five pissed-off honey badgers and Miley Cyrus songs blared at high volume.
7. Denny Hamlin – Allow back to heal enough to execute a thorough, effective twerk during Bristol introductionss. Seriously, he wants to make it clap.
8. Ricky Stenhouse Jr. – Research other rookie driver's assertion that one is ineligible to receive the NASCAR Rookie Of The Year award if you routinely leave the toilet seat up.
9. Jamie McMurray – Finally make it through a viewing of "The Notebook" without sobbing uncontrollably.
10. Austin Dillon – To begin his Sprint Cup career, undertake strenuous daily workout regimen consisting of carrying a massive legacy on his shoulders.
NASCAR Wonka
1. Carl Edwards – Wreck fewer cars during 2014's Speedweeks than he did during 2013's Speedweeks. "Jack is sending 37 cars to Daytona for me this year, which leads me to believe he's not as optimistic as I am," Edwards said last week.
2. Jimmie Johnson – Be a better driver in 2014. Jimmie admitted, "Just kidding; there's no getting better than I already am."
3. Ricky Stenhouse Jr. – Complete Danica's transformation into a cowgirl. Lesson no. 1: The phrase "plowing the back 40" is a term farmers use – not to actually plow into the back of the #40 car during a race.
4. Kasey Kahne – Give more pre- and post-race interviews with his shirt off. NASCAR ratings gold.
5. Tony Stewart – Have the year officially changed from "two thousand fourteen" to "two thousand Stewart."
6. Dale Earnhardt Jr. – Purchase the eBay website and then sell it to himself on eBay.
7. Mark Martin – Stay retired. However, like most New Years' resolutions, that one will likely be broken by the Daytona 500.
8. Joey Logano – Change his name from "Sliced Bread" to "Sliced veal cutlets, browned to perfection over a bed of homemade pasta, covered in a savory marsala wine and cream sauce." It's a tad long, but he thinks it'll catch on.
9. Austin Dillon – Use the phrase "real men do Cheerios after a win – doughnuts are so last season" at least once.
10. Brad Keselowski – Complete his PhD in 2014 (physician-hater degree).