NCWTS Wrap-Up: Massive Wreck Eliminates Field On Last Lap
Whenever it comes to Talladega, the threat of the 'Big One' is always there.
The anticipation looms every corner of every lap, every move, and every bobble.
As Saturday's NASCAR Camping World Truck Series race came to a close, the tension was reaching a boiling point. On the final lap, the lid was blown off as a massive wreck in the tri-oval broke out collecting a total of 12 trucks.
The incident began when Jeb Burton got into the right rear of Kyle Busch's truck. Busch's No. 51 turned down the track, hitting Miguel Paludo in the right rear, flipping his truck on its roof. As the rest of the field piled into the wreck, Johnny Sauter was able to drive away for the win. Behind him, however, carnage ensued.
Video: TRUCKS: Massive Last Lap Wreck – Talladega 2013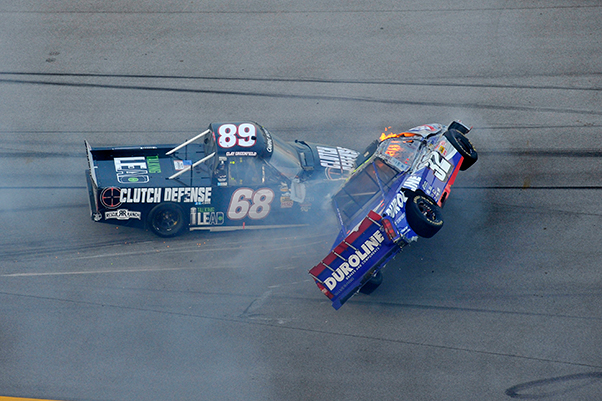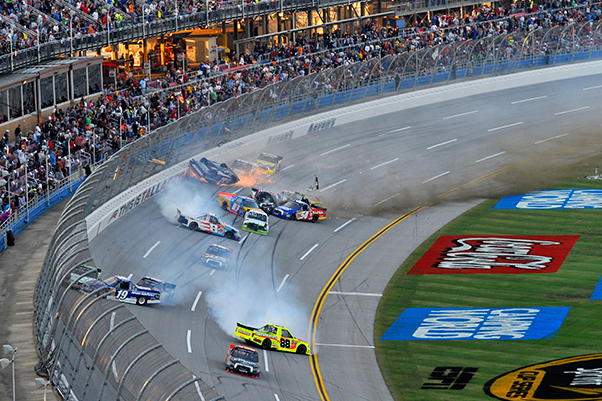 Luckily, Paludo was able to walk from his wrecked truck and wave to the crowd.
Miguel's is fine. We are going home. Mig esta bem estamos indo pra casa.

— Patricia S. Paludo (@patisouzapaludo) October 19, 2013
Tks to all the guys to work hard to keep this cars so safety. Obrigado a todos q trabalham para manter a segurança do carro.

— Patricia S. Paludo (@patisouzapaludo) October 19, 2013
After taking a hard hit to the inside concrete wall exiting pit road, Kyle Busch climbed from his truck and sat on the ground waiting for safety workers to arrive.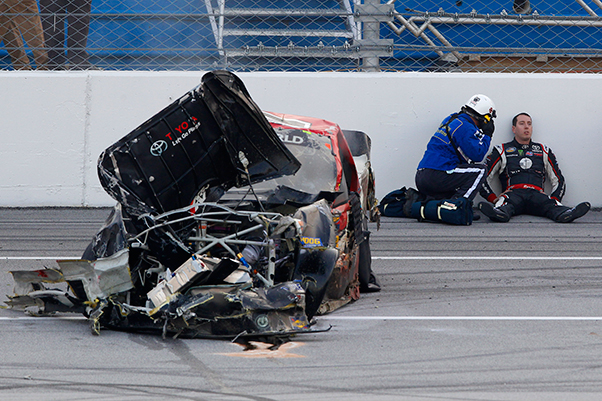 Thank you for the concern. Kyle was checked n released from med center and is ok. Back at the bus watching replays of the end of the race

— Samantha Busch (@SamanthaBusch) October 19, 2013
Medical officials also attended to Justin Lofton after he climbed from his truck. Lofton was later transported to a local hospital for further evaluation.
.@jlracing receives medical attention after being involved in a last lap wreck @TalladegaSuperS #NASCAR #letsgo pic.twitter.com/htwfpqJb29

— pixelcrisp (@pixelcrisp) October 19, 2013
Man sad to hear about @jlracing racing. Hope everything is ok

— TJ Bell (@TJBell_racing) October 19, 2013