David Ragan, 'Bubba' Wallace to honor HOF inductee Wendell Scott
The late Wendell Scott, a 2015 NASCAR Hall of Fame inductee and the first African-American driver to win a NASCAR premier series event, will be honored at Martinsville Speedway next month.
Front Row Motorsports will honor Scott with a full throwback paint scheme on David Ragan's No. 34 Ford in Sunday's Sprint Cup Series race.
But that's not all. Kyle Busch Motorsports is changing the number of Darrell Wallace Jr.'s truck from 54 to 34 in honor of Scott. Wallace will campaign the No. 34 in Saturday's Camping World Truck Series race.
I'd say @DavidRagan tribute to Wendell Scott in the #Goodys500 is pretty good, wouldn't you? pic.twitter.com/4L0ijtcNIY

— Martinsville Spdway (@MartinsvilleSwy) September 16, 2014
"It's going to be cool to honor Wendell Scott at his home track with his family," said Ragan. "I got to drive a tribute scheme for Ned Jarrett a while back, and it's a tribute to the history of our sport that I get to honor Mr. Scott as an inductee, the last driver to win in the No. 34 before I did. I'm a fan of our sport's history and have a real appreciation for it, so it's special to be able to bring that paint scheme back for a weekend."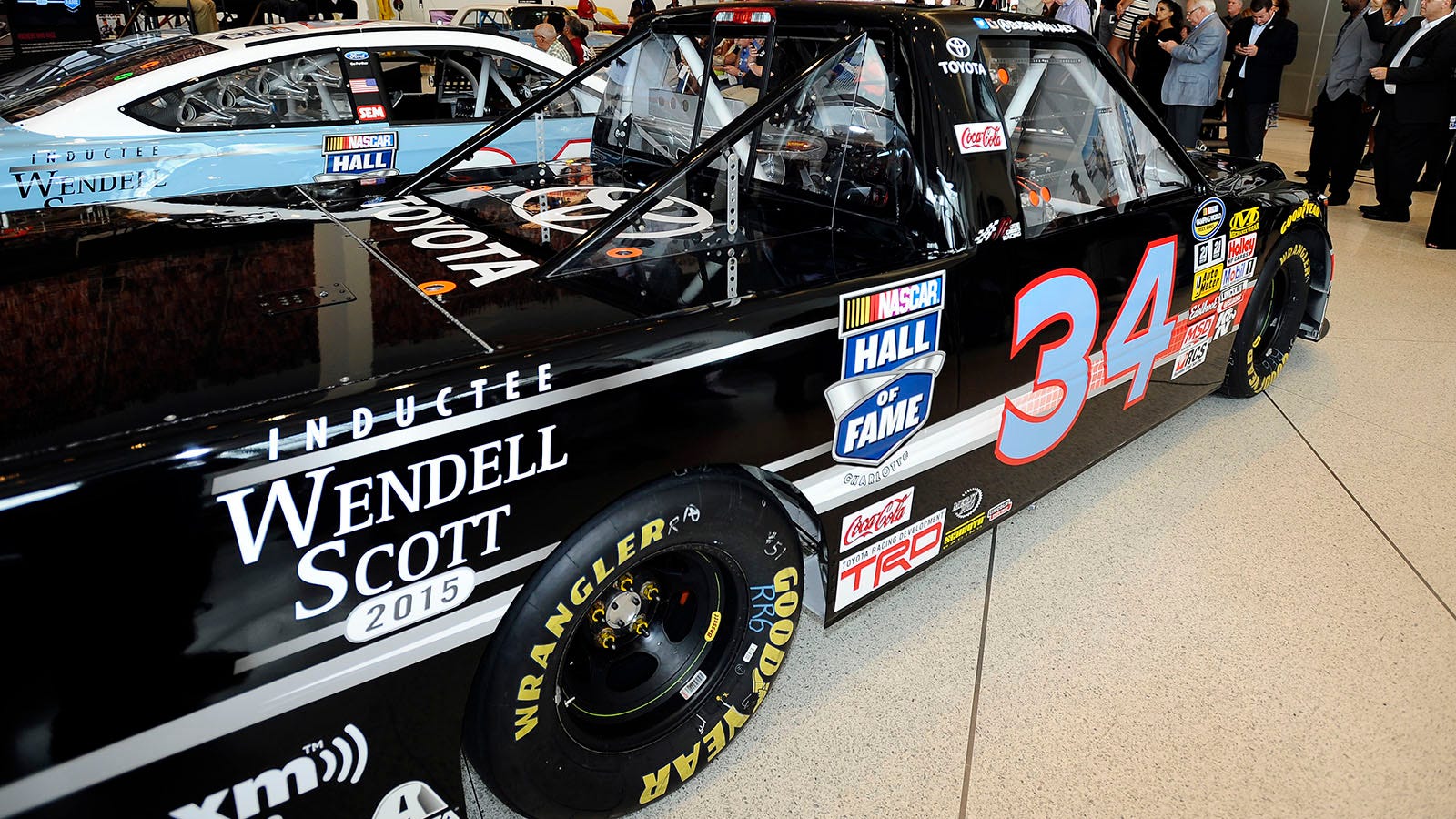 Last season, Wallace became the first African-American to win a NASCAR national series race since Scott's historic 1963 victory.
"It's an honor to run the No. 34 Toyota Tundra at Martinsville," said Wallace. "I got my first win at Martinsville and the historical significance of that win and to be so close to Wendell Scott's hometown was a really cool bonus to getting my first win. The Scott family has followed my career since I ran the NASCAR Drive for Diversity program for Rev Racing, and I've kept a relationship with the family over the years.
"Thanks to Joe Gibbs Racing, Kyle Busch Motorsports, Toyota and NASCAR for allowing me to run the No. 34 at Martinsville. I'm pumped to get back there and hope to get another victory."