Men Behaving Badly: But they Do Support a Good Cause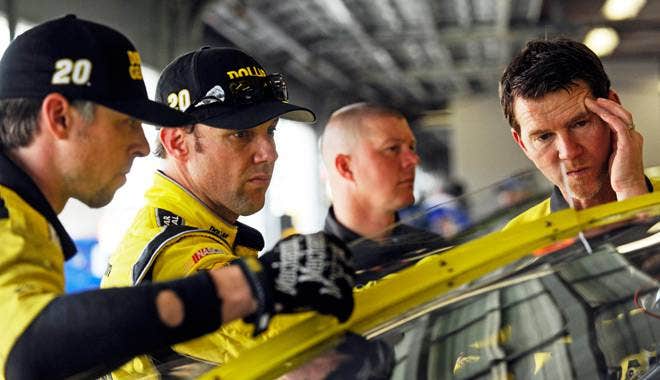 In NASCAR's eyes, there's no such thing as gray area when it comes to engines. An engine is either legal, or it isn't. Period. And when it isn't, NASCAR comes down hard on teams, because they want to send a strong message to every other team: Play it straight or pay the price.
On Wednesday, Joe Gibbs Racing, driver Matt Kenseth and crew chief Jason Ratcliff got clobbered by NASCAR when the engine in Kenseth's No. 20 Toyota failed inspection following Sunday's victory in the STP 400 at Kansas Speedway.
The illegality in Kenseth's case? The eight connecting rods in the engine have to weigh a minimum of 525 grams. Seven of the rods met the minimum weight, while one was approximately 522 grams, meaning it was 0.57 percent too light.
The penalties were harsh: A six-week suspension and a $200,000 fine for Ratcliff, a 50-point penalty for Kenseth — he only got 48 points for his Kansas victory — and some ancillary hand slaps.
But NASCAR was consistent.
The last illegal engine was found in Carl Long's car during practice for the Sprint Showdown non-points race in 2009. Long's engine measured 358.17 cubic inches, 0.17 cubic inches above the maximum. He, too, was fined $200,000, as well as given an eight-week suspension.
Here are some unusual penalties handed down by NASCAR in recent years:
March 2013 — Denny Hamlin, fined $25,000 for criticizing the quality of racing after a race in Phoenix.
Nov. 2012 — Brad Keselowski, fined $25,000 for Tweeting in his car during a red flag at a race in Phoenix.
Nov. 2012 — Jeff Gordon, fined $100,000 for deliberately wrecking Clint Bowyer, also at Phoenix.
Nov. 2011 — Kurt Busch, fined $50,000 for "disrespecting a media member" at Homestead-Miami Speedway, where he cussed out Dr. Jerry Punch after going out of a race with mechanical woes.
June 2011 — Richard Childress fined $150,000 for putting Kyle Busch in a headlock and punching him after a race at Kansas Speedway. The then 65-year-old Childress famously told his grandson, "Here, hold my watch," before pummeling the younger of the racing Busch brothers.
May 2011 — Ryan Newman fined $50,000 for punching Juan Pablo Montoya during a meeting in the NASCAR trailer at Darlington Raceway to sort out a dispute between the two. "The meeting did not go as well as we hoped it would," a NASCAR spokesman said after the burly Newman socked Montoya.
The good news about men behaving badly?
Their fine money serves a great cause.
Since 2008, whenever a NASCAR competitor is fined, all the money goes to The NASCAR Foundation, a nonprofit group that's given away more than $15 million to worthy charities.
So while it's never good to break the rules, it's always good to lend a helping hand to those in need.