Sights and Sounds From Daytona
6:00p ET — Good evening and welcome to Daytona International Speedway! The garage is bustling with fans, teams and drivers all preparing for tonight's Coke Zero 400 presented by Coca-Cola.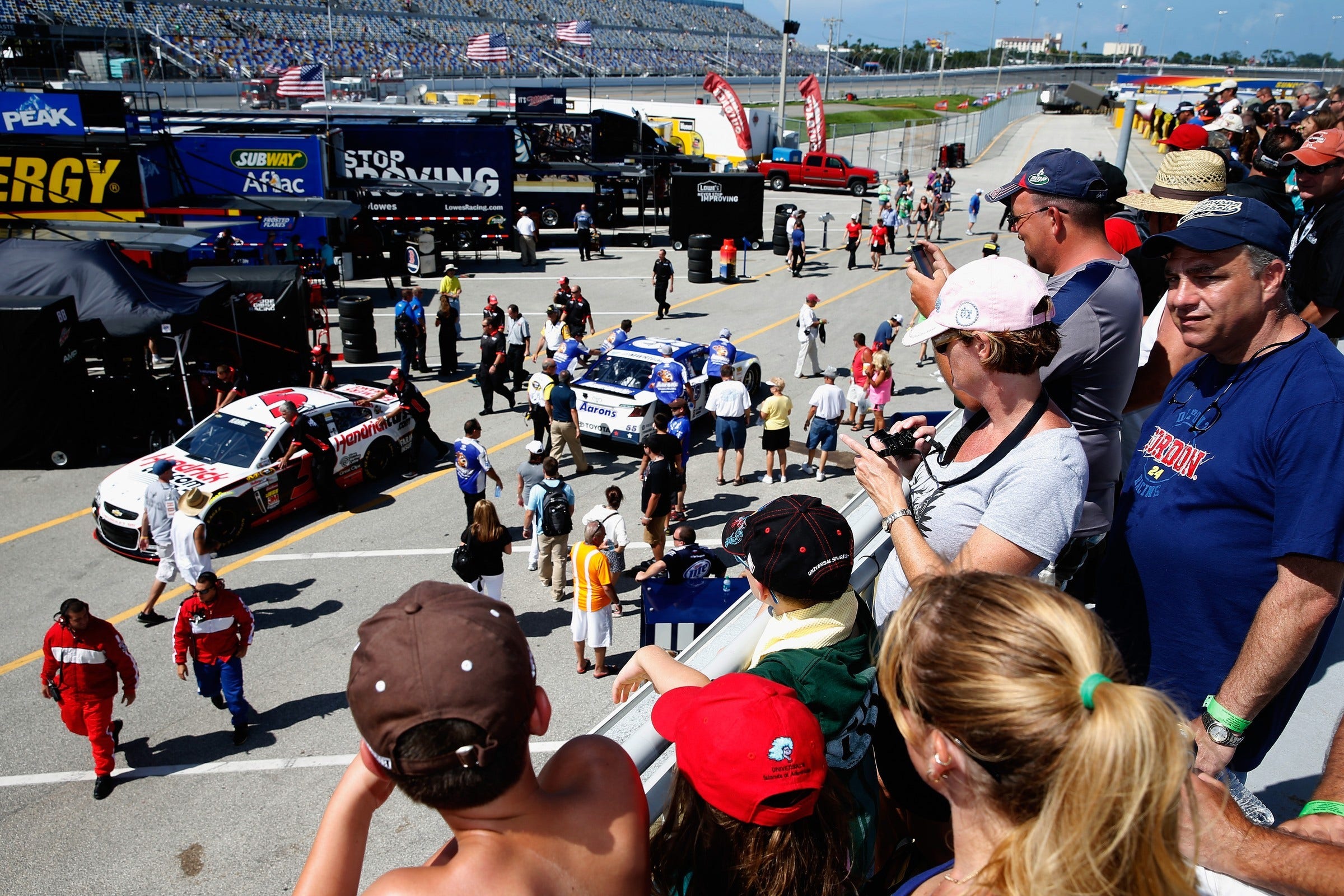 6:10p ET — Check it out! Adam Sandler, SHAQ and Kevin James are here to promote their new movie, "Grown Ups 2." They will also give the command to fire up the engines.
Shaquille O'Neal (w/Kevin James & Adam Sandler) on why he likes Danica Patrick: "Because she's hot–smokin'. pic.twitter.com/08HfE4ERVL

— Reid Spencer (@Reid_Spencer) July 6, 2013
Dreams do come true for @shaq, who met @danicapatrick pic.twitter.com/0DeupKBrf3

— Jenna Fryer (@JennaFryer) July 6, 2013
SHAQ even got up close and personal with our very own Rutledge Wood.
6:25p ET — It's clear that Superspeedway races can often be a crapshoot, but we'll do our best to help you in your Fantasy League.
Who's Hot
• Dale Earnhardt Jr. – finished runner up in two of the last three races at Daytona. He has podium finishes in a third of his Daytona starts (9 of 27) and his seven restrictor plate wins are third all-time
• Carl Edwards – top 10 finishes in six of the last eight Daytona races. He has been running at the finish in his last 14 races at Daytona
• Kasey Kahne – finished in the top seven in the last three July races, including his best plate finish of second 7/2010.
• Jeff Burton – finished top five in two of the last three races at Daytona including runner up last July.
Who's Not
• Kyle Busch – only two finishes better than 14th in the nine Daytona races since his win there in July 2008.
• Jeff Gordon – only two top 10 finishes in his last 11 Daytona races, finishes of 20th or worse in seven of his last 11 races there
• Greg Biffle – last top 10 finish in the Summer race was 2007.
• Clint Bowyer – finished 29th and 36th in the last two Summer races, both DNF accidents.
• Martin Truex Jr – has only one top 10 in 16 Daytona races.
6:40p ET — Danica Patrick was getting her tan on this morning.
7:10p ET — Check out this guy's ride! Would you cruise around Daytona in this badass recliner?
Caught a little sun today with @StenhouseJr @Tim_Dugger and @taranichole3, before I did pretty well at put put! pic.twitter.com/NbzWMYAzqx

— Danica Patrick (@DanicaPatrick) July 6, 2013
7:15p ET — Twitter just broke for a few minutes, and we think it's because Dale Earnhardt Jr. and Sheryl Crow are in the same photo.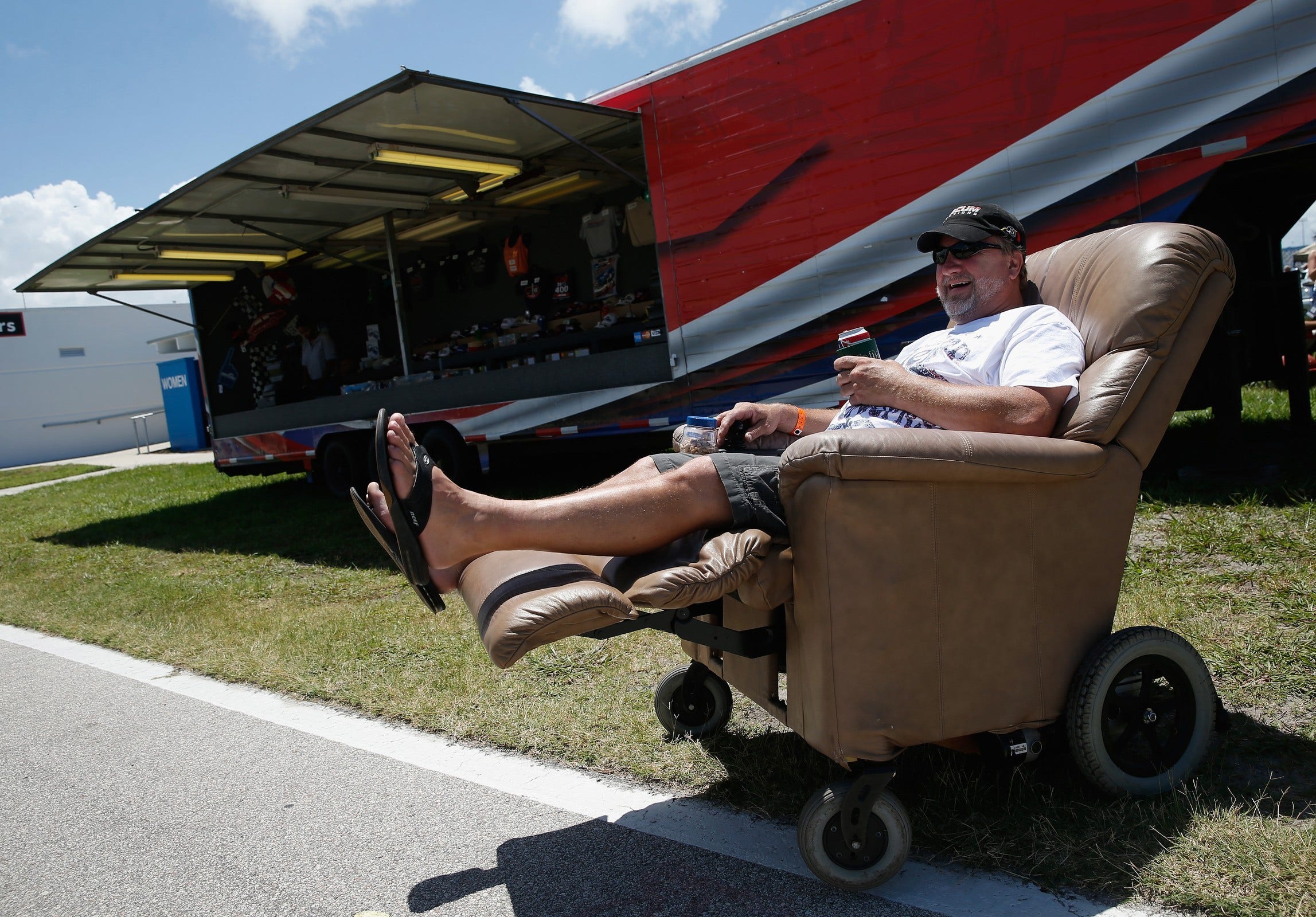 7:25p ET — The grid is beginning to fill. Anticipation is building. We are just minutes from the National Anthem.
#DaleJr and @sherylcrow before driver intros @DISupdates #NASCAR pic.twitter.com/gtHKcFheFT

— Mike Hoag (@MikeHoag88) July 6, 2013
7:30p ET — Will one of these Coca-Cola sponsored drivers end up in victory lane tonight at Daytona International Speedway?
These are our 3 Toyota Camry #NASCAR racecars. Ready to roll in Daytona! @interstatebatts, @HomeDepotRacing, @FedEx. pic.twitter.com/rZkGTbMAdJ

— Boris for JGR (@JoeGibbsRacing) July 6, 2013
Our cars our lined up in a row on the grid! It's almost time for the #CokeZero400! pic.twitter.com/mqkwF5SdPF

— MWR Girls (@MWRgirls) July 6, 2013
7:35p ET — God Bless the USA! Let's light this rocket!
Pre-race ceremonies for the #CokeZero400 is underway! @Bobby_Labonte joins his @CocaColaRacing family for a photo-op pic.twitter.com/EdsSjkMlAw

— JTG Daugherty Racing (@NASCAR47) July 6, 2013
7:45p ET — Engines are fired! We are winding down here on the blog, so be sure to click over to FOXSports.com's Race Trax for Live race updates.
#NASCAR pic.twitter.com/UcXwgRTvp1

— Steve O'Donnell (@odsteve) July 6, 2013
PR- for live race updates please Follow @Patricia_AFF – thanks to the Sailors who joined us tonight pic.twitter.com/CWuY5o1kBv

— Kurt Busch (@KurtBusch) July 6, 2013
Tonight's drinking phrase: "Yellow line"

— tom jensen (@tomjensen100) July 6, 2013