Gig 'em, Gordon: No. 24 car makes a pit stop at Texas A&M University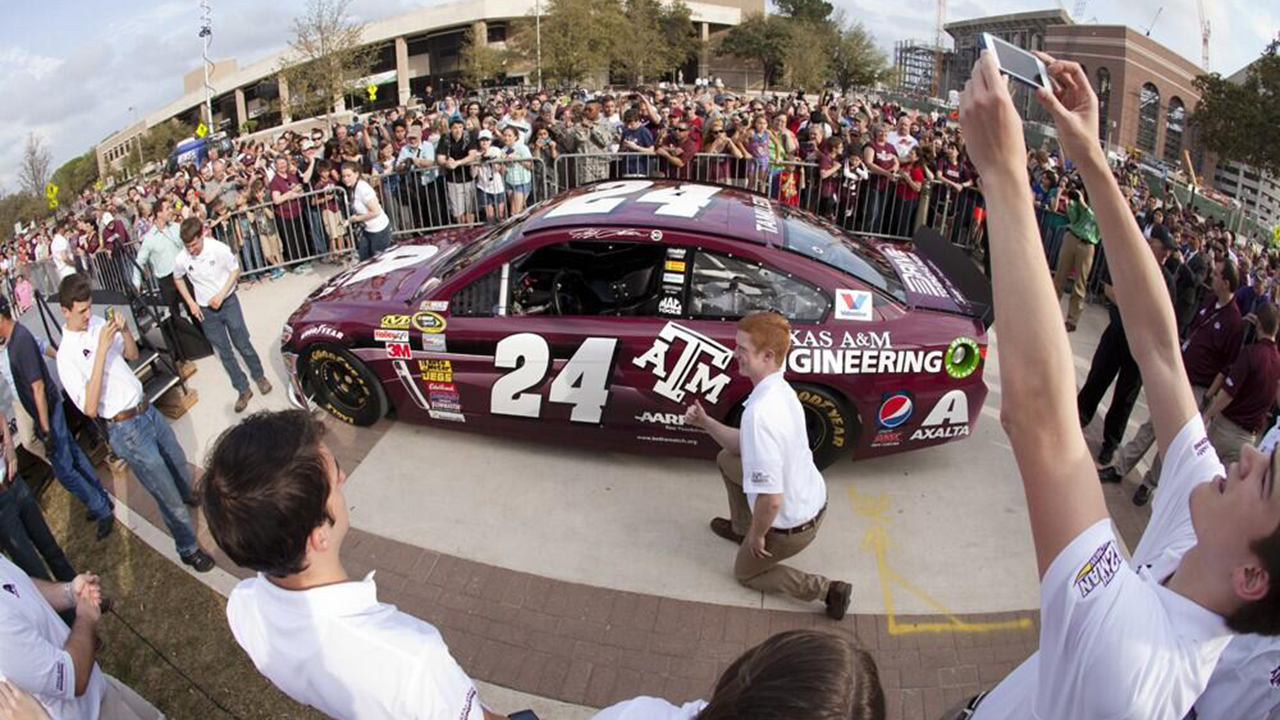 Before heading to Texas Motor Speedway, Jeff Gordon and the No. 24 car made a pit stop in Aggieland.
On Thursday, Gordon dropped by the campus of Texas A&M University – in College Station, TX – to unveil a new Aggie-themed paint scheme.
.@JeffGordonWeb checks out his @AxaltaRacing @TAMUEngineering Chevy SS for the first time. pic.twitter.com/vxVOmvys5u

— Hendrick Motorsports (@TeamHendrick) April 3, 2014
Well that was pretty dang awesome. @TAMUEngineering @JeffGordonWeb pic.twitter.com/G7G1wS7M1B

— Brittany Craig (@brittanylayne27) April 3, 2014
The scheme is called "Aggie Brilliance" and will be on display this weekend at TMS. After the unveiling, Gordon met up with the Texas A&M football team.
Great to have @JeffGordonWeb at practice today! Car looks great! #knowshowtowin pic.twitter.com/fsYrpiz3Qs

— Kevin Sumlin (@CoachSumlin) April 4, 2014
.@JeffGordonWeb and Coach Sumlin addressing the football team @TAMUEngineering @TAMU #AggieRaceDay pic.twitter.com/hGBOb0xxq0

— Axalta Racing (@AxaltaRacing) April 3, 2014
And a trip to College Station just wouldn't be complete without checking in with the first lady of Aggieland, Reveille the border collie.
.@JeffGordonWeb meets Miss Rev! pic.twitter.com/3W8XE0tXr0 via @TeamHendrick #AggieRaceDay #tamu #Team24

— Texas A&M University (@TAMU) April 3, 2014
Whoop!