FOX Fantasy Picks: Darlington Raceway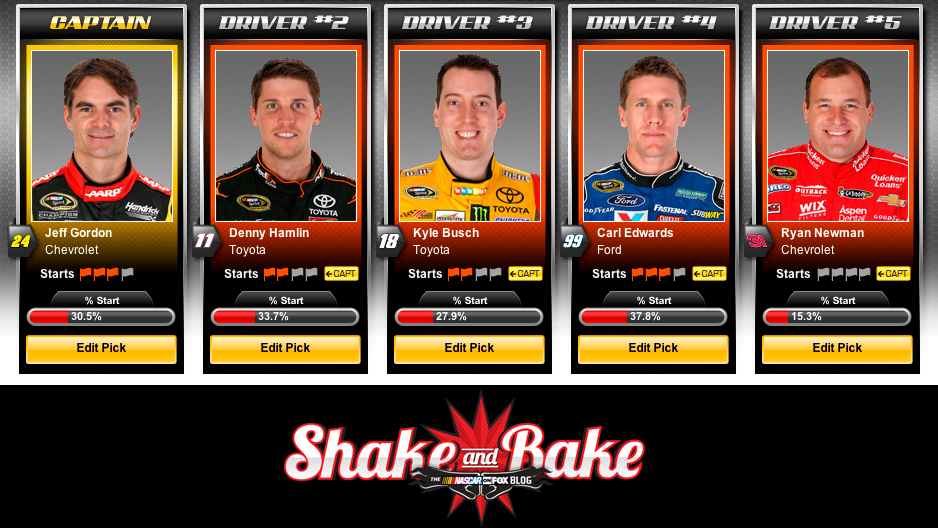 If you look at our FOX Fantasy picks so far this season, our year looks a bit like Kevin Harvick's. There have been some great weekends, followed by some poor results that were out of our control.
Much like Harvick and his Stewart-Haas Racing team, we have to put our poor results in the past and focus on the task at hand, Darlington Raceway.
Heading to the 'Lady in Black' for Saturday night's race, your fantasy roster will have to not only beat the competition, but also the track 'Too Tough to Tame.'
Remember, these are simply suggestions, so pick your team wisely and best of luck. If you haven't done so yet, be sure to sign up for FOX Fantasy Auto Racing, create your team and start playing today!
If any driver can tame the 'Lady in Black' it's 'Big Daddy' Jeff Gordon. The seven-time Darlington winner has been on quite a roll to start the 2014 season, and that should continue during Saturday night's 500-mile event.
With three top 5s and five top 10s, Gordon has an average finish of 7.4 so far in the 2014 season, and enters Darlington the points leader. The only thing missing so far this year is a win.
Given his past success at the track 'Too Tough to Tame' and his consistency this season, he could very well earn his eighth Darlington win on Saturday.
For the second year in a row Denny Hamlin heads to Darlington Raceway with a bit of controversy on his side. Just don't expect that to slow the Joe Gibbs Racing driver down this weekend.
Last year, Darlington was Hamlin's first full race in the car following his back injury sustained at Auto Club Speedway. Surprising many, Hamlin finished second behind JGR teammate Matt Kenseth.
Now, three weeks after sitting out the Fontana race due to double vision, Hamlin heads to Darlington looking to earn his first win of the season and prove he is as healthy as can be.
Perhaps there is no better place to prove himself than Darlington. In his eight previous starts at the 1.366-mile track, Hamlin has never finished worse than 13th. Expect that trend to continue this weekend.
Much like his JGR teammate, Kyle Busch has been stout at Darlington as of late. Although he has an average finish of 14.4, Busch has one win and five finishes of 11th or better in his last six races. In those same six races, the driver of the No. 18 Toyota has led a total of 587 laps, including 265 in last year's race alone.
With his win at Auto Club Speedway, Busch could very easily become the first repeat winner of the 2014 season and take a step closer to locking himself into the Chase for the Sprint Cup.
Yet Busch knows if he wants to celebrate in victory lane at the end of the night, he also needs a bit of luck on his side.
"I should have won probably twice as many races as I've won there, which is frustrating," he said. "I was glad to win there in 2008 and get my Southern 500 win — that was pretty cool. Why we're good there? I don't know, but it's a place that a lot of the driver comes into play and I feel like all the JGR drivers obviously are really, really good. Of course our equipment is good too and we can run fast there, run well there and if you can keep air in the tires you might win."
If he can keep the No. 18 off the wall and out of trouble, expect 'Rowdy' Busch to be a factor at the end of 500 miles Saturday night.
There's no doubt the 500 miles at Darlington is one of the toughest races on the Sprint Cup Series schedule, and when it comes to tough races Carl Edwards is one of the best.
Although he has yet to win at the track 'Too Tough to Tame,' Edwards has three top 10s in the last three Darlington events –€" including a second-place finish in 2011.
Edwards already has a win this season at Bristol, so he and crew chief Jimmy Fennig can take risks and go for wins. Off to a solid start in 2014, Edwards has been consistently in the top 15 nearly each week, with a 9.7 average finish. Do not expect that to change on Saturday night.
Rookie Austin Dillon may be making all the headlines for Richard Childress Racing this season, but veteran teammate Ryan Newman has been quietly been lurking in the shadows.
Although he only has two top-10 finishes so far this season, Newman heads to his favorite track.
"It's so challenging. You have to race the track in order to get to the end," Newman said. "It's a challenge to pass there. When you go into Turn 1, you lift on the straightaway and then you are pretty much wide open all the way through Turn 1 and 2. You drive it like no other track on the circuit. I don't know what it's going to be like with the new rules package or the tire combination they come up with. Regardless, it's such a fun racetrack to drive because you have to hustle the car around."
While Newman may not have a win at Darlington, he has only finished outside the top 15 four times in his 15 starts at the difficult track. With the eighth-fastest time in Friday's opening practice, Newman is setting up for a solid night Saturday.
As always, these are simply suggestions, so do your research, pick wisely and best of luck. If you put more faith in the Las Vegas odds, check out this week's 'Let it Ride' segment from NASCAR Race Hub: