Ford drivers pick ideal NASCAR bobsled team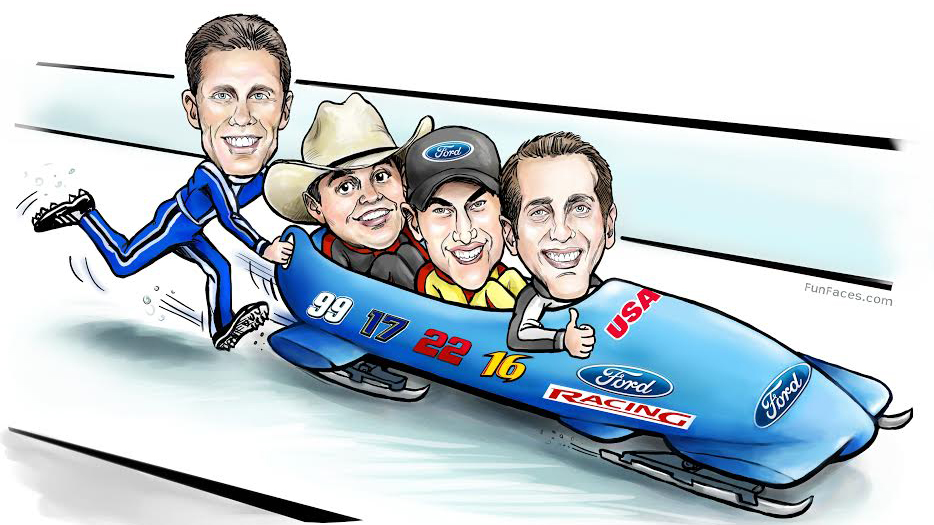 With the Sochi Winter Olympics taking place half a world away in Russia, and the Daytona Speed Weeks less than a week away, a few of the NASCAR drivers are getting antsy. While some may enjoy the hockey, snowboarding or even figure skating, the bobsled competition hits a little close to home with some of the world's best race car drivers.
To get in the Olympic spirit, a few of Ford's top drivers tried to put together their ideal NASCAR bobsled team.
Perhaps to no one's surprise, sophomore Sprint Cup Series driver Ricky Stenhouse Jr. opted to put his better half, Danica Patrick at the front of his sled.
"I will definitely take Danica as our front person," Stenhouse said. "I think Carl (Edwards) is definitely going to be in the back pushing. We need someone back there that is crazy-strong, so Carl is my pick for that. Throw me in the middle somewhere. I think my other pick would be Jimmie Johnson. As much as he does his triathlons, I feel like his legs must be really strong to push, not to mention the guy can obviously steer pretty well. I would go with those three to join me. Danica, Jimmie and Carl. That is a pretty good team, I think."
A pretty good team, indeed. But can it match up to the squad fellow Roush Fenway Racing driver Greg Biffle would put together?
"So I would go with Kyle Larson as the front guy cause we need someone that is small. I will put Ricky (Stenhouse Jr.) with me in the middle and I know for sure I want Carl (Edwards) in the back of that thing," Biffle said. "Kyle is the smallest and lightest and I don't know if he is fast on his feet but that kid can drive. Kasey Kahne might be a good pick too. He has the right body type to be that first guy. We have to have Carl because you want someone that is strong to give you that power, so I have to go with Carl. I will go with Ricky because I want a medium-sized guy in the middle with me. I don't want a big guy in the middle. I think that team would have a shot at a gold medal. I just sure as heck don't want to wreck."
Team Penske's Joey Logano took a similar approach, picking Edwards as the push man on his four-man team, just don't look for Logano to give away control of the sled.
"For sure Carl is going to the back," Logano said. "I want him back there pushing that thing for as long as possible. I think I need Jimmie Johnson in there. I think we need a heavy guy, so let me take Tony Stewart too. That is three, and then including myself, there we have our four-man team. I want to be the driver though. I don't trust anyone else to drive for me either, so that is perfect."
"@Logano22fan: #TBT goes to @joeylogano showing that he is not only good in nascar but a great bobsled driver pic.twitter.com/YRsVqsNIfu" nice

— Joey Logano (@joeylogano) February 7, 2014
So, how does Edwards feel about being the strong-man on each of the teams? Well, Edwards called it "flattering," but for his team he went outside the box and did not stick to just drivers.
"But the issue is I wouldn't ride with any of those guys if they were driving," Edwards joked. "Seriously though, I would pick Ricky to be the driver because he is a smaller guy. I've seen a couple jackmen that I think would be goo. I think I want Cameron (Cobb) from my pit crew to be in the middle with me. Paul Menard would be pretty good just because of that beard he has. That guy just looks like a winter Olympian doesn't he? Actually, I think I would take Aric Almirola. He is strong, fast, I think he would be a good guy for it. So let's put Ricky up front, Aric and myself in the middle and my jackman Cameron in the back. That is a winning combination right there."
Look out Pyeongchang 2018!