First Love: Jeff Burton Reunited With 1957 Chevy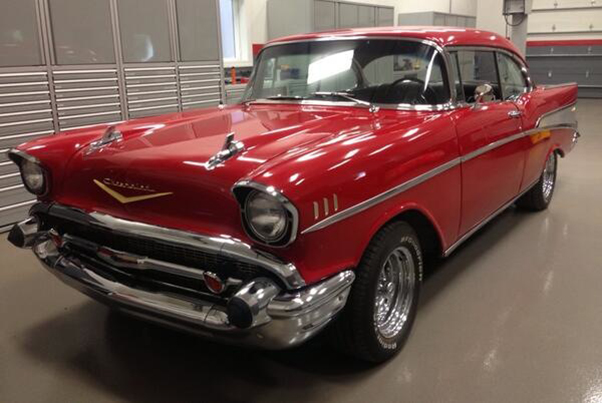 It's a story that's occurred over and over and over again and it's as uniquely American as a Norman Rockwell painting: A small country town, a boy, a girl, romance, a hot car, a disapproving father.
Fortunately, this is particular version of that oft-repeated tale is one with a very happy ending.
Jeff Burton, driver of the No. 31 Caterpillar Chevrolet NASCAR Sprint Cup car for Richard Childress Racing, grew up in South Boston, Va., a town that even today has only about 8,000 people. When he was just 15, Jeff started dating his now-wife, Kim, who was 14 at the time.
And when he became old enough to drive, Jeff did what a lot of small-town boys did back in the day: He got himself an old car that he fixed up. In this case, the car in question was a 1957 Chevrolet Bel Air coupe, one of the most iconic DIY cars ever made.
Monday, after years of searching and then trying to purchase it, the Burtons were reunited with that very same '57 Chevy.
Kim remembers the days when Jeff first got his pride and joy.
"He was looking for something sort of like a hot rod-ish car," said Kim. "He bought it cheap and then restored it, and that was what he wanted to do for his car."
According to Kim, Jeff's modifications included painting the white Bel Air bright red, adding a tan interior, a Hurst shifter, a "huge stereo system in the back" and, of course, souping up the motor.
"We went on a lot of dates in that car," Kim said. "We used to ride all over the place in that car, a pack of teenagers. That was what we went out on a date in."
Like most red-blood American boys, Jeff was an enthusiastic driver.
"I dare say he did a few drag races in that thing," said Kim. "And he definitely liked to show off in it."
The need for speed did not initially sit well with Kim's dad.
"He wasn't really thrilled," said Kim of her father. "My dad wasn't real sure about me dating this guy. He (Jeff) would come up the road in my neighborhood at a high rate of speed, spinning the tires, and that did not help his cause.
"Now my dad loves him, obviously, and they get along great, but when we first starting going out, it was like, 'You're not going out with that kid in that hot rod car!'" Kim said, laughing at the memory.
Unfortunately, when he was 17 or 18, Jeff hit a telephone phone and his insurance company totaled the car and sold it.
"About five or six years ago, I started talking to his mom and saying, 'I'd love to get that car back,'" said Kim. "Eventually, after a couple of years of word of mouth, we found out who had it before the guy we bought it from. About a year ago, we went and looked at it… getting a fair price on it took a little while, as well."
But eventually a deal was struck.
Already, Jeff has detailed plans to restore it.
"It's in good shape and Jeff's going to get it in great shape," Kim said.
And Kim said it was like being reunited with an old friend.
"It just took me right back," Kim said. "It was not a smooth car to ride in. It's not like a car is now, where you have a nice ride. It was bumpy and rough. It felt just like it did back then."