Feud Of The Week: Newman Vs. Kyle B.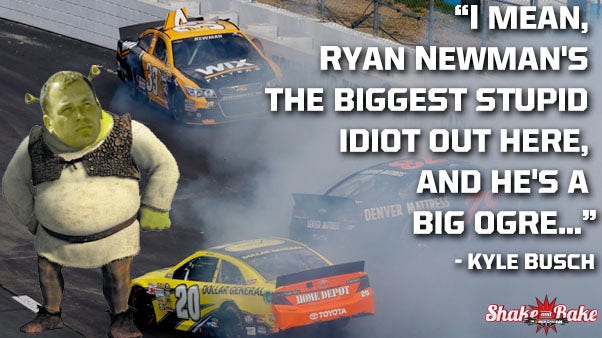 In racin' as in wrasslin', hate is great.
Nothing gets the blood flowing like two – or more – boys having at it on the race track. When tempers rise in NASCAR, so does the excitement level.
That much was evident at New Hampshire Motor Speedway on Sunday afternoon. And, not surprisingly, when the day's most dramatic wreck occurred, accounts differed as to who was to blame for the on-track mayhem.
It happened in Turn 2, on Lap 225 of the Camping World RV Sales 301 NASCAR Sprint Cup race.
Ryan Newman was on the outside of Kurt Busch, with Matt Kenseth right on Busch's rear bumper, the three of them racing for eighth place. It appeared that Kenseth might have got into Busch slightly, or Newman might have taken the air off Busch and sucked him around as he passed.
Whatever the cause, Newman and Busch both went around and then into the wall, with Busch finishing 31st and Newman 39th. Afterwards, those involved were steamed.
"Just a lot of disrespect from a bunch of guys on restarts," said Newman. "What comes around goes around. …that was crunch time. You are in the last window there and everybody was pretty much done on fuel and tires at that point. I didn't expect to get hit, but I remember who hit me.¨
Oddly enough, Kurt Busch, who had the fastest car for much of the race was philosophical afterwards, but younger brother Kyle was not.
"It was a three-wide accident and everybody is going hard," said Kurt. "We had a great car, which was capable of winning this race. But once again we didn't have the finish worthy of our performance."
But in speaking with several reporters after the race, Kyle blamed Newman. And he wasn't exactly subtle about it. On Friday, Stewart Haas Racing announced that Newman will not return to the team next season, and Kyle said he was happy about it.
"I really hated that Kurt got tore up. I felt like he had the best car," Kyle said. "And was proud of them guys but, man, just stupidity. I mean Ryan Newman's the biggest stupid idiot out here, and he's a big ogre and can do whatever he wants because he can probably kick anybody's butt. So no sense in getting in a fight with him, but glad he's out of a job."
Wow, just wow.
Boys have at it, indeed.