Feud of the Week: Harvick vs. Hamlin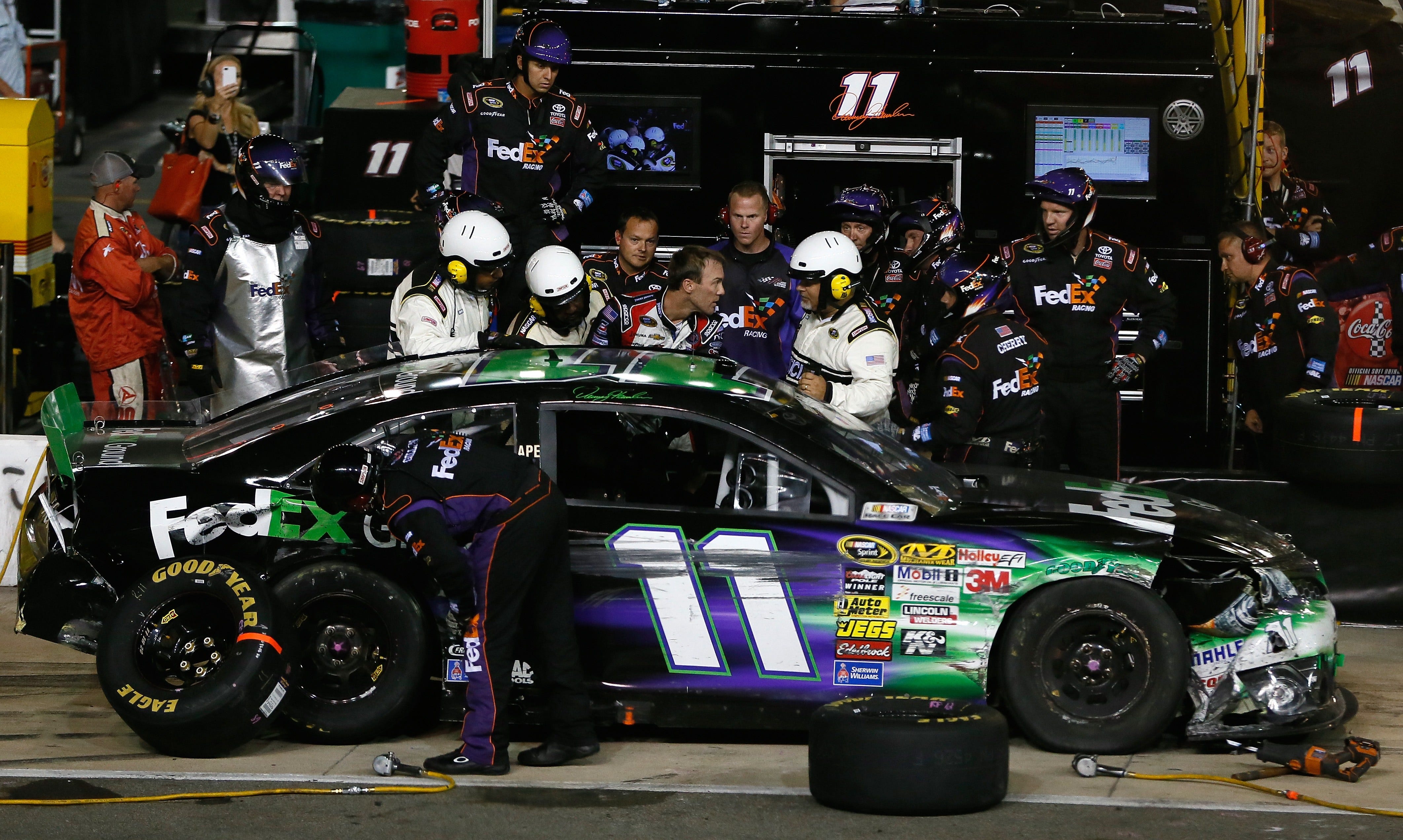 Without question, Bristol Motor Speedway is fertile ground from some old-fashioned, Saturday-night, boys-have-at-it fussin' and feudin.' Bristol is claustrophobically tight, loud and the high grandstand walls keep the exhaust fumes down — everything you need for mayhem, right? Especially with more than 100,000 people in the grandstands.
So when the night's big, eight-car pileup occurred in Turn 3 on Lap 447, the groundwork was in place for a vintage Bristol confrontation. And when Kevin Harvick parked his car in Denny Hamlin's pit, ready to confront him — and then Hamlin drove into the back of Harvick and knocked him out of the spot — it was game on.
Video: CUP: Harvick, Hamlin Start Huge Pileup – Bristol 2013
But with apologies to Sigmund Freud, sometimes an accident is just an accident.
Harvick got out of his car and bum-rushed Hamlin, who was still strapped in. Harvick, you see, thought Hamlin caused the crash by trying to put another car in the wall. Alas, after a minute or two of initially tense discussions between the two, it turns out that wasn't the case at all.
Yeah, it was still a big crash, but there were no bad intentions behind it.
"He (Harvick) was under the impression that I caused it," said Hamlin. "He didn't see the replay. I talked to him. Luckily, we were able to talk right away and hash it out. The 55 (Brian Vickers) just cut down on us right in the middle of the straightaway and it cut my right-front tire. I'm just in the car and a steering wheel holder at that point. It caused a huge accident. It sucks, but I didn't cause it. I was one of the guys who got cut off."
Harvick was philosophical.
"I just saw the No. 11 (Hamlin) shoot across the race track. It looked like he was trying to swerve at somebody. He said the No. 56 got into him and so I just wanted to know what happened. .. It's all good it's Bristol racing and it's just something I wanted to know."
Ah, well, maybe next time…
Bristol… #enoughsaid

— Kevin Harvick (@KevinHarvick) August 25, 2013
Hate it not only for my team but everyone else involved.. Absolutely nothing I could do once 55 cut down my right front tire.. #carlow

— Denny Hamlin (@dennyhamlin) August 25, 2013