Don't hate … only 48 more days until the Daytona 500 on FOX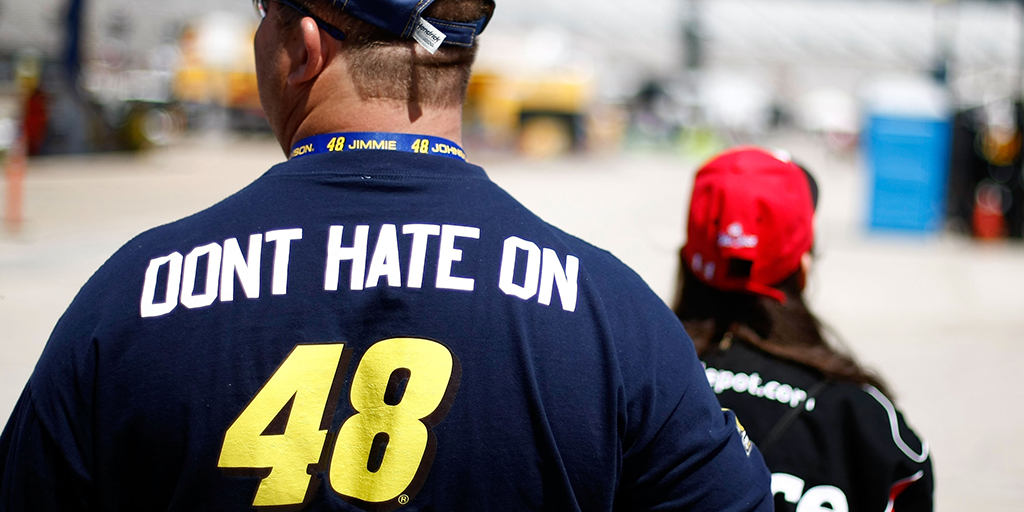 Believe it or not, the No. 48 was campaigned in NASCAR before Jimmie Johnson started using it in 2002.
And with only 48 days left until the 2014 Daytona 500 – a race Johnson has won twice, including last year – we figured it would be a good time to look at the history of the No. 48 in NASCAR.
Turns out the first victory for the No. 48 came all the way back on Nov. 11, 1951, at Carrell Speedway, a half-mile dirt track in Gardena, Calif. There, in the penultimate race of the '51 season, Bill Norton led 19 of 200 laps to win driving Larry Bettinger's No. 48 1950 Mercury to victory.
Never heard of Bill Norton or Larry Bettinger?
Don't feel too bad.
Norton only entered four races in his career as a driver, which is one more than Bettinger had as a car owner.
James Hylton, who at the ripe old age of 79 last year ran the full ARCA schedule in the No. 48 Ford, actually won two NASCAR Sprint Cup races in the No. 48: At Richmond International Raceway in 1970 and at Talladega Superspeedway in '72.
So if you're keeping score at home, the No. 48 has won 69 races in what is now the NASCAR Sprint Cup Series: Johnson won 66 of the 69, Hylton two and Norton one.
Everyone else? Zip, zilch, zero.
Although to be fair, the 48 has had some great drivers besides Johnson, most notably NASCAR Hall of Fame Class of 2014 member Fireball Roberts and two-time champ Joe Weatherly, not to mention Handsome Harry Gant.
It also has been piloted by some great names. There was Possum, Slick, Tiny, Fritz, Otis, Stick, Banjo, Sonny, Red and Slim. Or if you go by their full names, Possum Jones, Slick Johnson, Tiny Lund, Fritz Wilson, Otis Martin, Stick Elliott, Banjo Matthews, Sonny Morgan, Red Farmer and Slim Rominger.
The No. 48 by the numbers:
Starts, 1,336
Victories, 69
Poles, 37
Top fives, 343
Top 10s, 644
Laps run, 346,664
Laps led, 17,046
Stats provided by driveraverages.com