Disabled Vietnam vet gets a new van from Darrell Waltrip and Toyota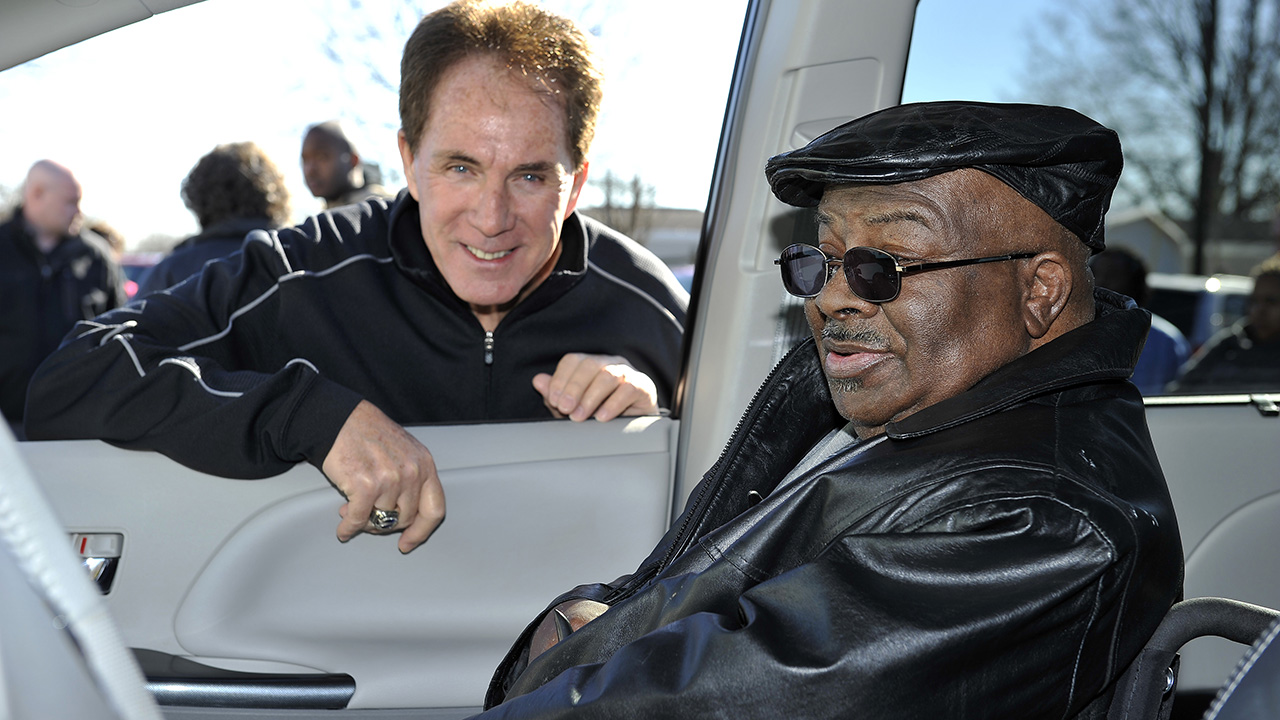 Charlie Harvey wept.
"I get to go see my mom," the retired Army Corporal and Vietnam vet said, wiping away tears as he accepted his new 2013 Toyota Sienna SE van with VMI Access360 Northstar In-floor Conversion.
Harvey, who has suffered three strokes in the last 16 years and is dependent on a wheelchair and scooter for mobility, was presented with the new van Wednesday by NASCAR Hall of Fame member Darrell Waltrip at Waltrip's Harrisburg, N.C. shop.
The van was first prize in the Operation Independence Star Spangled Salute national contest, which was open to all disabled U.S. veterans and entered by more than 850 U.S. military vets. Harvey's name was drawn as the winner on Veterans Day, Nov. 11, 2013.
Toyota Motor Sales, U.S.A., Inc. donated the van, while VMI donated the Access360 Northstar system.
The event, which was attended by Harvey's family, was an emotional one.
"It means a lot," said Waltrip, the three-time NASCAR Sprint Cup champion and FOX commentator. "I think guys like Charlie probably think, 'No one cares, I'm one of those forgotten people.' He kept saying over and over again, 'I've never won anything, I've never won anything.'"
"Days like this and people like him that really make you realize just how blessed you are," said Waltrip. "And when you can give something back to someone like that and help him and put a little bit of joy in his life and put a smile on his face, that's huge."
"Toyota is proud to be a part of programs like VMI's Operation Independence Star Spangled Salute contest, which support our nation's disabled military veterans," said Mark Oldenburg, Toyota's national fleet marketing, mobility and strategic planning manager. "We're indebted to the service of these courageous men and women, many of whom now battle for their own mobility. Donating a Sienna for the contest is a small token of our gratitude for their sacrifices. We congratulate Mr. Harvey on winning the contest and look forward to presenting him with his Sienna."
"We launched the VMI Operation Independence initiative to better support our disabled veterans in obtaining their mobility vehicle benefits," said Monique McGivney, director of corporate communication at VMI. "The program has since grown to include a dedicated Veteran Advocate Center and other veteran-centric programs, like the Star Spangled Salute contest. We're grateful for Toyota's donation and Darrell Waltrip's participation to present Charlie and his family with a key to their new wheelchair accessible Sienna."
"Toyota and VMI donating the van and the conversion, those are great programs," said Waltrip. "I wish more people would get involved. NASCAR does a great job with our military. We have troops at the track all the time. I'm proud of what NASCAR and the NASCAR community does in honoring our troops."