Daytona 500 chief starter Kim Lopez hopes to be role model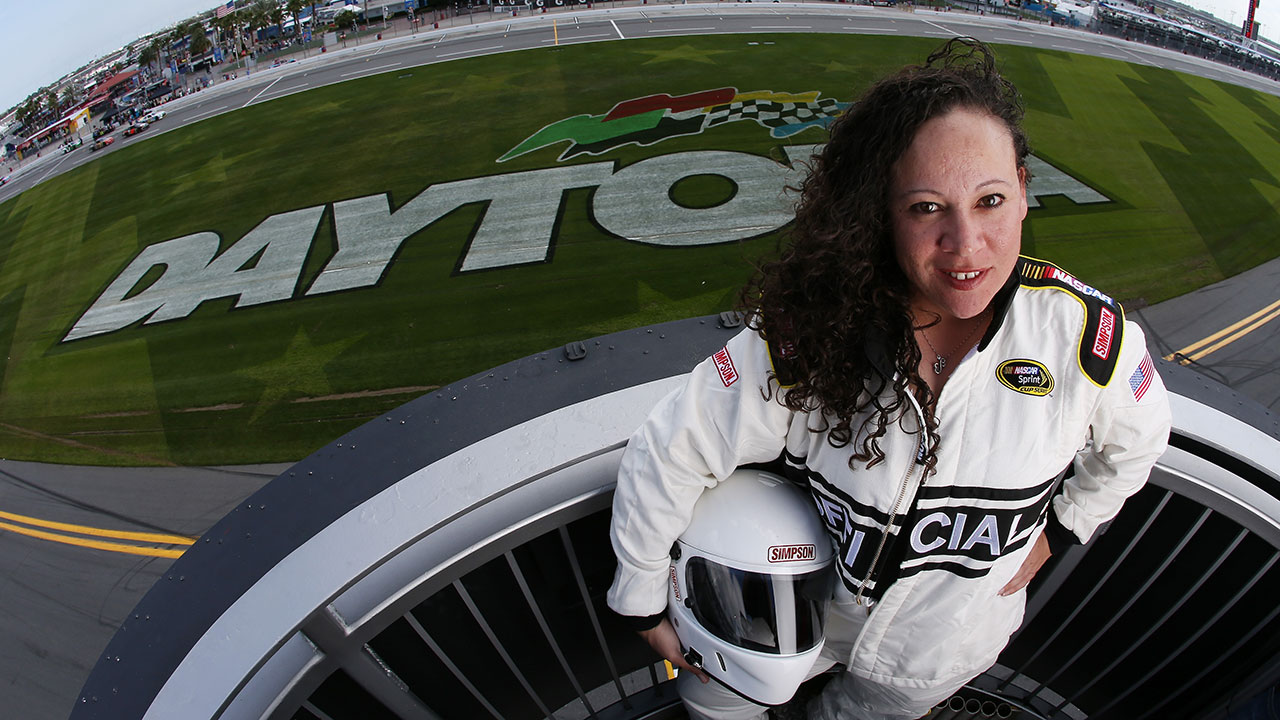 On Wednesday, NASCAR announced Kim Lopez would serve as the chief starter for the 57th annual Daytona 500 on Sunday, Feb. 22. For a race in which actors, athletes and other celebrities usually draw the attention, some may be wondering who Lopez is, and why this role is so important.
No, Kim is not related to singer and actress Jennifer Lopez, although they both hail from New York City. No, she's not an actress or gold medal winning Olympian.
Instead, Lopez is a NASCAR official who has diligently worked her way up the ranks and into the flag stand to become the first female to serve as chief starter for the Daytona 500.
"It's just means great accomplishment and how hard I've worked in the sport and NASCAR in general," Lopez told FOXSports.com. "It just shows I've done a good job in the past."
While this is Lopez's first time serving as the chief starter for the Daytona 500, this will not be her first time flagging a Sprint Cup Series event. The Bronx, New York, native flagged her first Sprint Cup Series race at Kansas Speedway in 2014, and has done all three of NASCAR's national touring series races, serving primarily in the Camping World Truck and Xfinity Series..
Lopez admits flagging that first Sprint Cup Series race last season was "nerve-wracking" and says she has a similar feeling as she heads into Sunday's 57th running of the Daytona 500.
"I've been with NASCAR for 11 years. I've been in the chassis department, so I work on the cars and the trucks. Before that, I was a manager of an automotive company. It's something that I've always done. I've been doing this since I was 22 years old."
As Danica Patrick makes strides for women drivers in NASCAR, and other females are paving their way in the garage, in the board rooms and in other aspects of the sport, Lopez is proud to serve as an example for other young women who are interested in a NASCAR career.
"I like being the role model, especially for young kids," said Lopez. "It shows them that if you put your mind to something, you can do whatever you want, whether you're a boy or a girl.
"In this sport, everything has been male dominated, but nowadays you see more females changing tires, working on the cars, engineers, and flagmen, so it's great."
Her advice is simple, just follow your dreams and stay committed to success.
"Never give up. Never give up hope," she said. "If you don't have a dream, what are you doing? You never want to give up. That's what I try to tell everybody. Just follow your dreams and don't let anyone ever put you down and tell you you can't do something."
Lopez never let anyone crush her dreams, and during Sunday's Daytona 500, she will be in control of the field from the flag stand, living out her dream.